Andromo

Review

Andromo is an intuitive mobile app builder that enables developers to create native apps for Android and iOS platforms. The drag-and-drop app builder lets businesses create native and web Android applications without any coding skills. Users can preview the application as it's being built, and incorporate various features such as menus, background themes, layout options, video, image, sound effects, RSS feeds and content sites. Additional features include application rating requests, push notifications, chat and in-app support functionality.

Try Andromo for free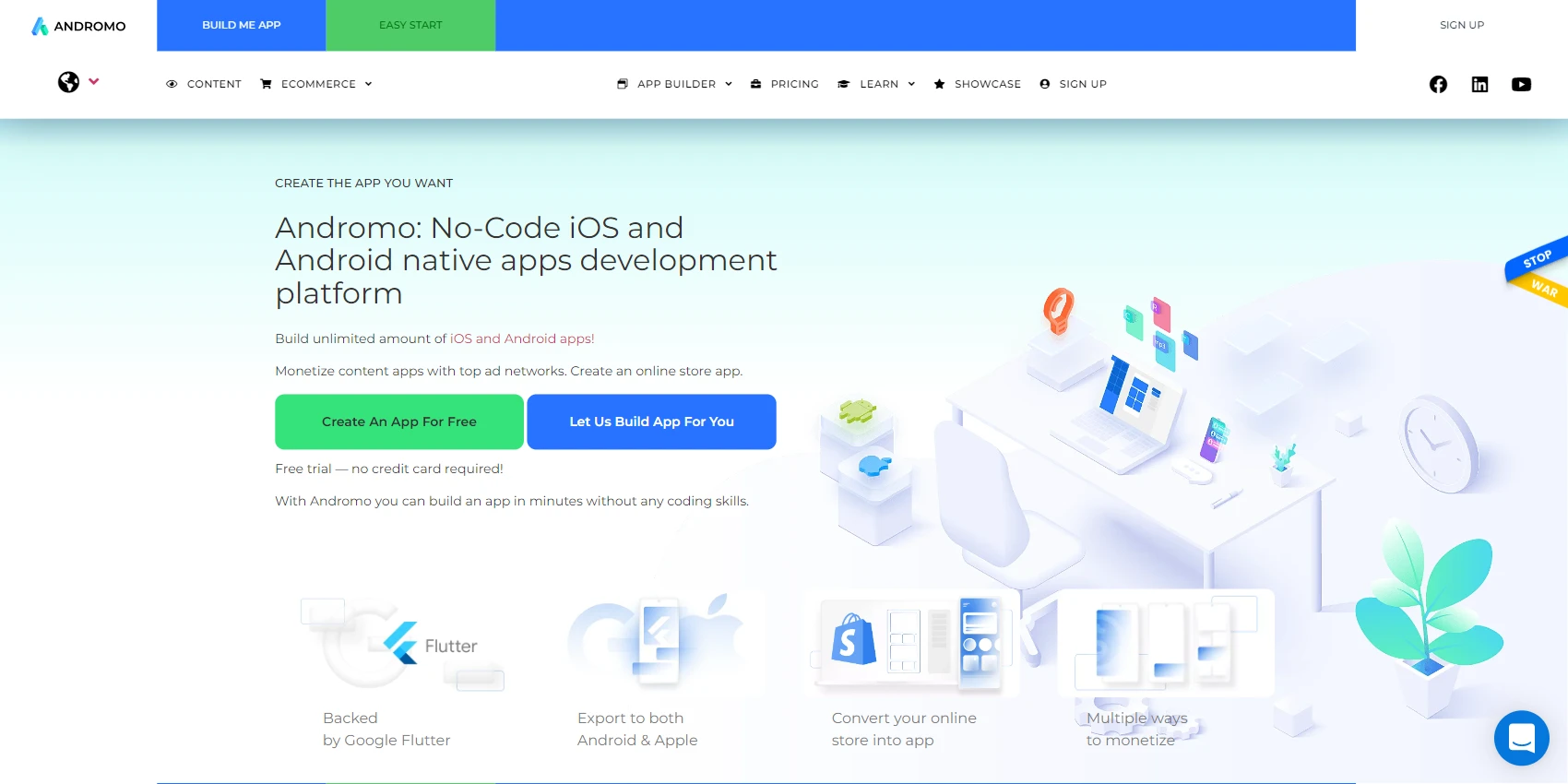 Josip's Review of Andromo
Andromo is a great product for those who want to build an app without any coding skills. It is very easy to use with a simple and powerful interface. You can add components, customize the look and feel, and then monetize your app and export it on Android and iOS. I liked the fact that it is user friendly and with nice functionalities for creating apps without having to code them. However, I found the interface to be a bit clunky for my preferences and there is a bit of a learning curve that I haven't had the time to get through yet. Additionally, this software only supports three fonts overall which could be limiting for some users.
Andromo Rating:  4.2 out of 5
Key Features of Andromo
Easy start: With Andromo you can build an app in minutes without any coding skills.
Content: The app builder for android provides a wide range of built-in features and templates. Complex ideas can be turned into real-world apps in minutes.
Ecommerce: You can turn your current web based shopify solution into a fully fledged mobile shopping experience with 14 powerful features. Stay flexible and add or remove components on the fly all through one Andromo web builder interface.
Monetization: Andromo has everything you need to simply monetize and make profit with your app. We have the whole range of tools to let you generate revenue with your
No-code solution: Offers real-time permission to non-technical users, enabling them to build/deploy their own applications.
Simple UI: With drag and drop facilities available.
Add desired features and activities: Within the integrated apps, accordingly. Contents, videos, maps, audios and numerous money-generating features can be added as per convenience.
Get the mobile app designed in no time: The expert team of Andromo emails the apps directly to the users which they can upload on the Google Play Store.
Andromo Pros and Cons
Pros:
Andromo is very easy to use with a very simple and powerful interface that works well the first time around.
Andromo makes it easy to build an app using point-and-click tools that generate no-code features. You can add components, customize the look and feel, and then monetize your app and export it on Android and iOS.
Prebuild options make me most excited to use. The UX of this product was awesome. It's just a delight for the beginners like me. I can see the product updates regurally from the team.
Cons:
The interface is a bit clunky for my preferences.
Support only three fonts overall.
No option to use custom icons.
It's template-based, so you can't use many advanced functionalities.
Andromo Pricing
Andromo pricing starts at $8 per month.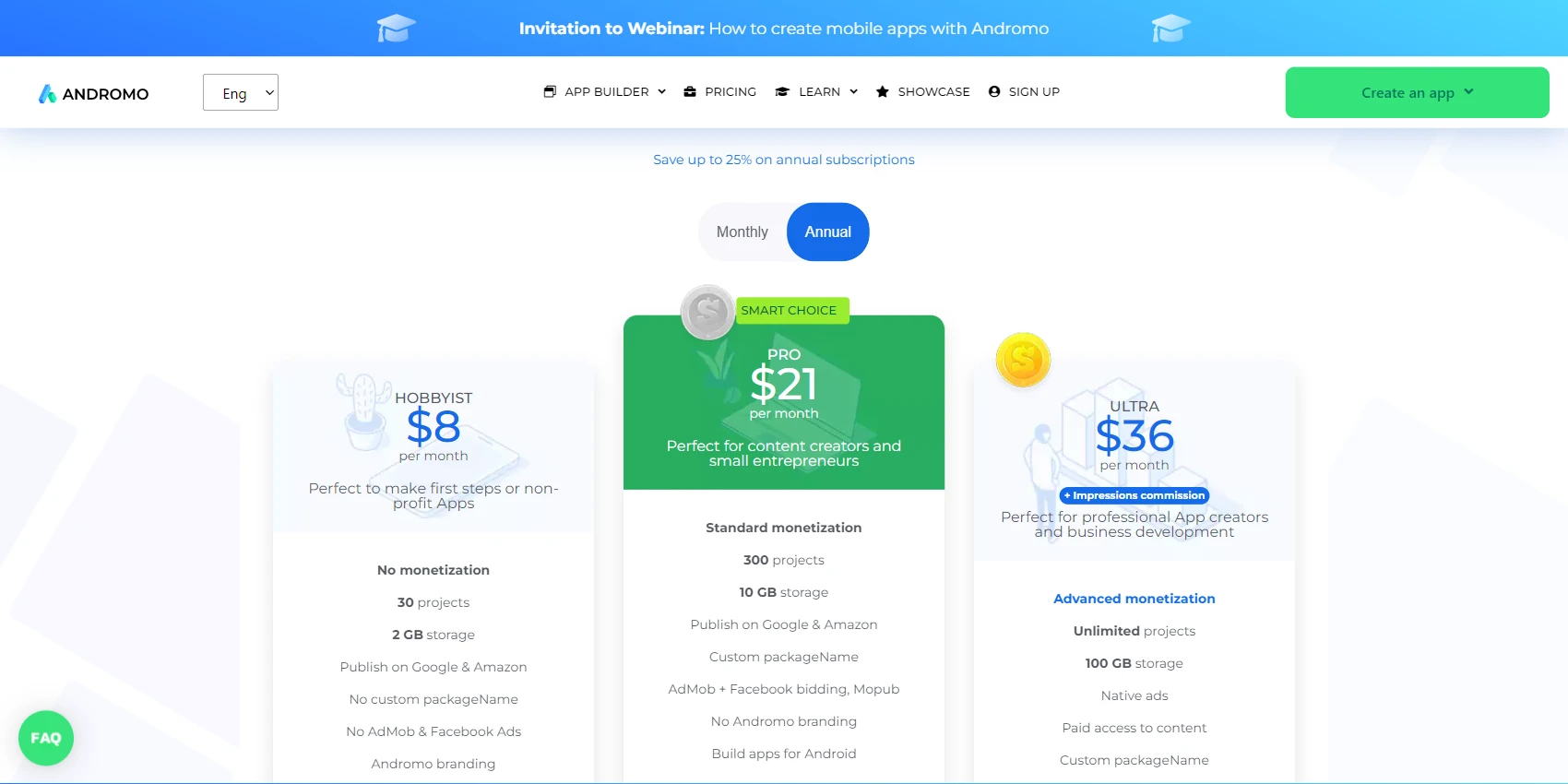 ---
Review published on: