Descript

Review

Descript is an all-in-one media editor that makes editing audio and video files as easy as working with a Word document.

It offers fast, accurate AI-powered transcription services with automatic speaker detection. After recording, it lets you to edit out filler words and silence gaps in just one click.

The video editing process with Descript is simple. Record your screen and webcam directly within the software, edit out mistakes and filler words, and instantly publish your content.

Try Descript for free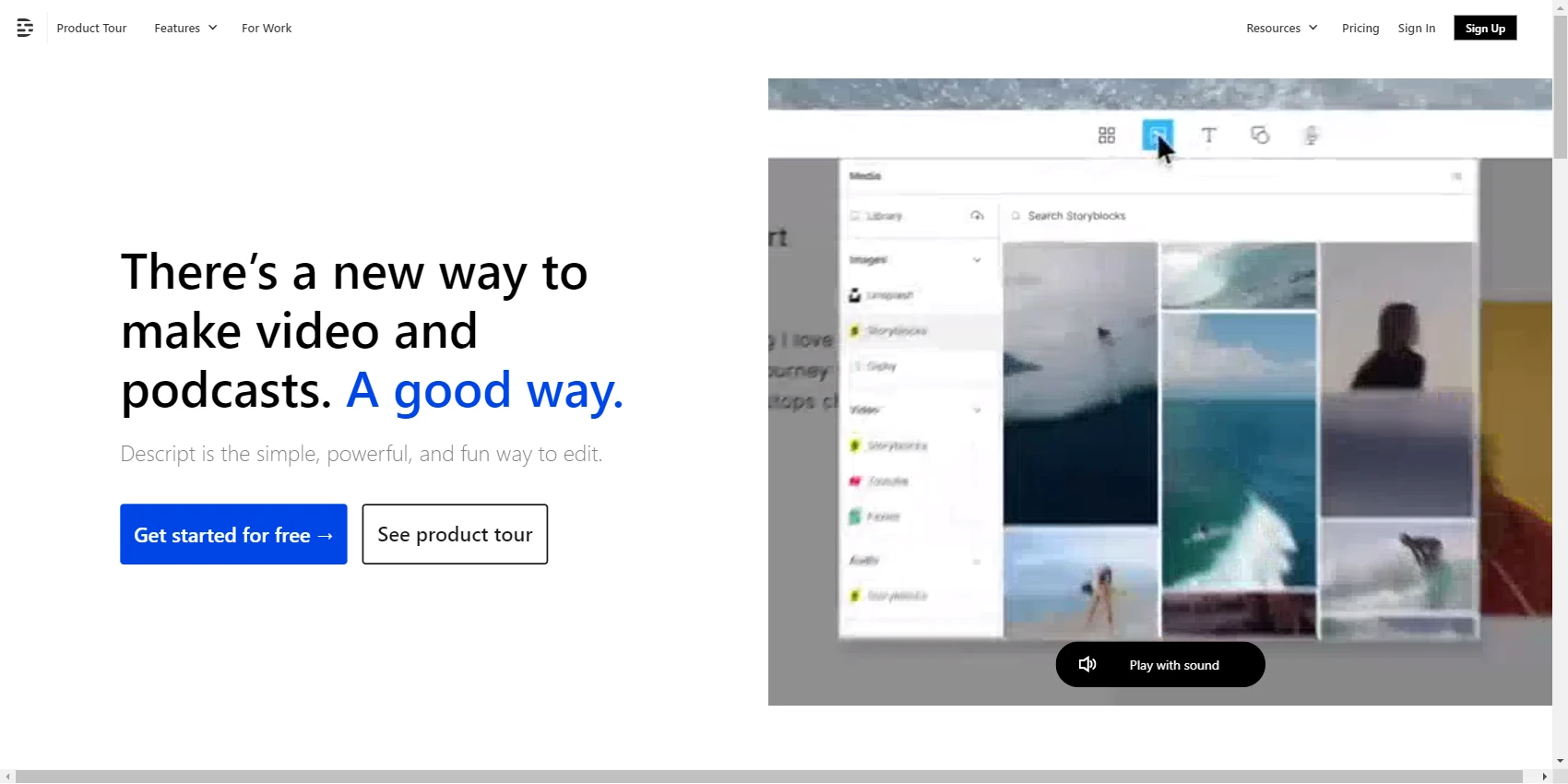 Josip's Review of Descript
Descript is what I use to edit all my videos for this website. I love it because it offers automatic transcription, screen recording, and the "Word-like" editing feature.
The filler word removal is also one of my favorite features because it's quick and efficient. In just a few clicks, you can remove pauses in between words, which makes videos much more engaging.
The major downside for me is the lack of presets and tools for video overlay effects. You can add images, but it's hard to make custom designs and effects.
Also, keep in mind that Descript is an unconventional video editing tool, which means it has a steep learning curve. It took me a couple of days to get comfortable with all the ways you can edit a video.
Overall, Descript is an amazing tool that just keeps getting better - definitely worth checking out if you are looking for an efficient audio/video editor!
Descript Rating:  4.4 out of 5
Key Features of Descript
Transcription: Automatic transcription of audio/video files
Podcasting: Multitrack audio editing
Screen Recording: Screen capture and recording
Social Clips & Templates: Repurpose content as clips using templates, subtitles, and more
Overdub: Create your own ultra-realistic text-to-speech voice clone, or pick from stock voices
Studio Sound: Industry-leading accuracy and speed, with powerful correction tools
Filler word removal: Remove filler words from transcriptions for a more polished result
Subtitles & Captions: Add subtitles and captions to your videos and podcasts
Publishing: Publish your videos and podcasts to popular platforms like YouTube and iTunes
Descript Pros and Cons
Pros:
Incredible value for how much time it saves on editing videos
Descript makes your videos smooth by removing filler words and pauses
Lets you do recording, editing, and publishing all in one tool
Optimizes audio by getting rid of background noise and makes the vocal very upfront and present
Cons:
Steep learning curve
It's hard to put customized branding and media in the video.
Customer Service is not always the most helpful.
The application sometimes crashes if you have too many projects open
Processing Power: The program is processing intensive and may not work well on older computers.
Descript Pricing
Descript pricing starts at $0 per month.
Descript pricing plans:
Free: $0 per Month
Creator: $15 per Month
Pro: $30 per Month
Enterprise: Custom