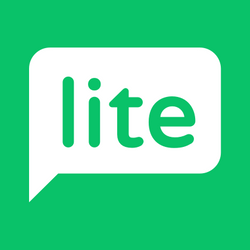 MailerLite

Review

MailerLite is a fast and reliable email marketing tool designed to help businesses grow. With their intuitive drag & drop editor, you can easily develop responsive newsletters, landing pages and websites using ready-made templates in no time. On top of that, the MailerLite iOS app enables you to manage campaigns on the go with ease.

Moreover, this powerful platform offers advanced features such as pop-ups, embedded surveys, Facebook custom audiences and auto resend campaigns that let you attract new subscribers and nurture relationships with existing ones. Thanks to segmentation, interest groups and multi-trigger automation workflows, you can send perfectly tailored content to specific audiences at the right time.

Plus, MailerLite integrates with popular third party applications like Zapier, Stripe and WooCommerce/Shopify to extend its features even further. Lastly, it provides detailed analytics and A/B testing tools so that you can track campaign performance closely and optimize for better results.

Try MailerLite for free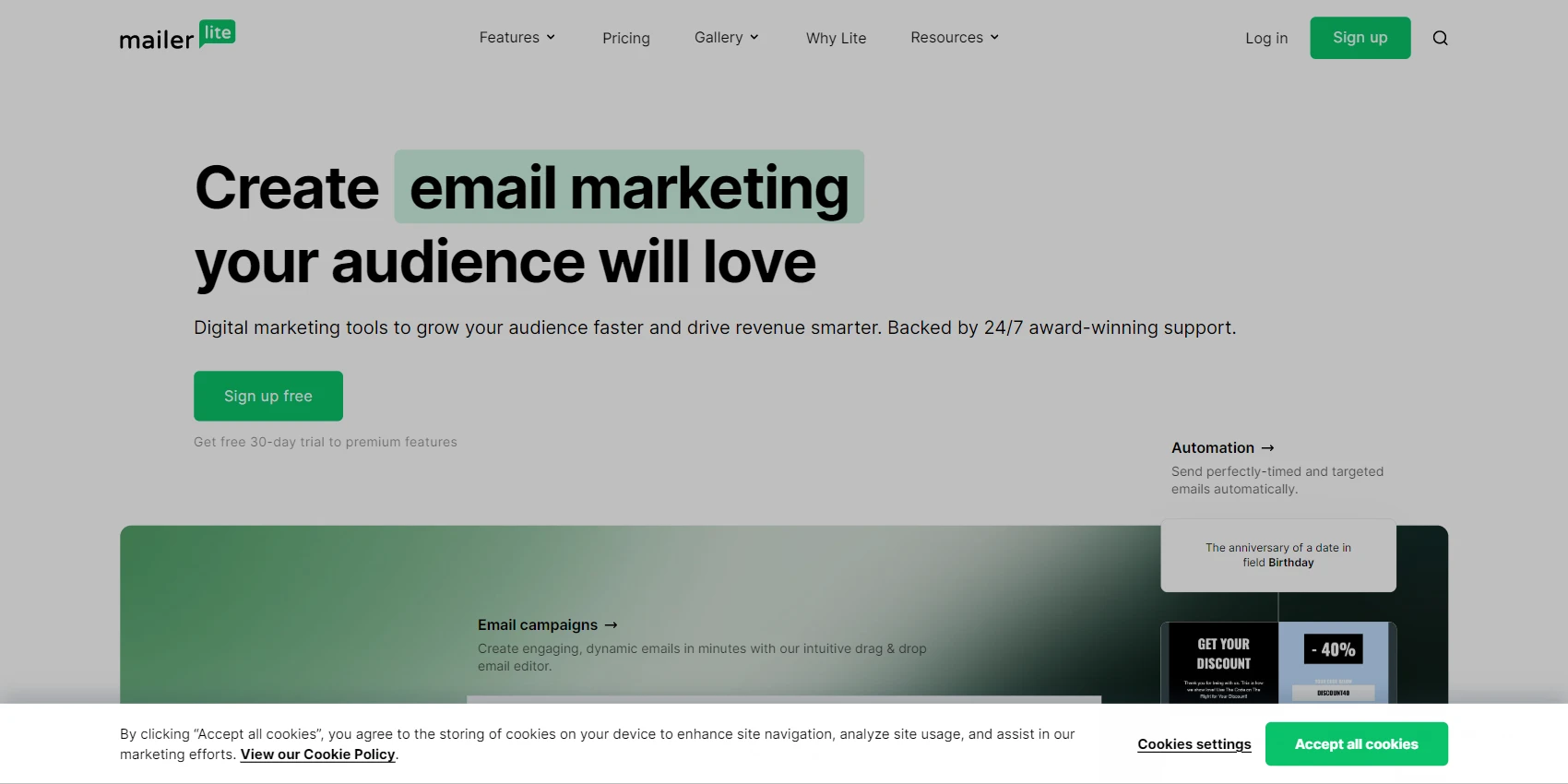 Josip's Review of MailerLite
MailerLite is an affordable and powerful email marketing software, with a great free plan. It has all the features you expect from such a service: an easy-to-use email editor, customizable forms and pop-ups, segmentation capabilities for targeted emails, automated follow-up flows as well as marketing automation tools.
MailerLite also offers advanced features like A/B split testing of subject lines and content for optimization purposes, dynamic content blocks for personalization in emails, embedding YouTube videos into campaigns, preview sending to check emails before going out to the public and scheduling based on subscribers' time zone.
The platform provides modern templates which are mobile responsive and allows users to easily create beautiful emails with pre-built modules or custom HTML imports.
With strong 24/7 live chat support available on paid plans it is no wonder that over 800k companies use MailerLite every month - it certainly gives them value for money!
MailerLite Rating:  4.8 out of 5
Key Features of MailerLite
Email marketing: Send engaging, dynamic emails in minutes with our easy-to-use drag-and-drop email builder.
Automations: Set up perfectly-timed and targeted email automation's to connect with your audience.
Landing pages: Build stunning websites on your own with our drag & drop editor - no coding required!
Signup forms: Grow your audience with highly-effective subscribe forms placed on your website or blog
Collect Subscribers: MailerLite allows you to collect subscribers and strengthen customer relationships.
Automate Workflows: With MailerLite, you can automate workflows and monetize your audience.
Create Beautiful Campaigns: MailerLite provides three editors to create engaging, responsive campaigns.
Monetize Your Audience: Integrate e-commerce platforms to monetize your audience.
Send Targeted Campaigns: With segmentation, tagging, and personalization features, you can send targeted campaigns to your subscribers.
Manage Campaigns and Subscribers: MailerLite makes it easy to manage your email list and campaigns.
Continuously Improve Campaigns: With reporting and analytics tools, you can continuously improve your campaigns.
MailerLite Pros and Cons
Pros:
MailerLite is easy to use: User-friendly interface that is easy to navigate and self-explanatory.
Clear and Simple Documentation: Plenty of guides and documentation to help maximize the use of the service
Affordable Pricing: Reasonable monthly cost, 1/4 the price of Mailchimp.
Easy to Use Forms and Automation Systems: Intuitive form and email template editing makes creating forms and automation systems easy
MailerLite customer support team: fast and friendly, with great ideas for general inquiries
Cons:
No step-by-step process: I wish there was a step-by-step process when creating any of the emails flows
Address change: You can't change a subscriber's email address.
Occasional slowness: MailerLite can be slow. Going to different parts of the tool takes longer than it should.
MailerLite Pricing
MailerLite pricing starts at $0 per month.
MailerLite pricing plans:
Forever free plan: $0 per month
Growing: $9 per month
Advanced: $19 per month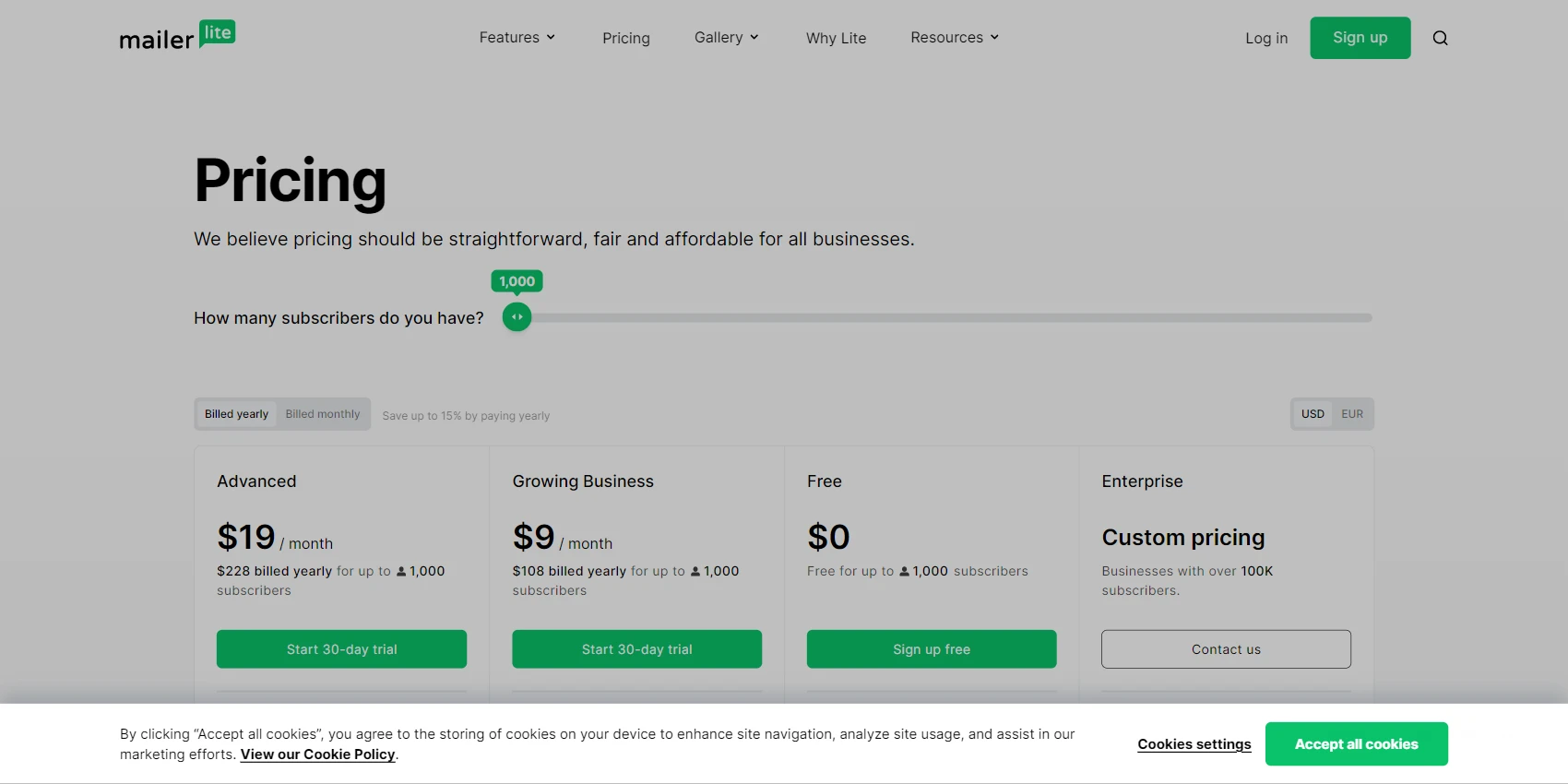 ---
Review published on: