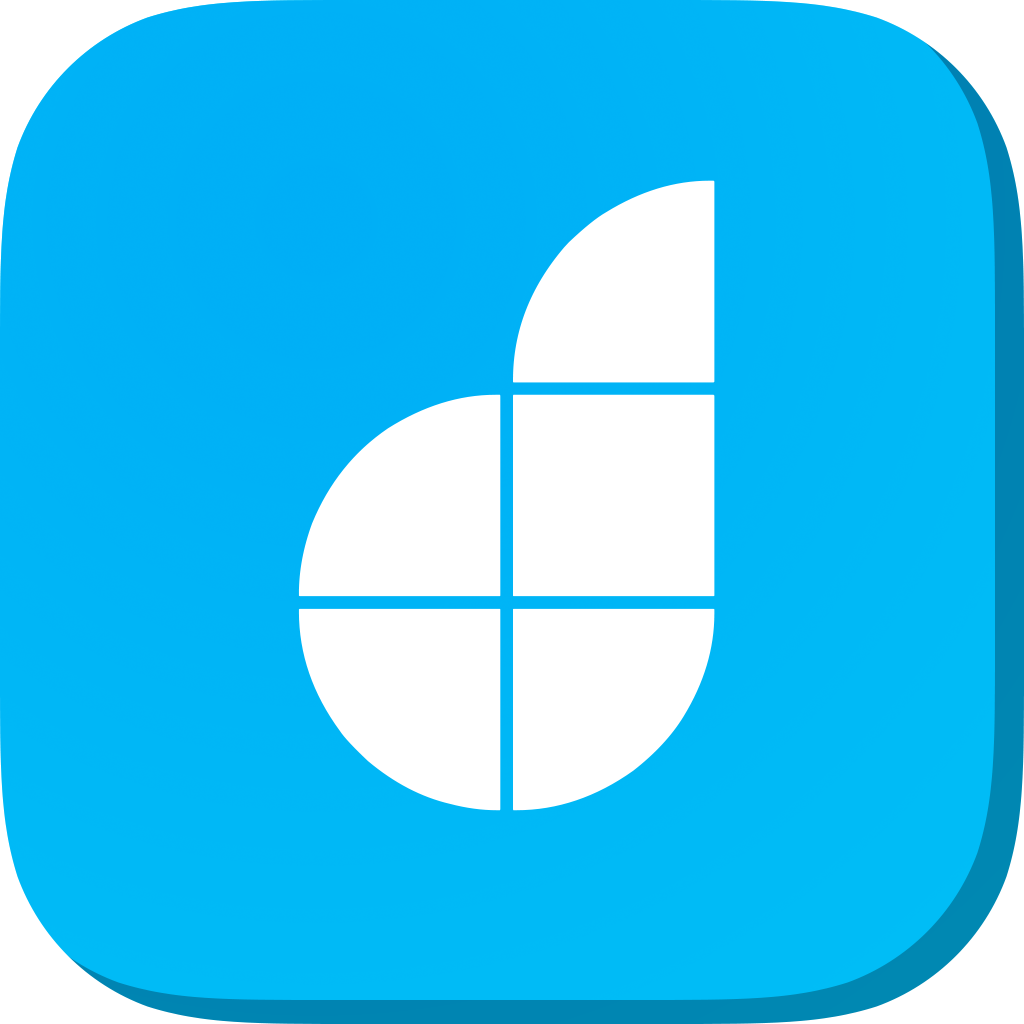 DronaHQ

Review

DronaHQ is one of the best low-code app development platforms designed to help users with building custom mobile and web business apps. It offers a rich UI Builder, Visual Controls, Rule Engine, Built-in database, Workflow & Automation builder, connectors, one-click deployment, multi-channel apps, enterprise-grade security, and analytics.

DronaHQ is a great solution for businesses that need internal tools but don't have the resources to develop them on their own.

Companies like Mondelez, Boston Scientific, SANY, SAR Group, IDFC Bank, Wipro, and Larsen & Toubro Infotech trust DronaHQ to build internal tools that drive faster operations and better business outcomes.

Try DronaHQ for free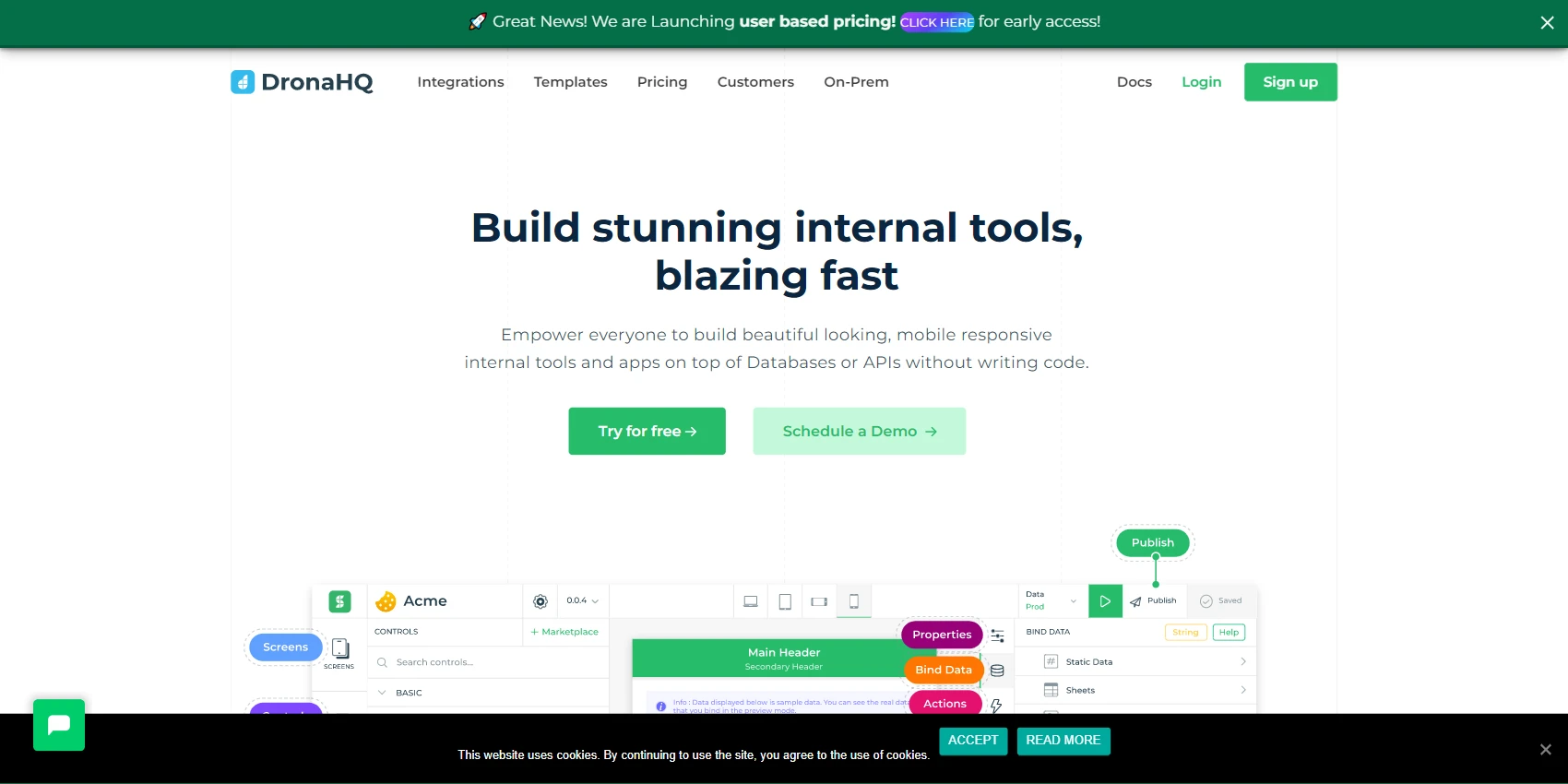 Josip's Review of DronaHQ
DronaHQ is a great low-code app development platform.
I liked the intuitive and easy-to-use DronaHQ Studio/UI-builder and the responsive and quick DronaHQ customer support. I also liked the advanced logic-building capabilities which are more advanced than similar software types. Morover, DronaHQ has a microapps concept of light and function-specific apps that reside in a single container app. The robust shared platform easily imports excel sheets and google sheets into its columnar db DronaHQ Sheets.
DronaHQ Rating:  4.6 out of 5
Key Features of DronaHQ
Screen Builder: With the Screen Builder, you can choose different types of screens to define your user navigations, and configure pixel perfect responsive layouts. You can also drag and drop from a vast list of powerful controls, all out of the box.
User Interface Builder: The User Interface Builder lets you drag and drop UI controls onto a canvas, resize them, adjust positioning, personalize properties and more, to design pixel perfect frontend designs.
In-built Controls: There are 150+ in-built controls available, like Tablegrid, Card list, Charts, Dashboards, Form controls etc. All these building blocks are thoughtfully designed to be responsive and native across different devices.
Layouts and Columnar Design: With layouts and columnar design fundamentals, you can build fully responsive apps which render beautifully across different form factors. You can also edit all CSS properties for them to generate aesthetic interfaces.
Mobile App Accessibility: Apps created and published on DronaHQ are automatically accessible as a web app as well as a mobile app.
Application Development: DronaHQ is a Low-code app development platform designed to help users with building custom mobile and web business apps. It offers rich UI Builder, Visual Controls, Rule Engine, Built-in database, Workflow & Automation builder, connectors, one-click deployment, multi-channel apps, enterprise-grade security, and analytics. With DronaHQ, businesses can streamline operations by automating everyday tasks and processes which are manual, paper and email-based.
DronaHQ supports the following devices: Android, iPad, iPhone See alternatives
DronaHQ Pros and Cons
Pros:
DronaHQ Studio/UI-builder is intuitive and easy to use
Customer support: responsive and quickly resolves issues
Advanced logic-building capabilities: more advanced than similar no-code development platforms
Microapps concept: light and function-specific apps that reside in a single container app
Robust shared platform: easily import excel sheets and google sheets into its columnar db DronaHQ Sheets
Instant deployment of apps.
Easy to create custom workflows
Formula wizard is super helpful to easily build lookup formulae for binding data to your application screens and workflows
Cons:
Page Loading Speed: With all the regular improvements to the platform, sometimes existing features will begin behaving differently or stop working. I do find it necessary to save often and exit the development studio often so it can refresh and get updates as the Drona team works on it.
UI-builder: The UI-builder, although intuitive, often has issues with slow responsiveness and freezing
Text formatting: Text formatting can be a bit tricky sometimes.
DronaHQ Pricing
DronaHQ pricing starts at $0 per month.
DronaHQ pricing plans:
Developer: $0 per Month
Starter: $100 per Month
Business: $500 per Month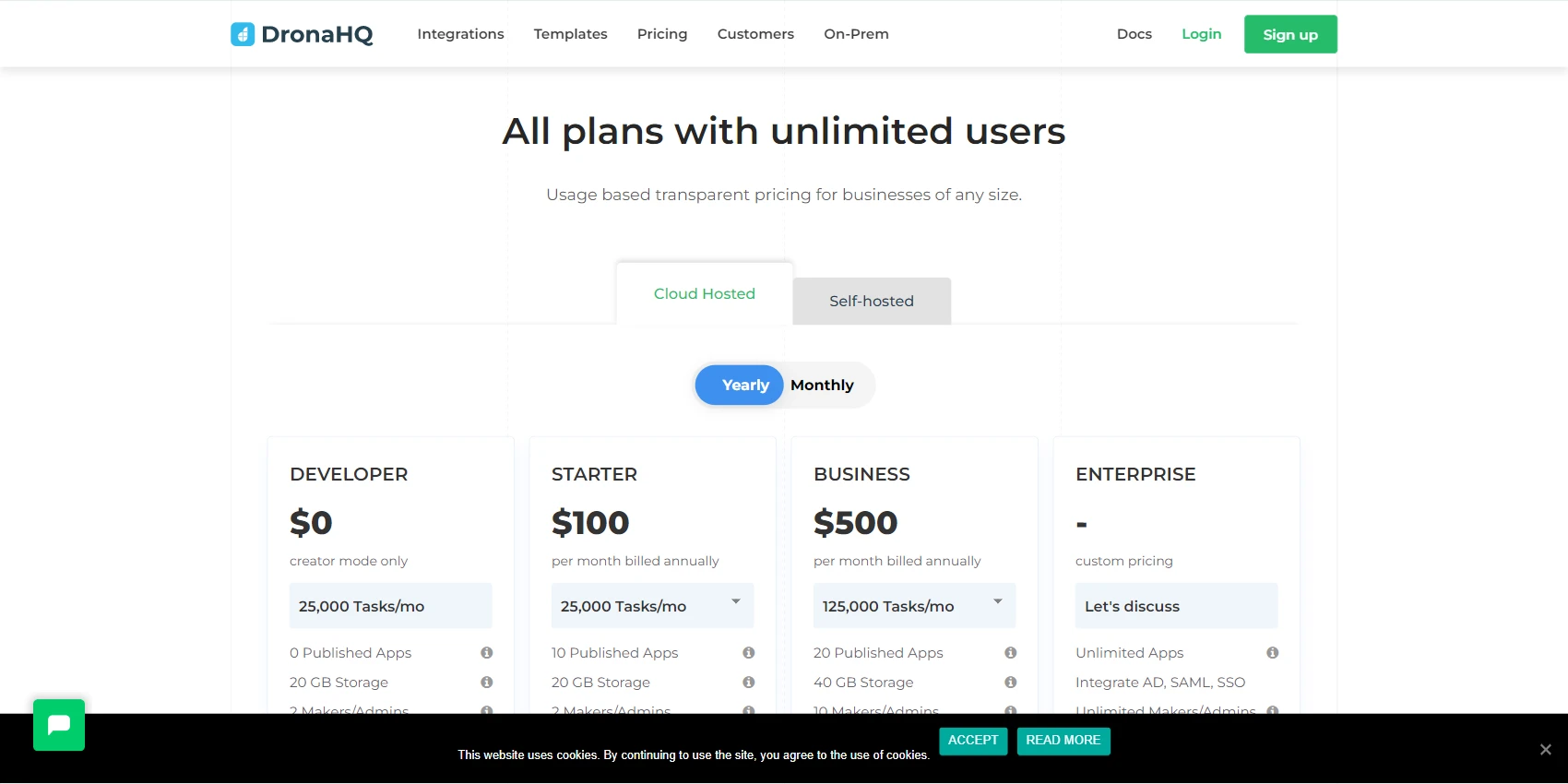 ---
Review published on: