11 Best No-Code App Builders for iOS and Android [2023]
By Josip Miskovic
•
Updated on
Quick Summary:
FlutterFlow - Best No-Code Mobile App Builder
Bubble - Best for Full-stack Online Apps
Are you looking to make an app but don't know where to start?
I've compiled a list of the best no-code app builders so that you can make your dream app with no prior coding experience.
With these tools, you'll be able to create custom apps for your business or personal project in minutes. Plus, many of them are free to get started.
What are the best no-code app builders?
Here's a list of the top no-code/low-code app builders based on my personal experience and research:
1.

FlutterFlow
Best No-Code Mobile App Builder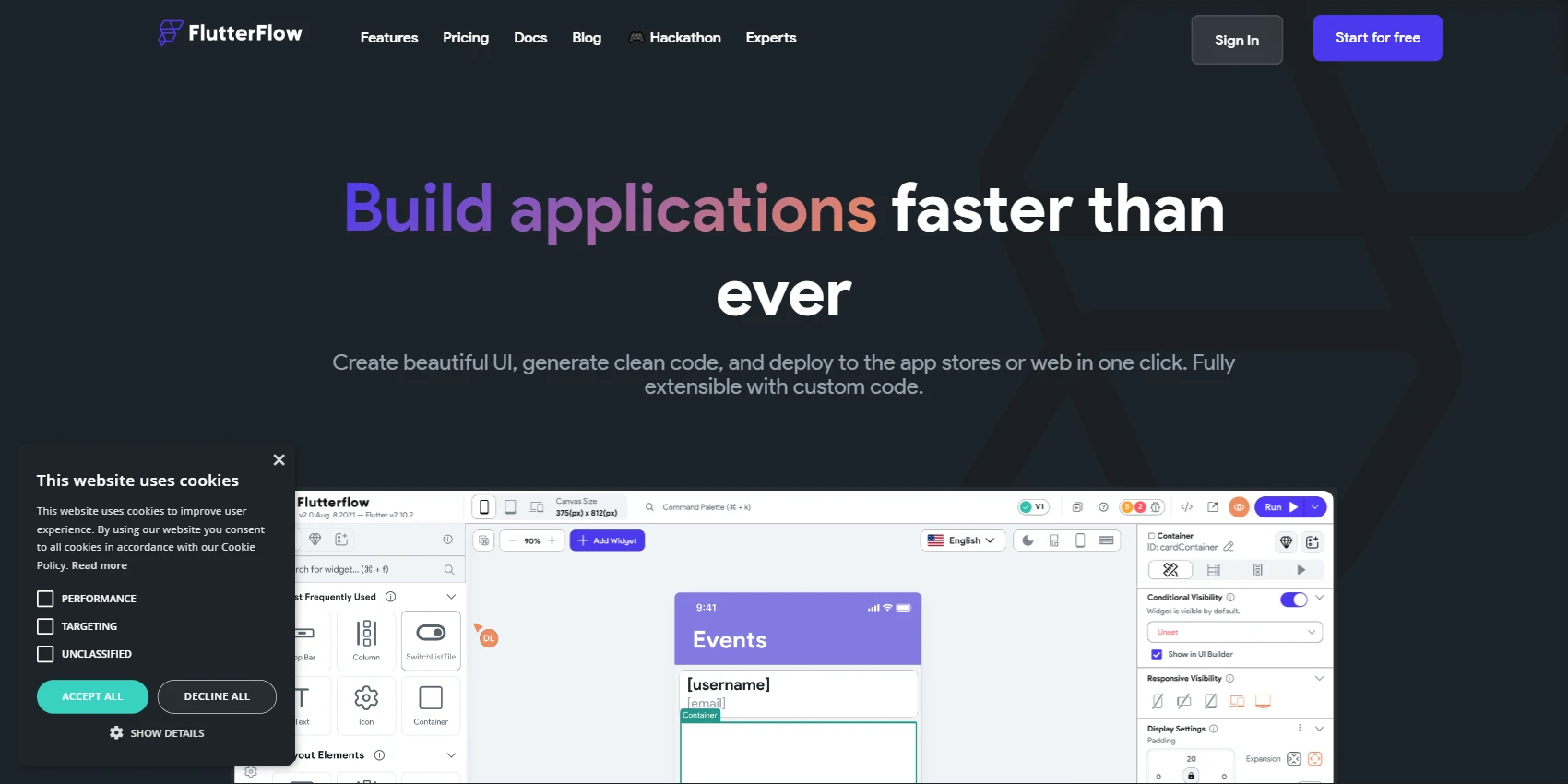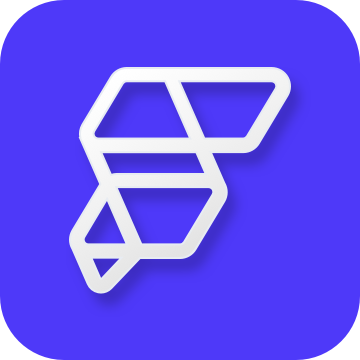 FlutterFlow is a low-code builder for native apps that combines design and development in one tool.
FlutterFlow lets you easily add advanced features like push notifications, payments, animations, and more. Moreover, you can build custom widgets or write custom code that you can use in FlutterFlow.
When your app is complete, you can export your code or deploy it straight to the iOS, Android, or Web.
In my experience, FlutterFlow has been the best no-code mobile app builder when you look at it from the perspective of features and pricing.
Learn More About FlutterFlow
Key Features of FlutterFlow
Drag-and-drop to build pixel-perfect UIs.
Fast/fluid performance app building experience
Build and publish an app on iOS, Android, and Web
Connect your app to live data via Firebase or APIs.
Rendering engine and testing and integration APIs.
What I Like/Dislike About FlutterFlow
Pros:
FlutterFlow is easy to use and can be quickly spun up to help with business growth.
The speed of prototyping is fantastic, and you can have a working app in days.
Offers many UI components and design choices.
The export of source codes is key for differentiating FlutterFlow from other low/no-code platforms.
The fast building process and Firebase backend integration.
Cons:
There is no real two-way sync between the local codebase and the online editor.
There are a few concepts that are still quite technical and could use more video tutorials to understand them better.
There is a bit of a learning curve, and it would be great if there was more documentation/tutorials with actual app examples.
FlutterFlow Pricing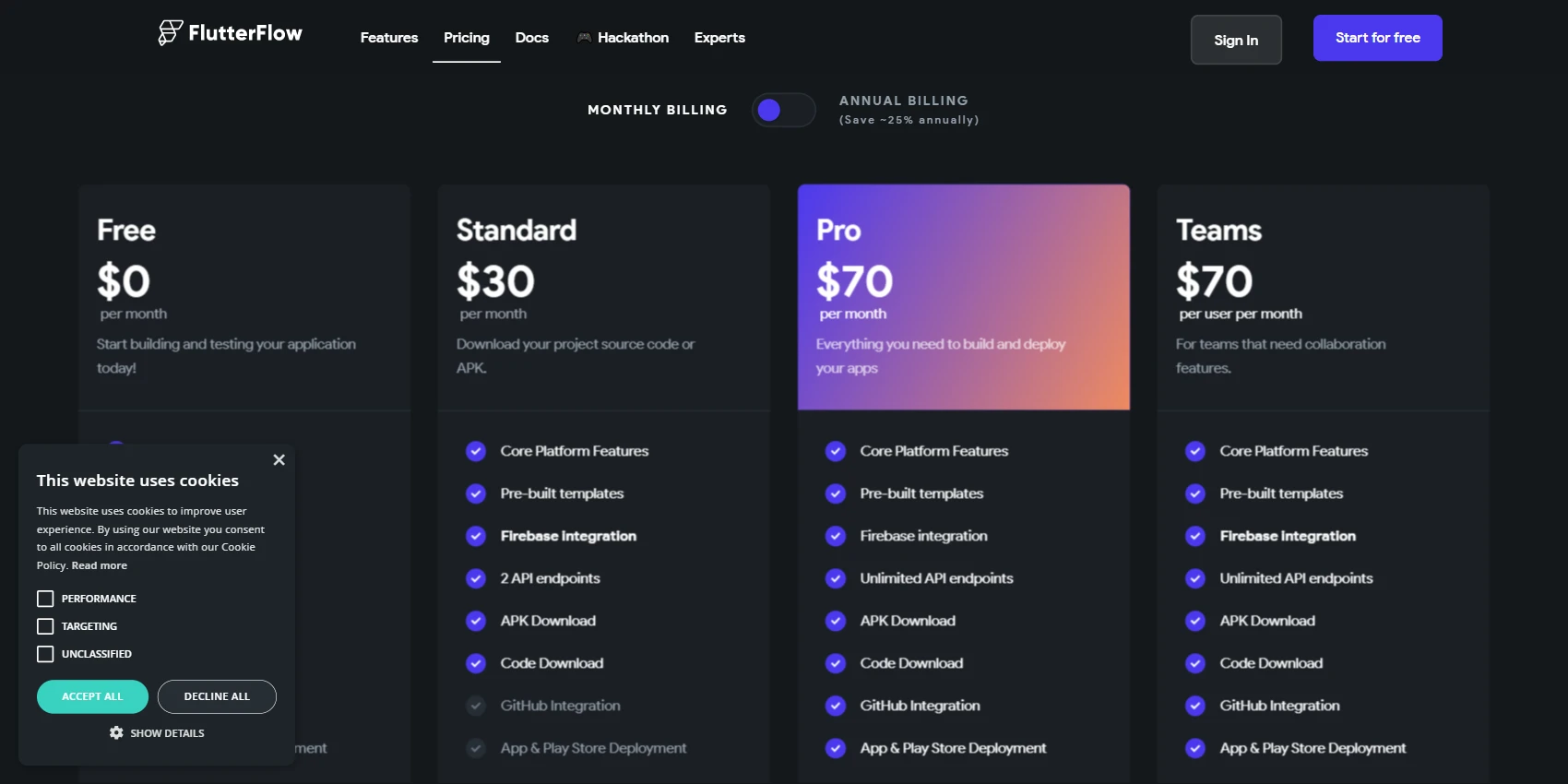 2.

Bubble
Best For Web Apps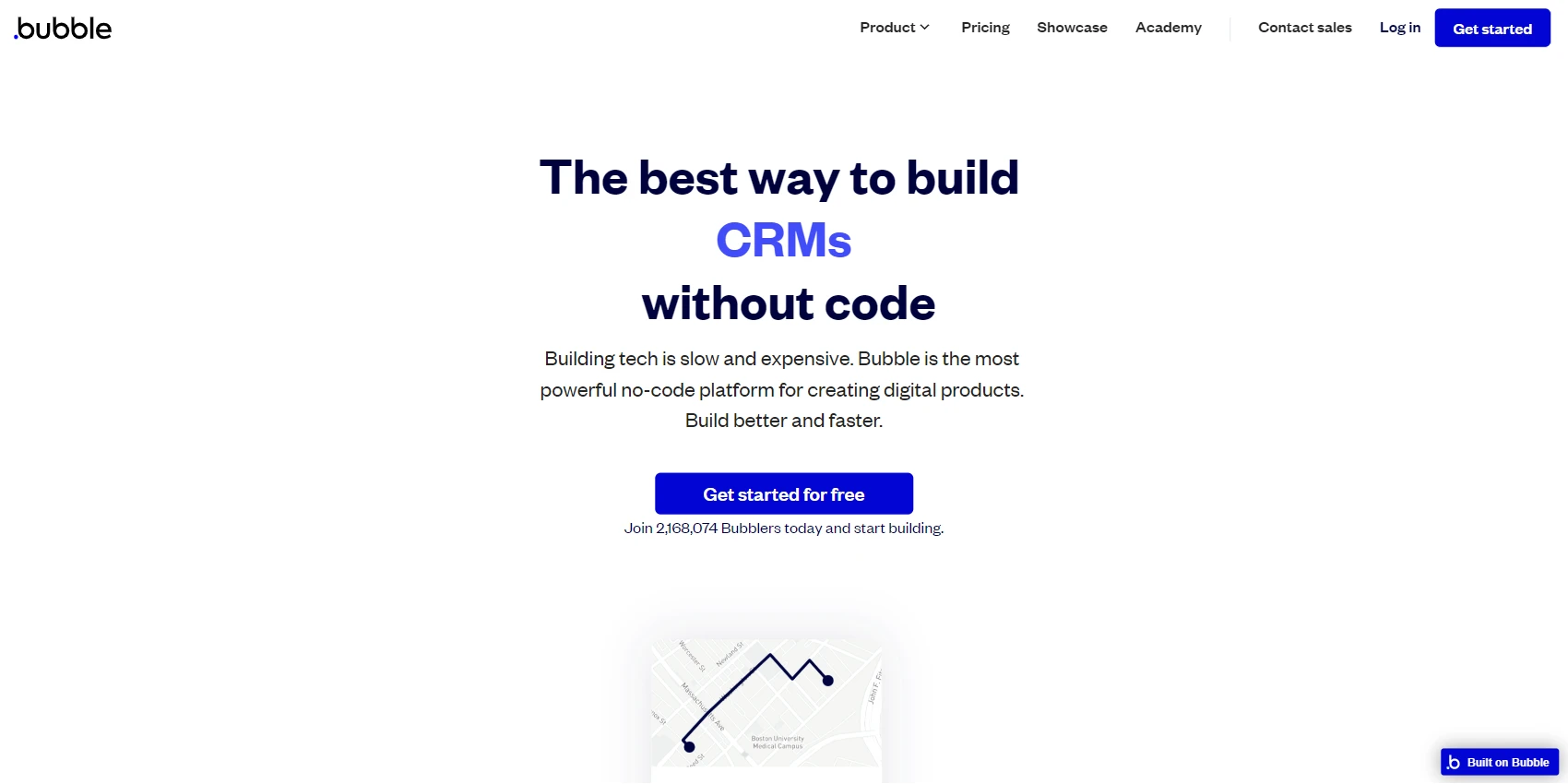 Bubble is a web-based platform that lets you create customizable applications without needing any coding experience. The platform offers a powerful point-and-click editor as well as cloud hosting, making it easy for anyone to build prototypes or full-scale businesses.
Bubble also offers integrations with other services, a marketplace of plugins and templates, and a community forum where users can ask and answer questions.
Over 750,000 people have created businesses using Bubble, and the company has raised over $365M in venture funding.
Whether you're looking to build a customer-facing web platform, an internal tool, or anything in between, Bubble makes it easy and fast to create the technology you need.
How does Bubble compare to FlutterFlow?
FlutterFlow has more features than Bubble, including API's, alerts/notifications, custom code blocks, and Algolia search. Bubble has fewer features but allows for more freedom in design with a drag-and-drop interface that goes beyond the constraints of the templated design.
Learn More About Bubble
Key Features of Bubble
App has 800+ plugins, including Stripe, Google, Facebook, and more
Internationalization made easy: automatically display the right language, currency, and formats
App-wide styles to maintain a coherent design across your entire application
Figma integration: import pixel-perfect frames into Bubble and turn them into a functioning app in no time
Robust, scalable infrastructure that's simple to deploy and host
Version control so you can test changes safely and deploy them with one click
Automatic backups so you never have to worry about data loss
Real-time logging so you can see every action users take on your app
Use Cloudflare CDN for fast global access to your app content
Multi-factor authentication to keep collaborators and users safe
Built-in analytics so you can make informed decisions about your app's usage
What I Like/Dislike About Bubble
Pros:
It's an all-in-one solution for web development, allowing for more rapid evolution of applications.
Powerful plugin integrations save a lot of time
Robust NoSql database that is easily manageable.
Great number of customization features for modifying icons, links, and HTML.
Built-in app analytics.
Competitive price.
Cons:
Bit of a learning curve.
When there is an issue, getting support isn't as easy as it could be.
Dealing with responsiveness is a pain.
Account and app management could be better.
Some design elements take time to learn to use.
The app performance can sometimes be slow.
Variables that are stored against elements can be difficult to find.
There could be more control over the design elements.
Bubble Pricing
Free: $0 per Month
Personal: $25 per Month
Professional: $115 per Month
Production: $475 per Month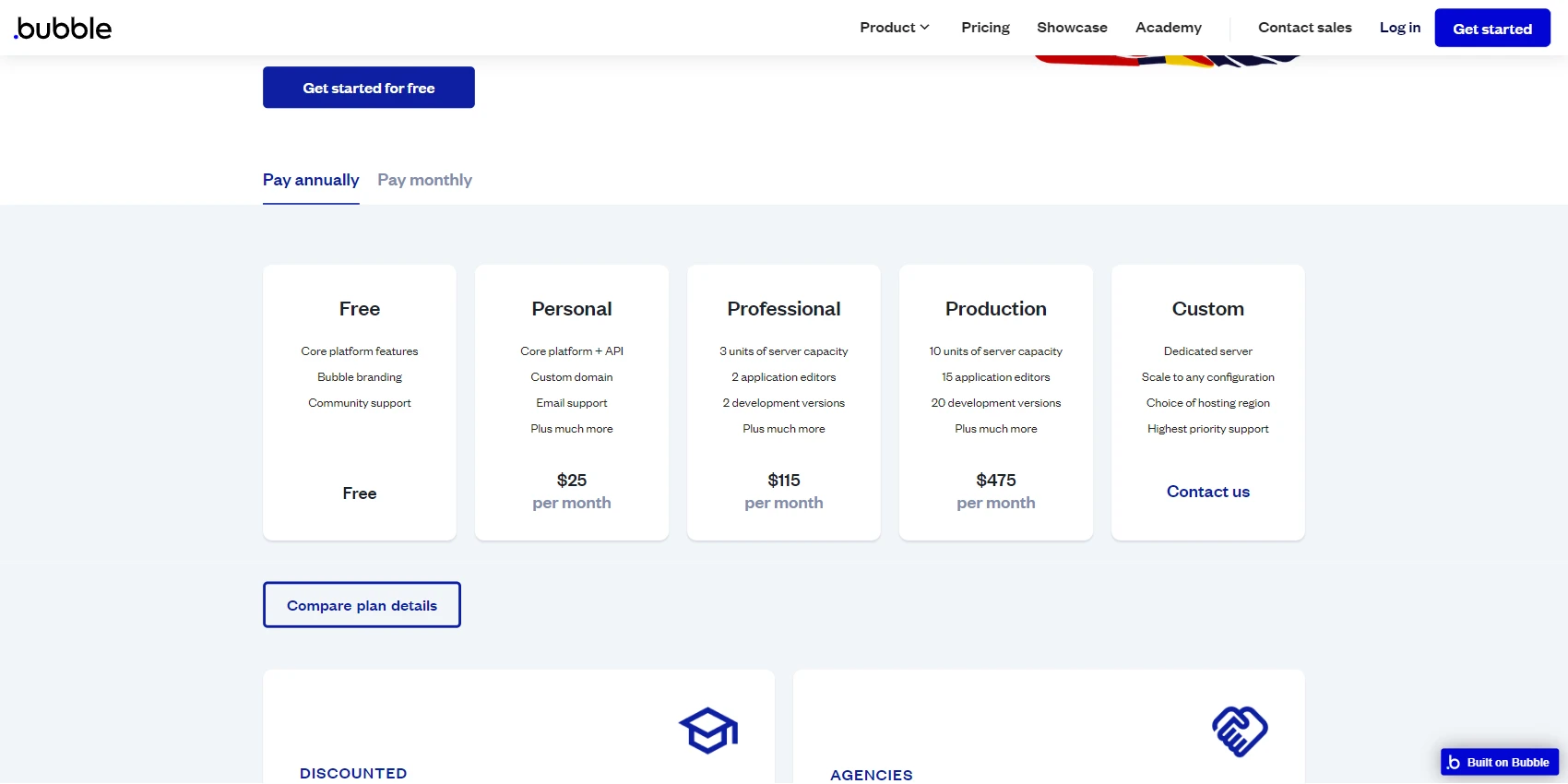 3.

Appy Pie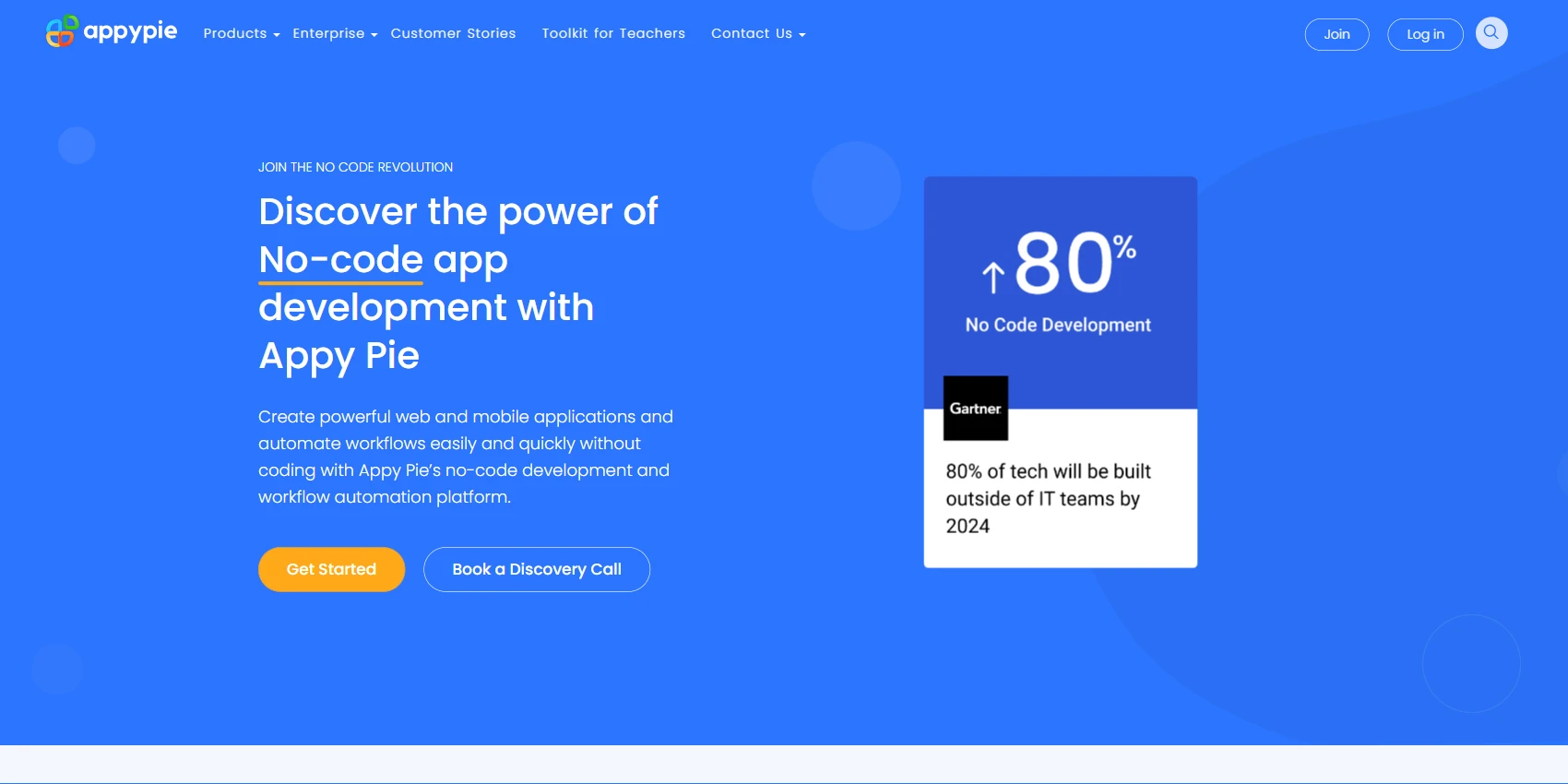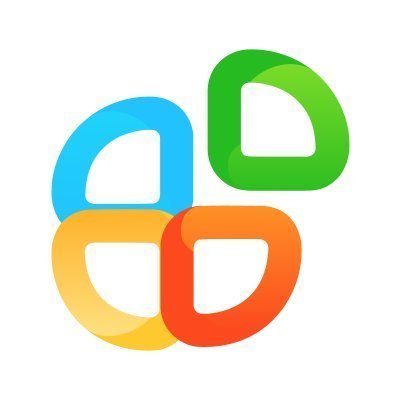 Appy Pie provides an easy-to-use no-code development platform that is flexible and affordable. This platform lets you create mobile apps, websites, chatbots, and workflows without any coding experience. It is perfect for business users who want to create solutions to problems without relying on developers.
Appy Pie gives you lego-like blocks of features that can be added, removed, and edited to create an app that best serves the user's needs.
Learn More About Appy Pie
Key Features of Appy Pie
Drag and drop functionality lets you unify and simplify all your data into a single source.
Empower your business operations with workflow automation without getting bogged down by the complexities of coding. Appy Pie's no-code workflow automation platform lets you create efficient integrations to build meaningful workflows.
Workflow automation platform lets anyone create as many integrations as they need to develop a workflow unique to their business needs. Creating these workflows means you do not have to keep switching between multiple apps to bring uniformity to your data across platforms.
There are a variety of configurable application templates that organizations can use to create games, organizational apps, shopping carts, customer relationship management apps and more.
Applications can be shared with potential customers on various social platforms that include Facebook and Twitter, as well as the Appy Pie marketplace.
Appy Pie's application analytics feature enables managers to track application performance by measuring parameters such as downloads, page visits and time spent on app.
What I Like/Dislike About Appy Pie
Pros:
The format and platform of Appy Pie are simple and easy to use.
Price
Support team is knowledgeable and quick to resolve any minor issues during development.
Appy Pie has a wide variety of features that allow for the creation of functional applications.
The customer support team is responsive and helpful.
Packed with integrations
Cons:
Many features are not properly finalized and tested, which leads to the frequent need for support.
The software can be a bit janky at times, such as slow loading of elements or issues connecting to support chatbots.
There are occasional miscommunications or errors in the development process.
We need more opportunities for customization, as some pages do not have the same capabilities.
There are some limitations and inconsistencies in AppyPie's functionality, such as its integration with Facebook Messenger and video software.
Appy Pie Pricing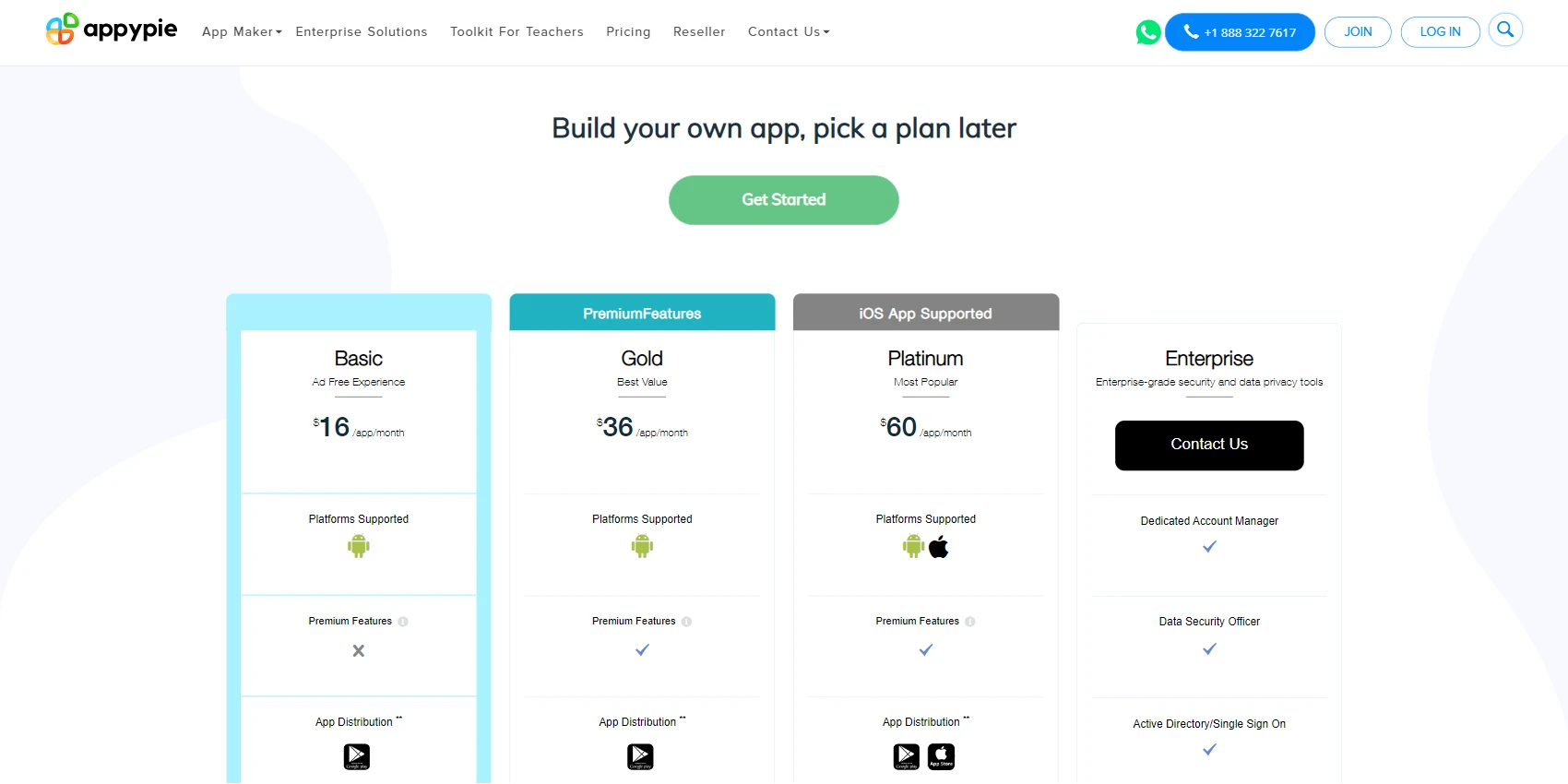 4.

Retool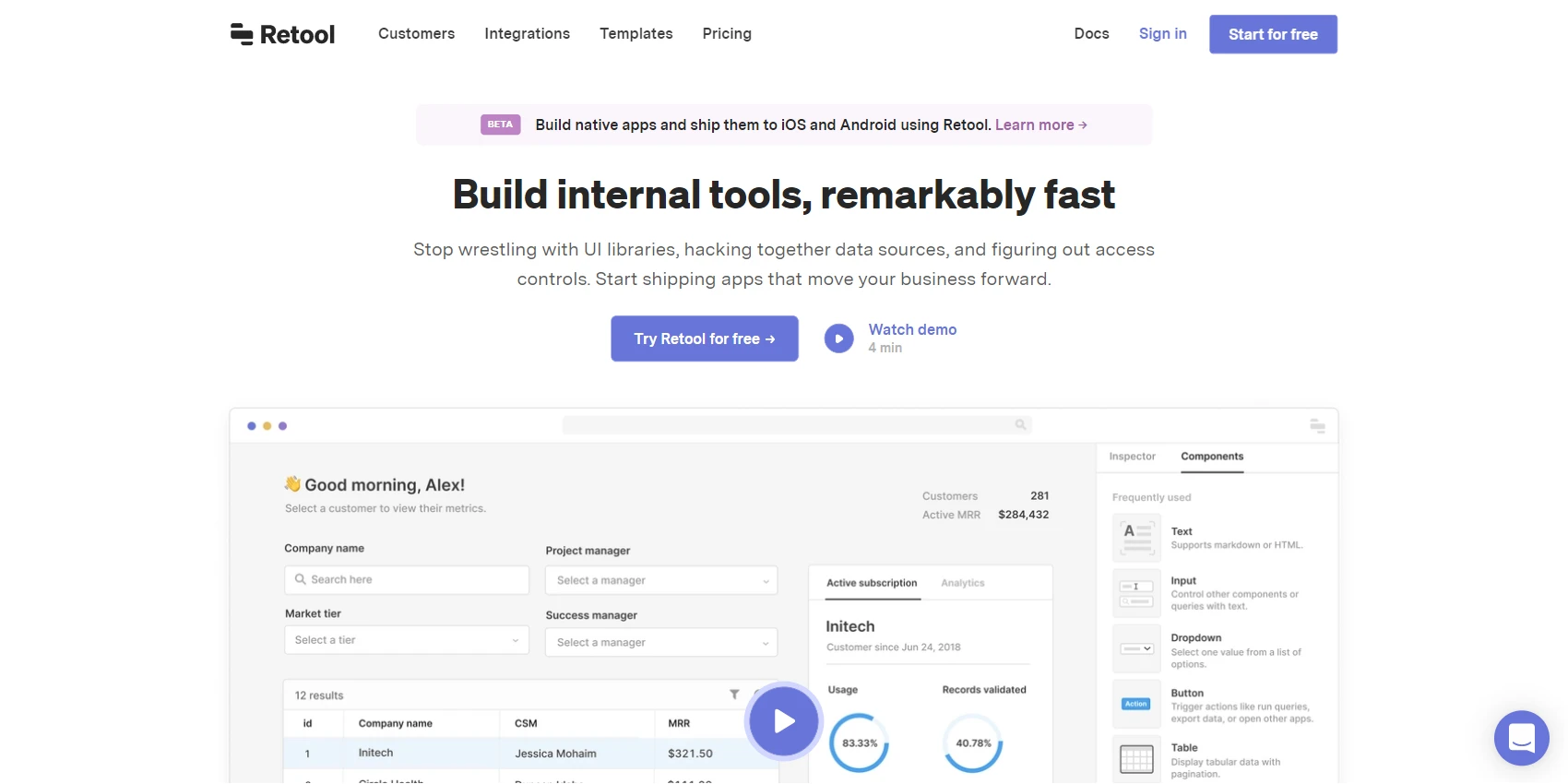 Retool is a low-code platform that makes it easy for developers to quickly build custom internal tools.
Business teams need custom apps, dashboards, admin panels, and other internal tools to run critical operations. Rather than build from scratch, you can use Retool to build powerful tools faster.
The app builder includes drag-and-drop building blocks (e.g. components for tables, buttons, forms, charts) so you can assemble an app in minutes. You can then write custom code, connect to any data source, and build custom logic and queries to create exactly the right tools for your business.
Retool's recent Mobile beta lets you create a mobile app using their drag-and-drop editor. You can build once, and then deploy to the web, iOS, and Android.
Thousands of companies like Doordash, Peloton, Brex, and FOX use Retool to build internal tools that drive faster operations and better business outcomes.
Learn More About Retool
Key Features of Retool
Retool provides a set of powerful building blocks to help you quickly assemble your UI.
Tables, Lists, Charts, Forms, Wizards, Maps, and more are all included.
Easily connect to any database or API.
No need for ETL or Redux. Retool manages all the hard stuff for you.
What I Like/Dislike About Retool
Pros:
Retool is easy to use, with a simple and intuitive interface.
You can quickly create applications and integrations with Retool's connectors.
Retool is great for building internal tools and dashboards.
Great community and support system.
Retool is excellent for making quick apps to manage the internals of a small business better.
Connect to existing data sources, keeping a single source of truth for essential data.
Cons:
Retool is slow at times.
Table component can't be displayed as an infinite scrolling table.
Retool Pricing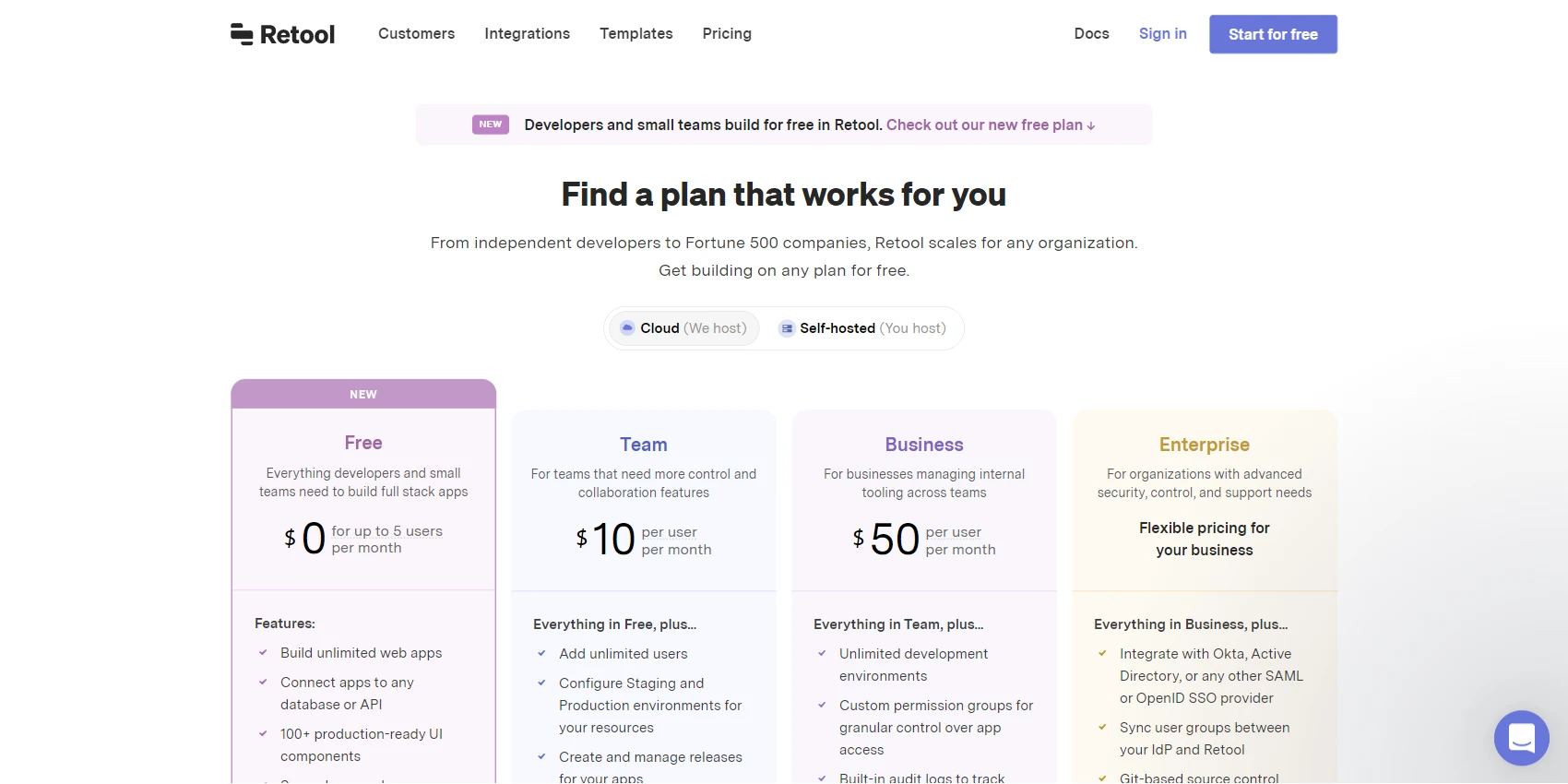 5.

OutSystems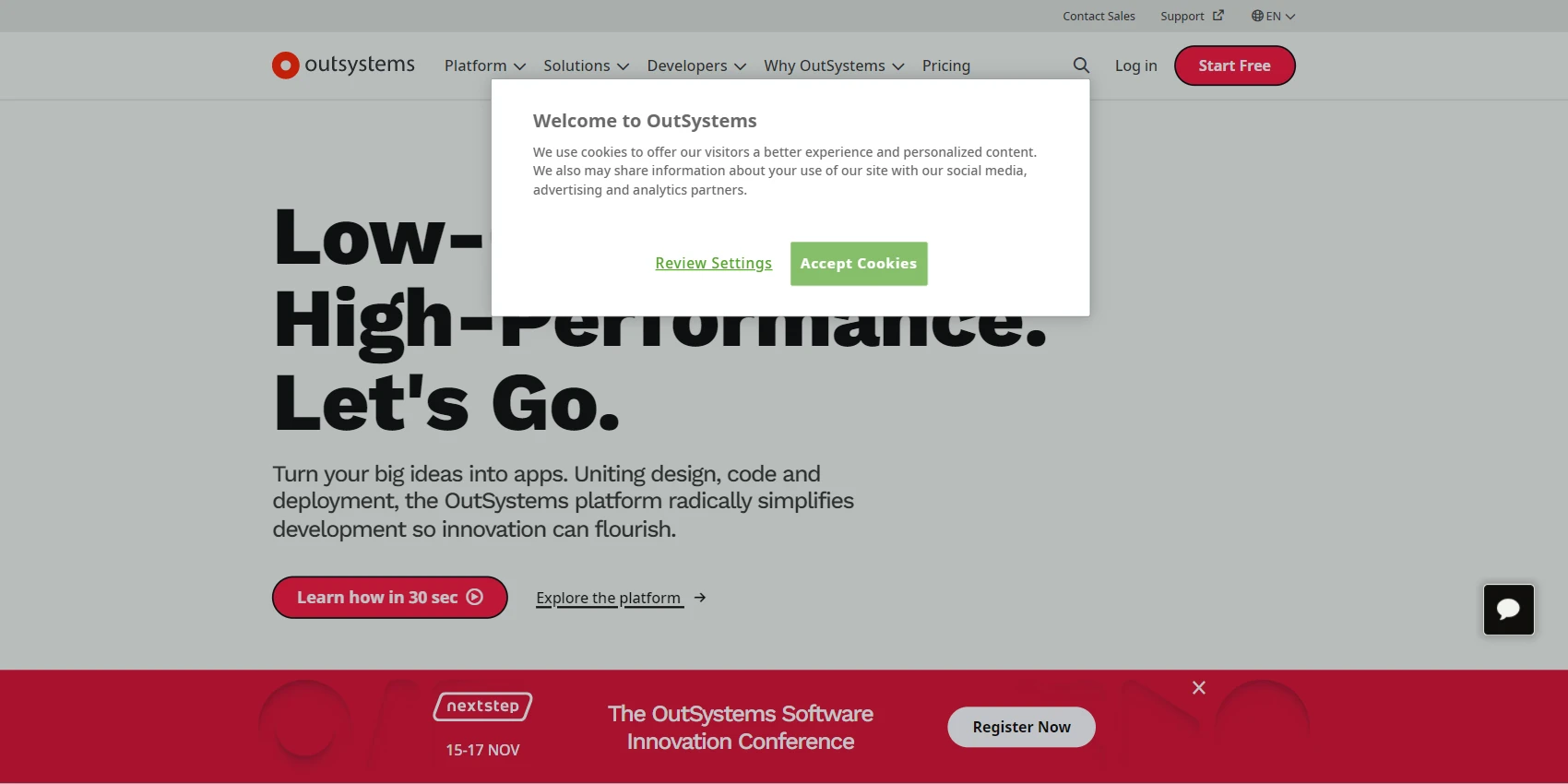 OutSystems is a high-performance low-code platform that enables you to quickly create unique, high-value, complex apps.
With its simple visual development tools and automation powered by AI, OutSystems makes it easy to tackle strategic challenges such as application modernization, workplace innovation, business process automation, and customer experience transformation.
OutSystems puts extra effort to ensure that solutions are secure, resilient, cloud-ready, and built to scale.
Learn More About OutSystems
Key Features of OutSystems
With the push of the one-click button, your teams can deploy and make changes to apps with confidence, knowing they are secure and free of defects.
Applications created with OutSystems run in the cloud, on-premises, or hybrid environments.
Integrations: The integrations with external systems are very well done and make it easy to work with other technologies.
What I Like/Dislike About OutSystems
Pros:
Applications can be published globally with just one click.
It is reliable and supported by an ever-growing community that makes ready-made solutions such as integrations and other components easy to use and adapt.
Community and partners: OutSystems has a great community and partner base that helps make the platform more robust and easier to work with.
Ease of use: OutSystems is very simple to use, making it accessible to a wider range of people.
Flexibility: The platform is not restrictive, which allows for more creativity and innovation.
Cons:
The platform can be difficult to understand without prior knowledge
The platform offers limited cloud space for deploying apps
The UI framework is difficult to overwrite
The CSS code editor could be improved, as it is not always easy to apply inline styles correctly
There are some limitations in terms of SQL query functionality that Outsystems does not support. For example, certain aggregates cannot be used with SQL queries.
The performance may occasionally suffer while using heavier modules.
Outsystems does not allow for branching, making it difficult for multiple developers to work on the same module simultaneously.
Debugging could be improved.
OutSystems Pricing
Standard: $1512.5 per Month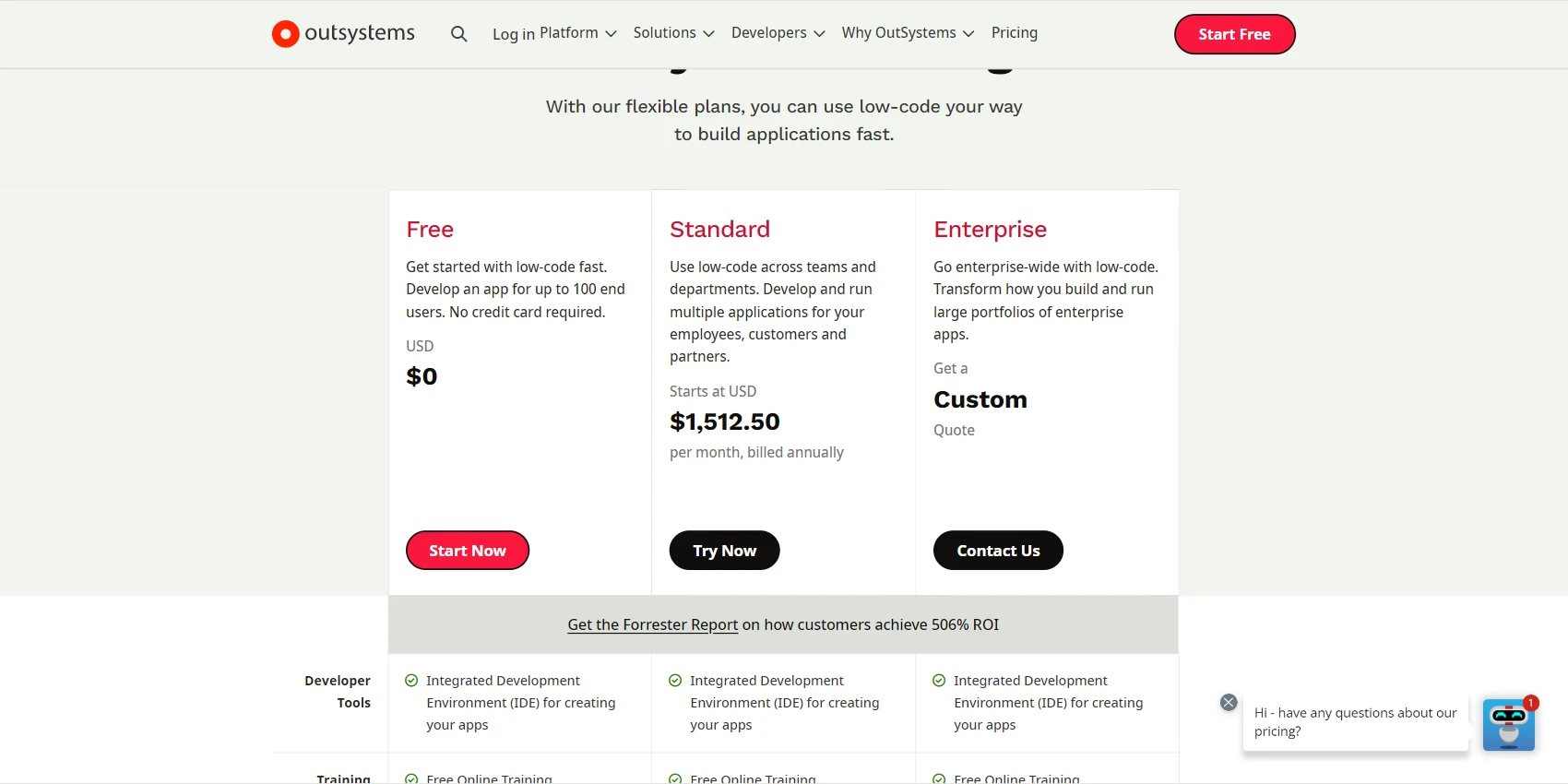 6.

Wappler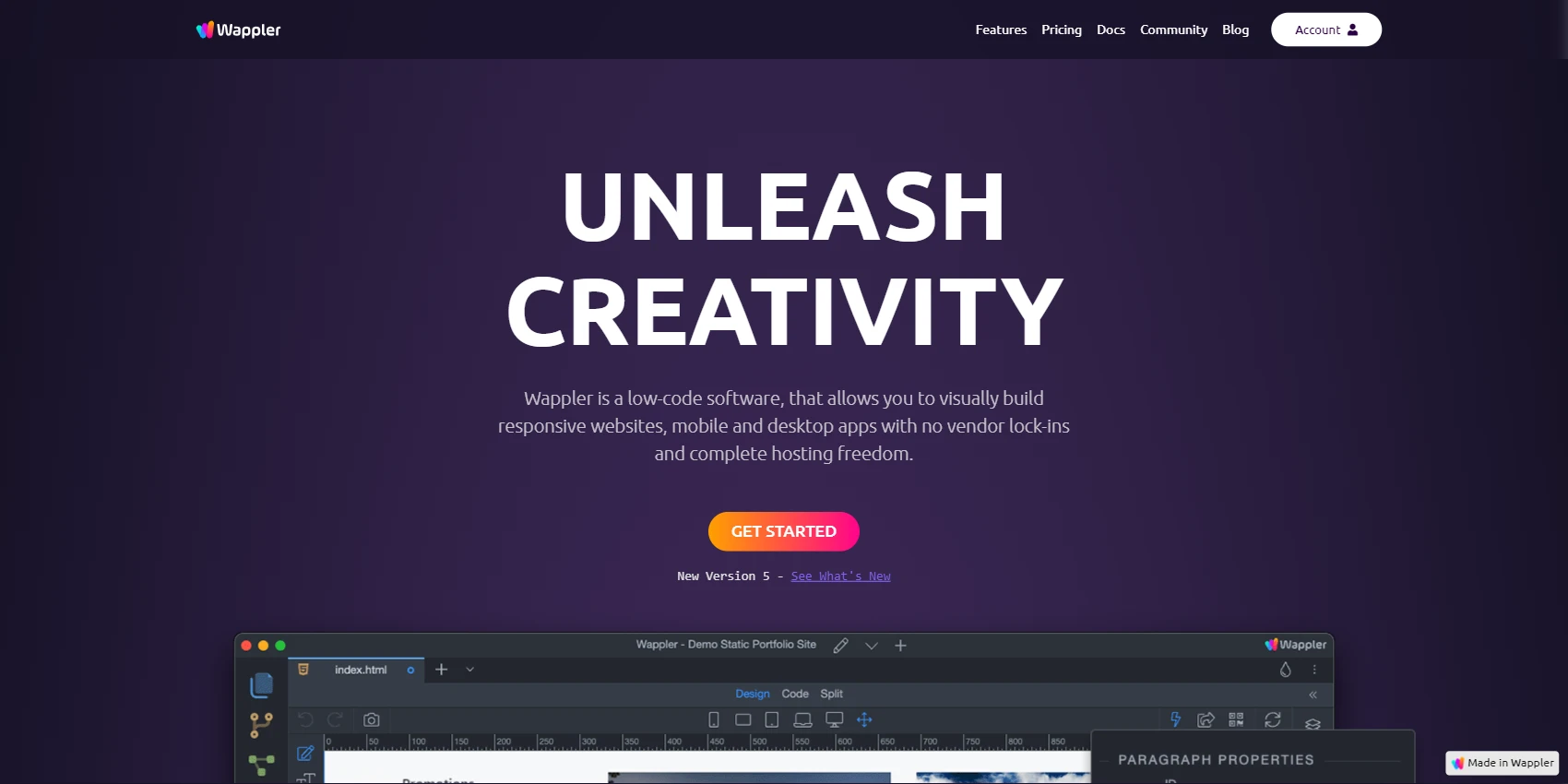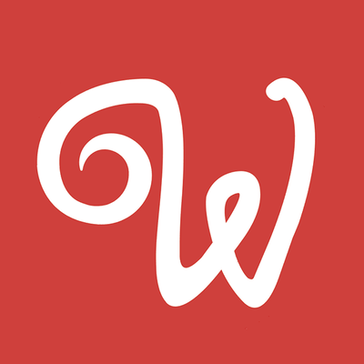 Wappler is a visual web and mobile applications builder that lets you create apps by combining components and workflows.
With Wappler, you can build database queries visually, manipulate and reuse data easily, connect to any API service, and build e-commerce solutions from scratch. Additionally,
Wappler provides support for version control and backups, making it easy to keep track of your project's progress and revert to previous versions if necessary. Whether you're working alone or collaborating with a team, Wappler gives you the freedom and flexibility to publish your app to any hosting or cloud platform of your choice.
The community of Wappler users is amazing and you can find examples of websites and apps built in Wappler on their website.
Learn More About Wappler
Key Features of Wappler
Quickly build responsive page layouts using Wappler's intuitive visual design tools.
Add different HTML elements on your pages and fine-tune their properties
positions, spacing, typography, backgrounds, gradients and more.
Server-side logic builder lets you visually create complex workflows without any coding.
Connect seamlessly to any API service with our no-code API connector and use the data anywhere in your project.
Create unique e-commerce stores from scratch. Customize the checkout and shopping cart experience to match your brand and products
What I Like/Dislike About Wappler
Pros:
Wappler is incredibly flexible when it comes to web app development by visual interactions and no-to-little-coding.
Being based on bootstrap, it leverages one of the best and most widely used UI frameworks.
Further, integrating APIs and handling server actions are a breeze.
Ability to create SPA reflects on the extensiveness of this incredible software.
The Design Panel is rife with features to manage CSS visually as well
Cons:
Wappler is a new software and is rife with bugs
Bootstrap add flexibility but also redundancy
Could use better speed and performance
Wappler Pricing
Individuals: $49 per Month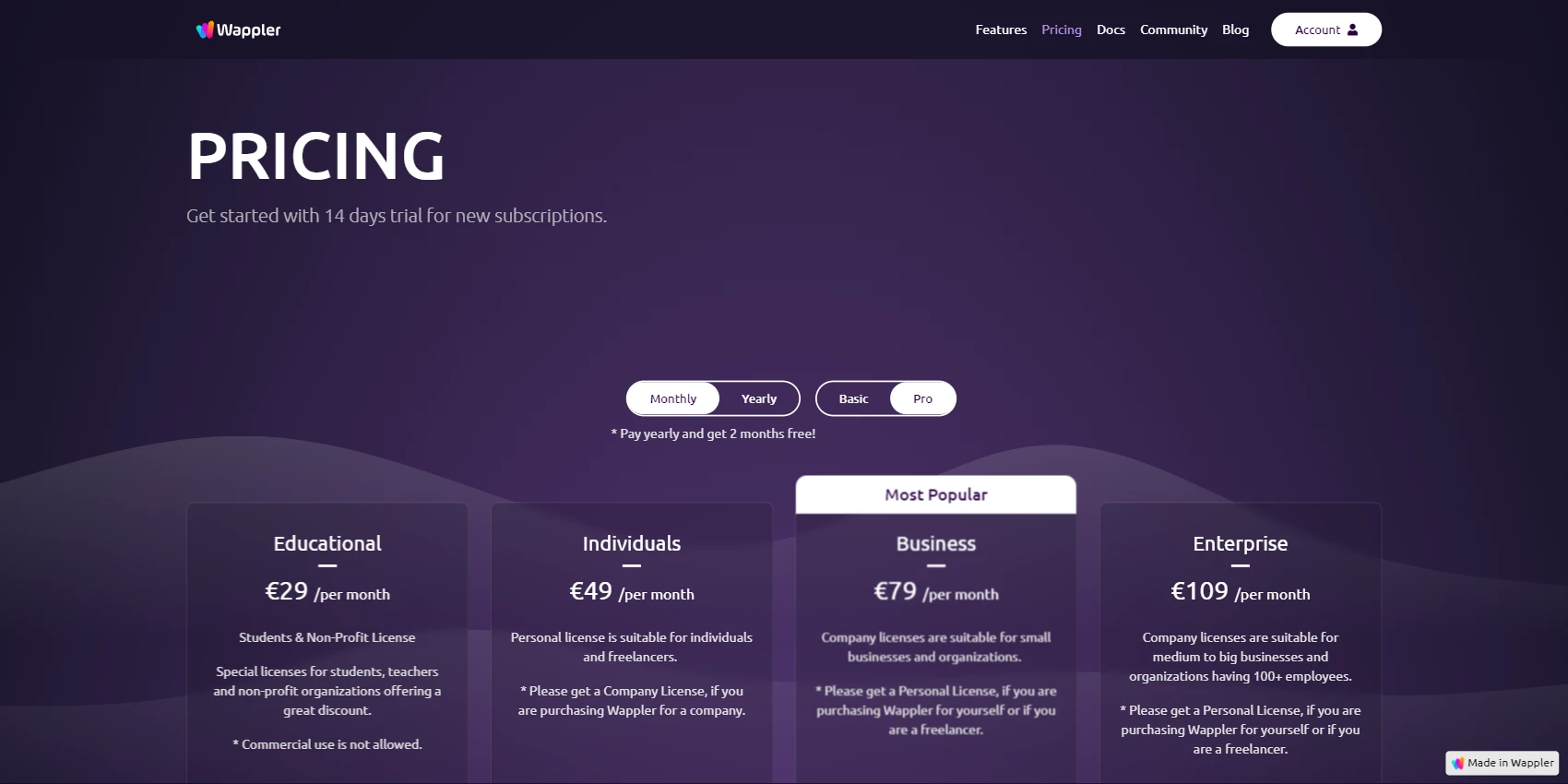 7.

BuildFire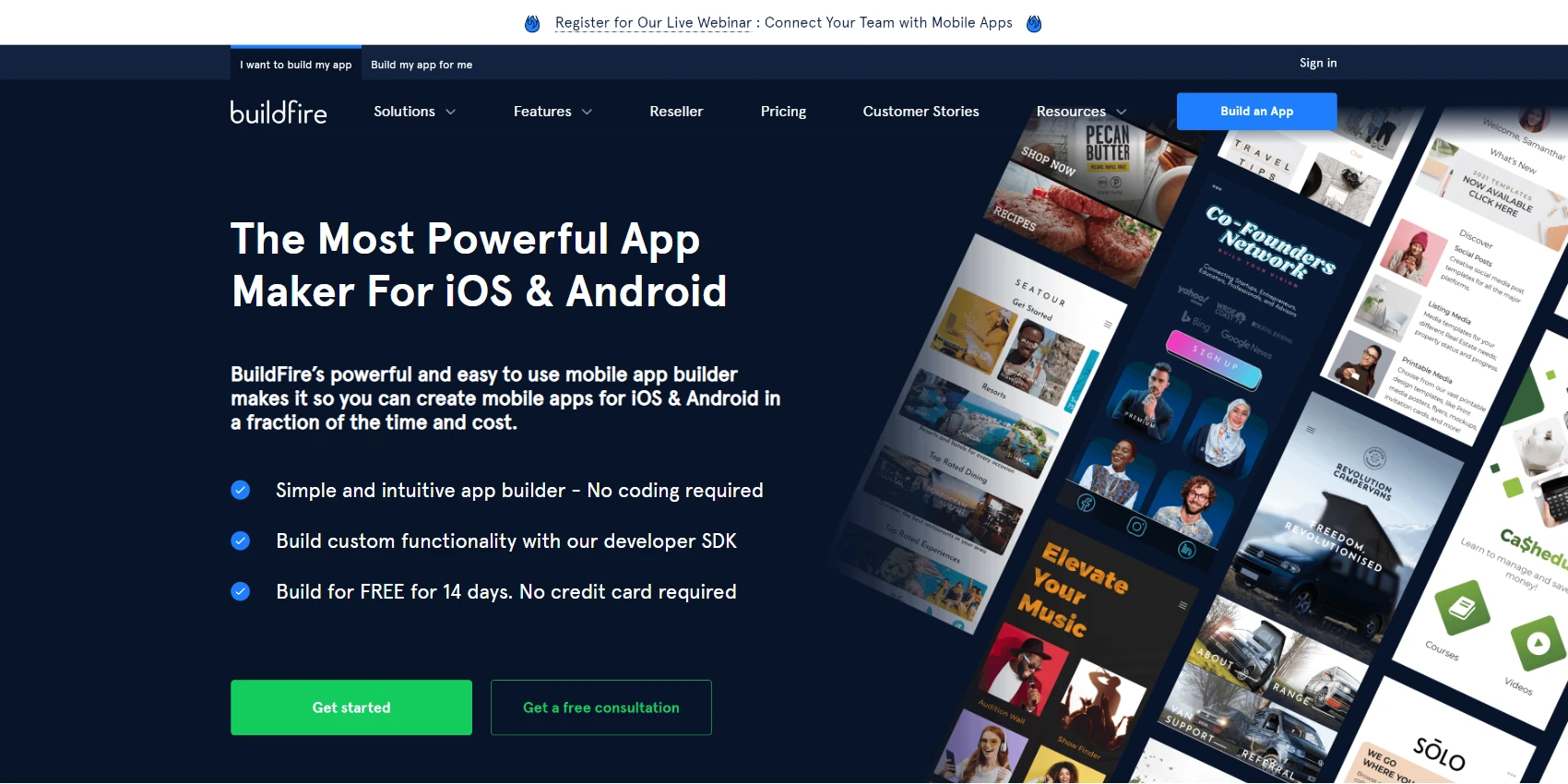 BuildFire is a powerful mobile app builder that lets you create professional-grade iOS and Android apps without writing any code. With over 10,000 apps created using BuildFire, the platform is flexible enough to scale with you as your business grows.
An app maker is a platform that uses modular building blocks of functionality to help you build your app. With BuildFire, there are over 150 plugins available to use, which allows for more focus on unique app features. BuildFire also offers an SDK for developers, in case you need more advanced features that aren't available in the platform itself. Additionally, BuildFire will handle the submission of your app to the Apple App Store and Google Play Store.
If you're looking for an easy and affordable way to build a custom app for your business, BuildFire is the perfect platform. With their expert team and responsive customer service, you can easily create a personalized app that will bring your business to the next level.
Learn More About BuildFire
Key Features of BuildFire
BuildFire allows users to create mobile apps for iOS and Android without any coding required.
With the BuildFire developer SDK, users can add custom functionality to their apps.
You can use their drag-and-drop platform to create your app, or have them develop an app for you.
What I Like/Dislike About BuildFire
Pros:
The app development process is simple and easy to understand, and they are very transparent about the costs involved.
Excellent customer service.
Intuitive platform with a wide variety of features.
Easy to use and publish your app.
Cons:
There have been some challenges deploying custom plugins that contained features that worked on one OS and not another.
There are some minor issues with the design and graphics.
The app publishing process can be a bit technical, but BuildFire's documentation is helpful.
Some of the modules cost extra
BuildFire Pricing
BuildFire Spark: $5000 per One Time
BuildFire Ignite: $
Growth: $189 per Month
Business: $349 per Month
Enterprise: $499 per Month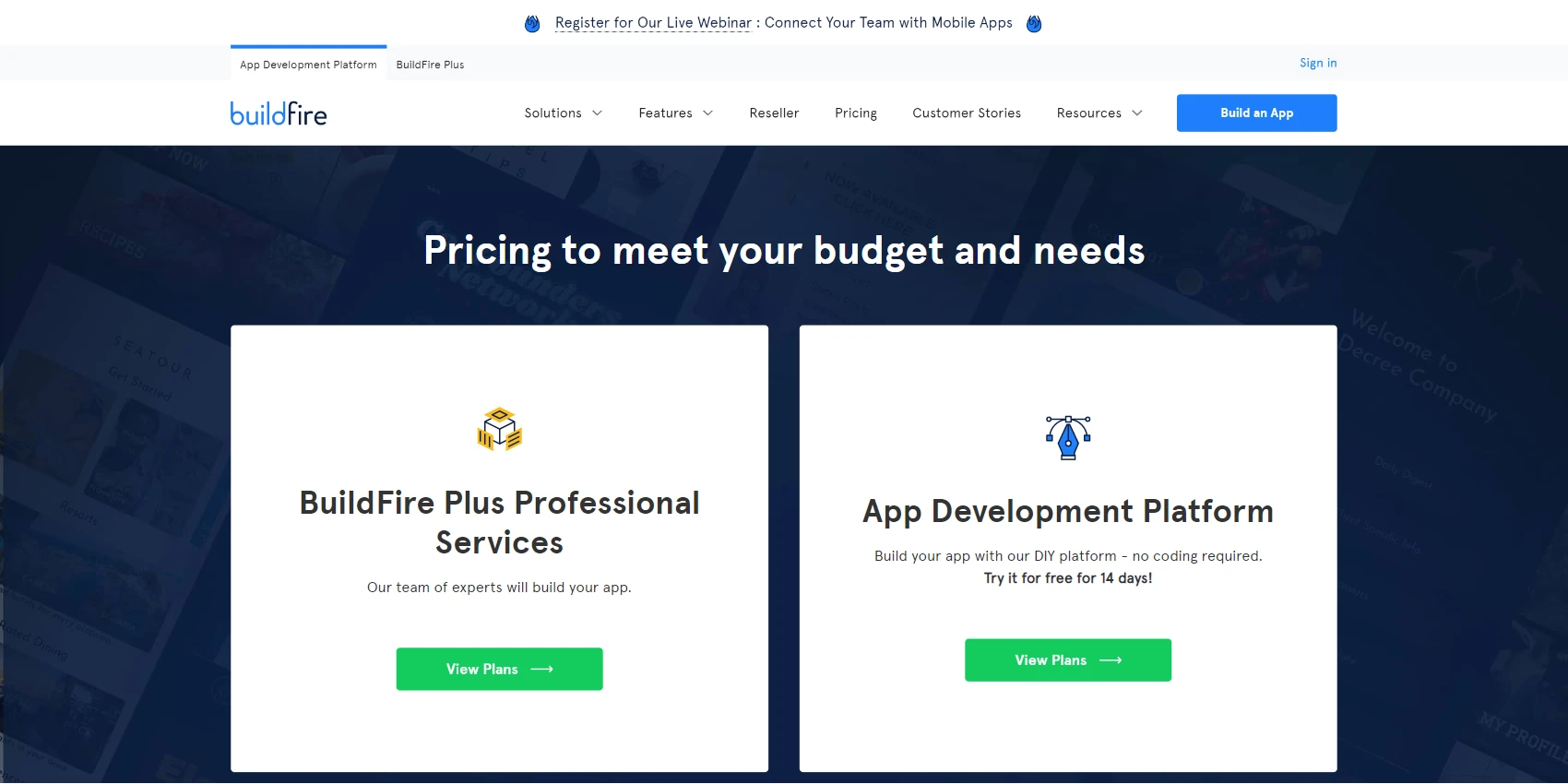 8.

Adalo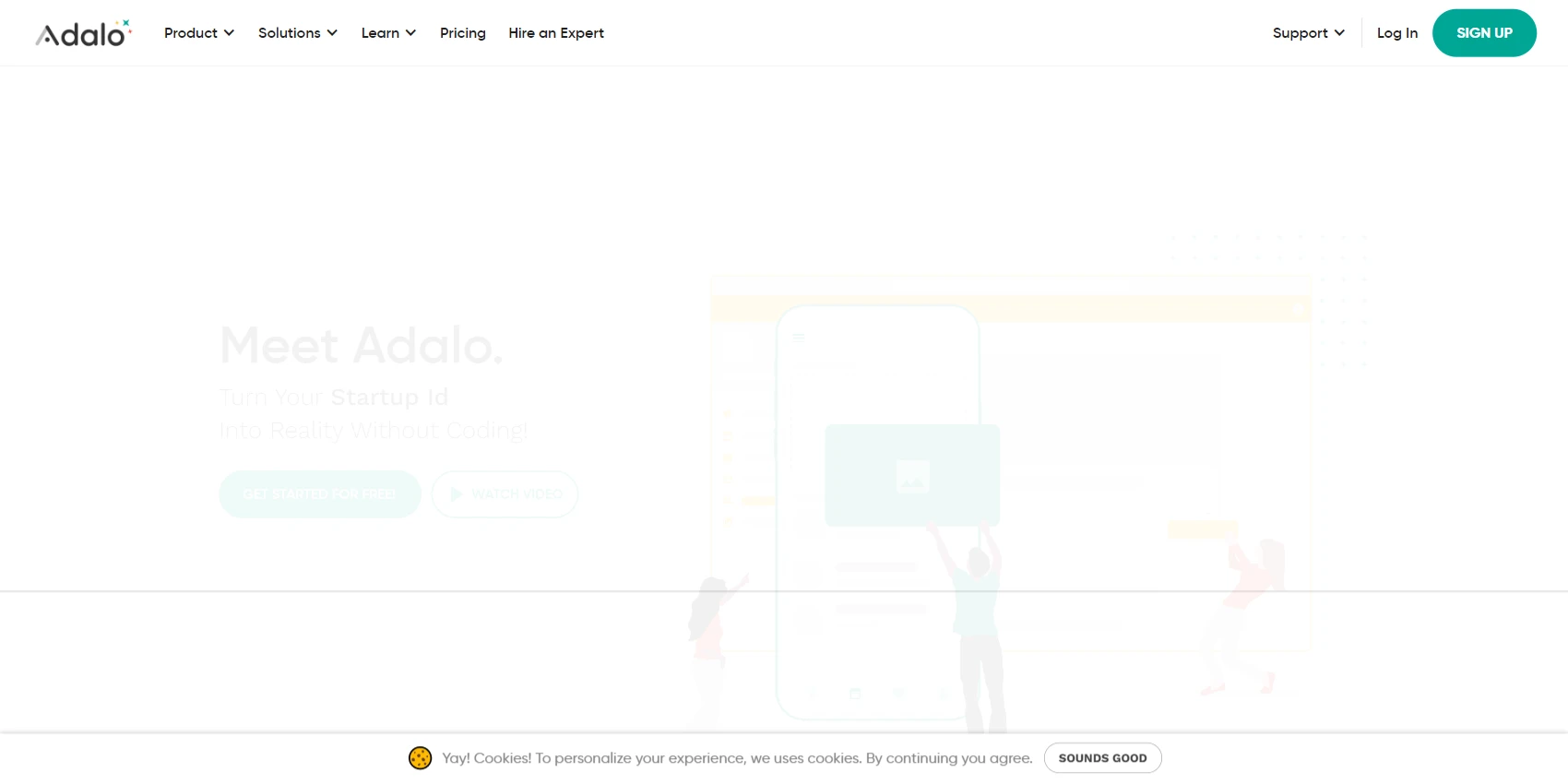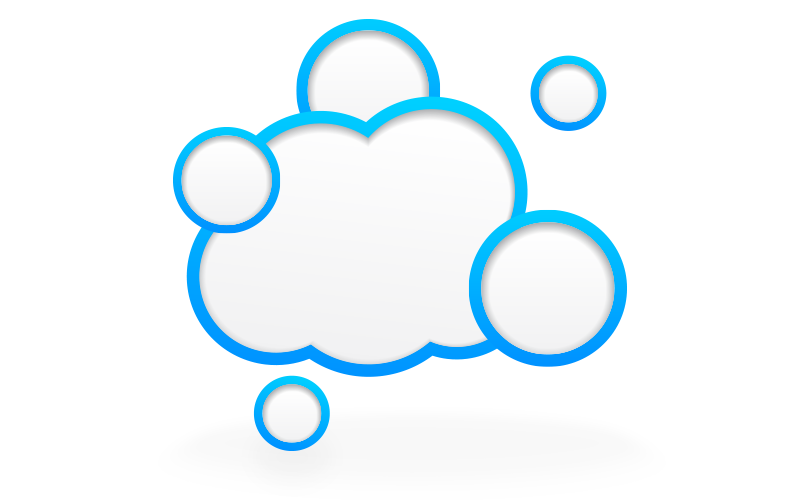 Adalo is a platform that allows users to create apps without any coding. You can design your app using their drag-and-drop interface, and then build it with their easy-to-use tools. You can also launch your app on the iOS and Android app stores with just one click.
Adalo is perfect for entrepreneurs who want to take their app ideas to fruition, without breaking the bank.
Learn More About Adalo
Key Features of Adalo
Easily create visually stunning apps with drag and drop expert-designed components or make your own.
Automatically add interactions and database configuration without any code.
Launch a truly native version of your app on the app stores for both iOS and Android with one click.
Iterate on your product faster than ever before with the money you save by not hiring designers and developers.
Integrates with Stripe for payments
What I Like/Dislike About Adalo
Pros:
Full control of designs.
One can learn the basics of database and development within this environment, and create excellent apps and webpages.
Packages are affordable and reasonable.
The backup system is one of the best features of Adalo.
Integration with other software is easy and based on full API.
Cons:
It lacks the power to build complex logic structures.
There is a lack of documentation on how to build specific types of apps, which can be frustrating.
Adalo Pricing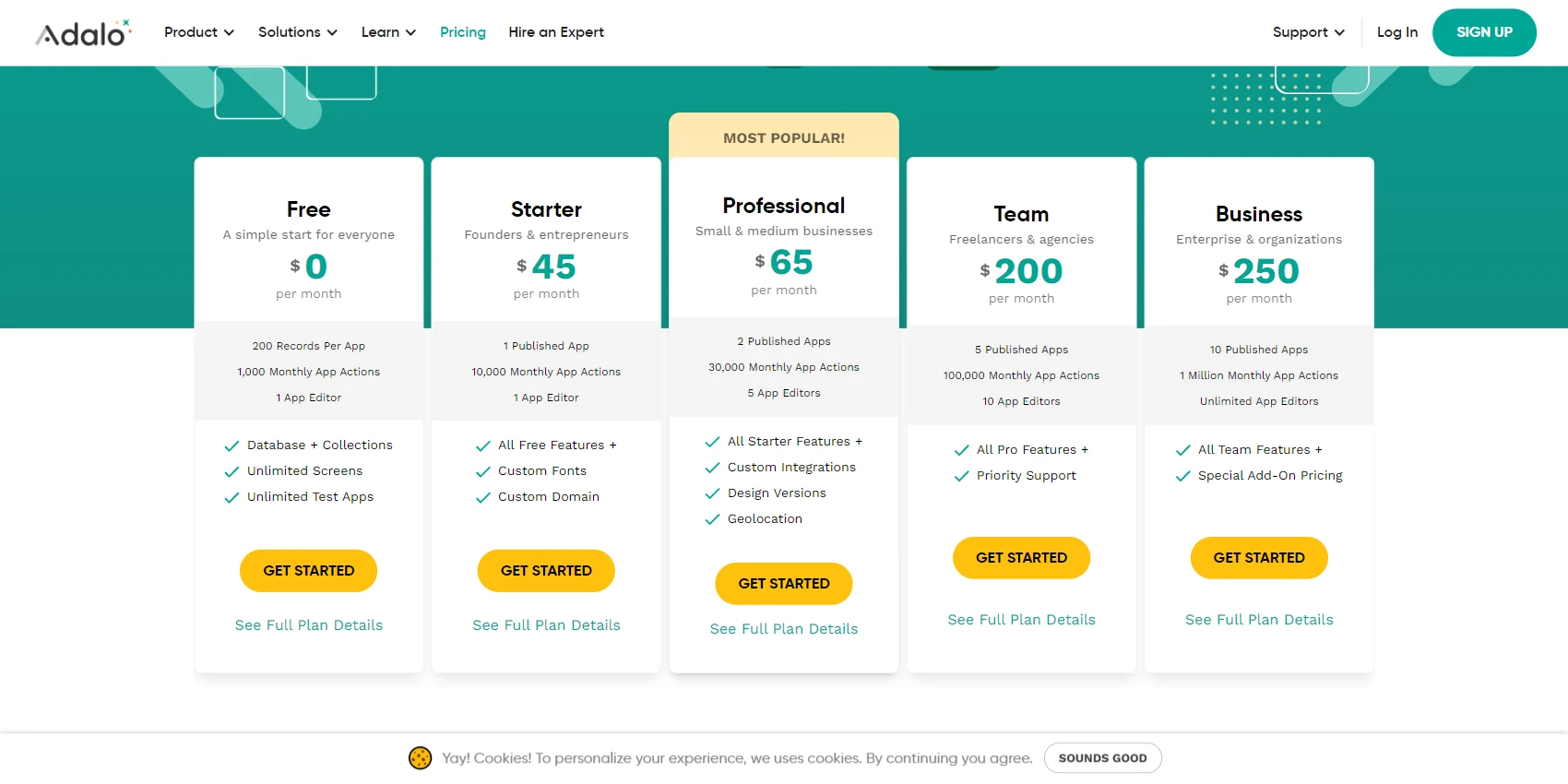 9.

DronaHQ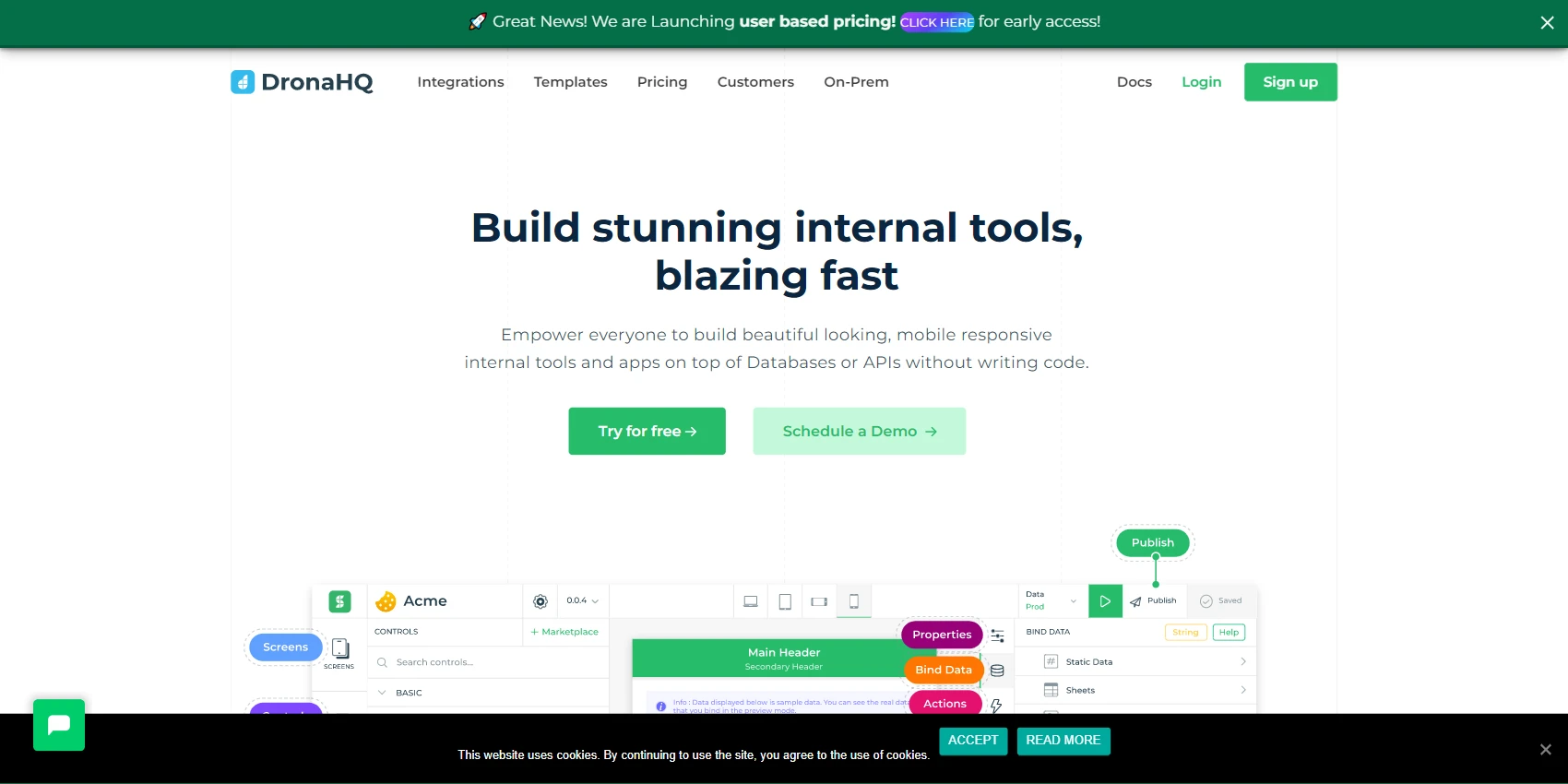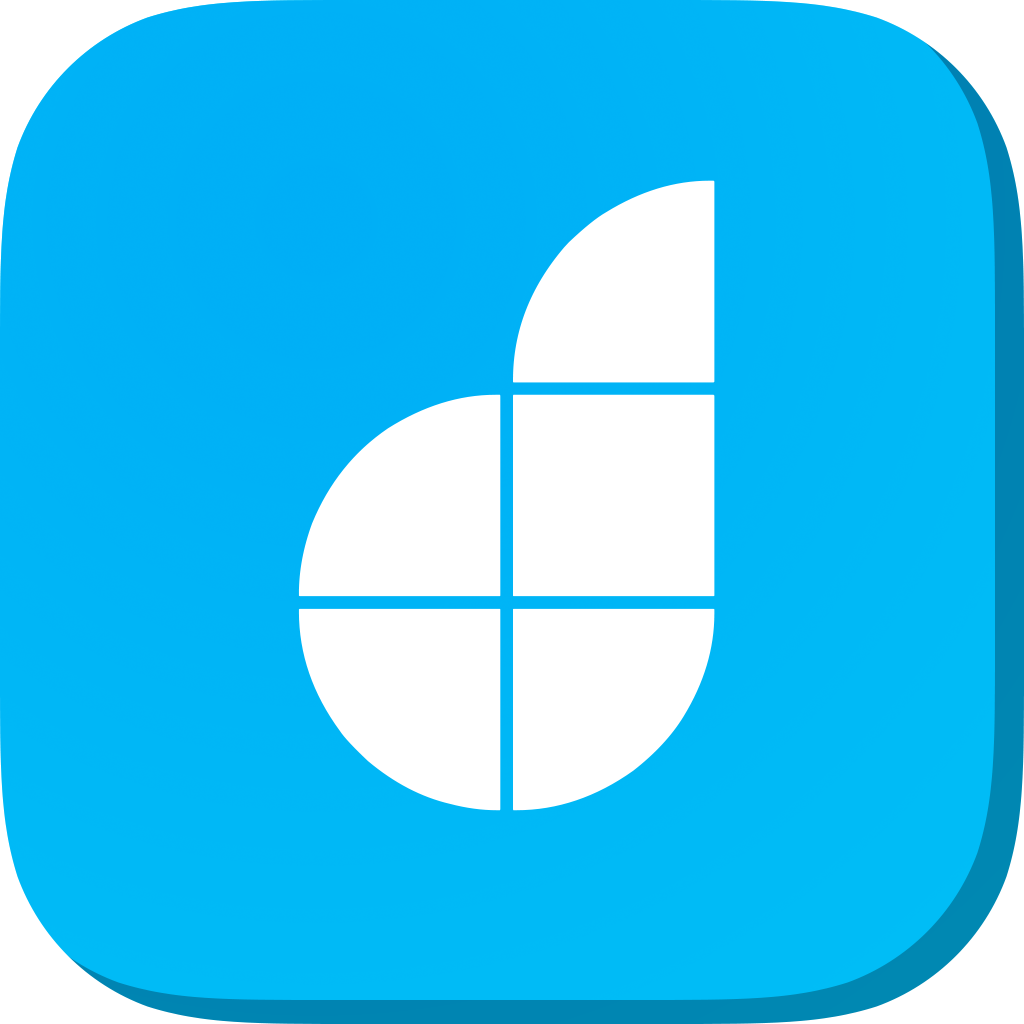 DronaHQ is a low-code platform that makes it easy to build custom internal tools.
The platform includes drag-and-drop UI Builder, Ready connectors, Rule Engine, User Management, Multi-platform layouts and outputs (Mobile & Web), Pre-built UI components, App Templates, so you can assemble an app in minutes. From there, you can add custom scripts, connections to any data source or systems with REST APIs to create exactly the right tools for your business.
DronaHQ's clients include companies like Mondelez, Boston Scientific, SANY, SAR Group, IDFC Bank, Wipro, Larsen & Toubro Infotech.
Learn More About DronaHQ
Key Features of DronaHQ
Empower everyone to build beautiful looking, mobile responsive internal tools and apps on top of Databases or APIs without writing code.
Drag and drop from a vast list of powerful controls all out of the box to design pixel perfect frontend designs.
Building blocks such as Tablegrid, Card list, Charts, Dashboards, Form controls etc.
Use layouts and columnar design fundamentals to build fully responsive apps which render beautifully across different form factors. Edit all CSS properties for them to generate aesthetic interfaces.
Apps created and published on DronaHQ are automatically accessible as a web app as well as a mobile app.
What I Like/Dislike About DronaHQ
Pros:
DronaHQ is easy to use, with a simple studio/UI-builder.
The customer support is excellent, with a responsive team that quickly resolves issues.
Deploying changes takes seconds and is available to all users.
The team has an excellent turnaround time for application deployment.
The platform is robust and provides a shared environment.
It allows for the creation of frontend, backend, database, and other applications without having to install anything or rely on plugins.
User-level permissions, sorting by user groups, and other powerful features are included.
Integration with other applications is easy and fast, providing a smooth flow of data between systems.
Cons:
The learning curve for non-developers is a bit longer than expected.
More active community would be beneficial.
Performance issues can occasionally occur with app previews.
DronaHQ Pricing
Developer: $0
Starter: $100 per month
Business: $500 per month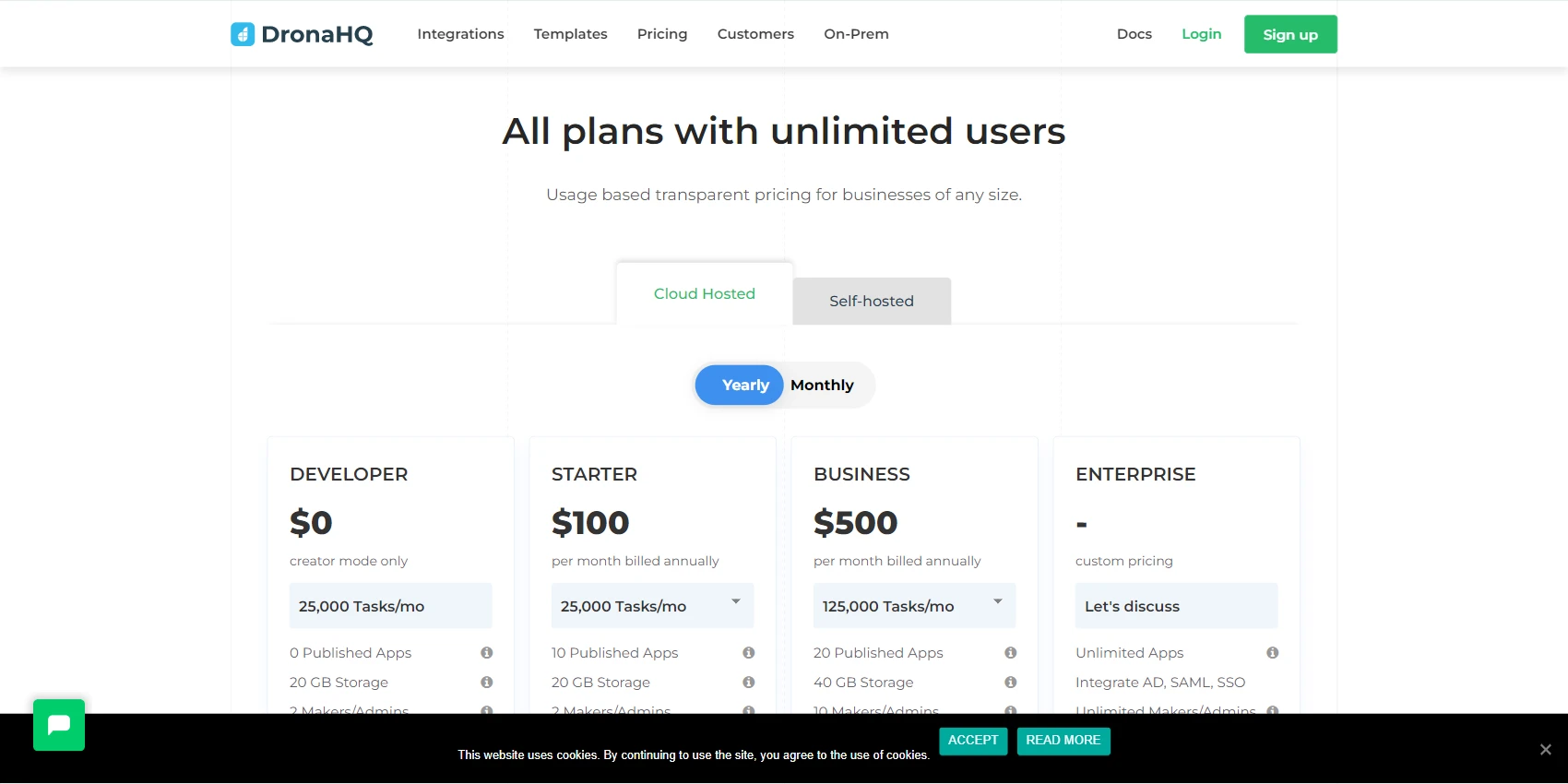 10.

Supabase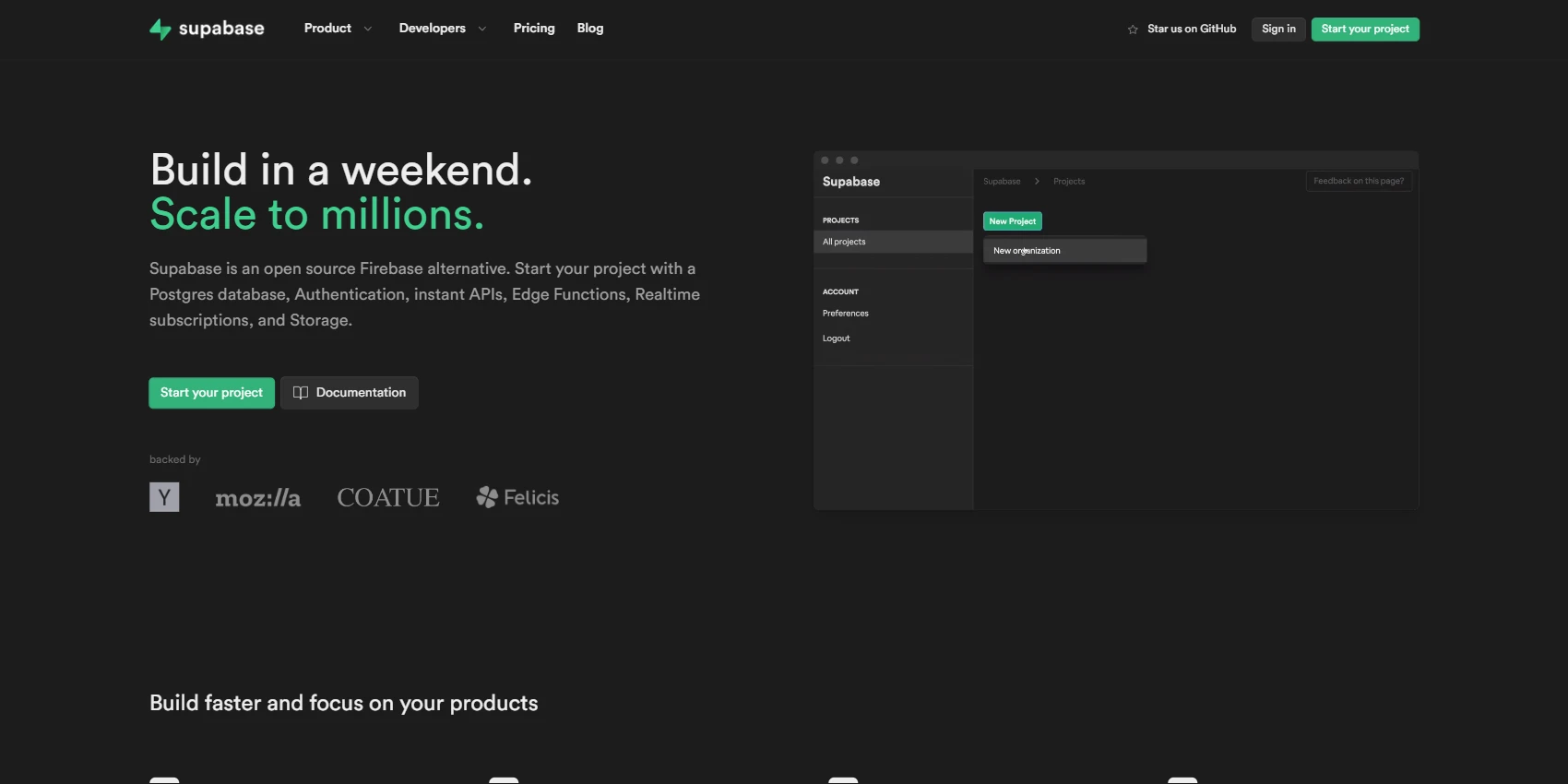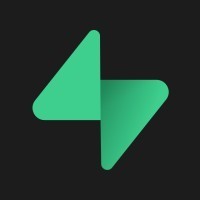 Supabase is an open-source Firebase alternative that provides all the backend features you need to build a product. Supabase adds real-time and restful APIs to Postgres without any coding required.
This allows for faster product development, as well as simplified user management and authentication. Additionally, Supabase is built with enterprise-ready tools and can be scaled up to meet the needs of larger businesses.
Learn More About Supabase
Key Features of Supabase
Authentication: Setup authentication for your app
Database: Use Postgres as an API
Storage: Videos and images are supported
Edge Functions: Make customizations with your code
What I Like/Dislike About Supabase
Pros:
Open-source
SupaBase is great for querying Postgres DBs.
Provides a lot of storage with the free plan.
Authentication is simple.
Excellent documentation.
Active developer community.
Cons:
Pricing can be a factor in deciding whether to use CONS.
SQL DBs may not be suitable for JSON documents.
Supabase is still in development, and could benefit from additional login options.
The lack of easily accessible logs can make debugging database issues difficult.
Supabase Pricing
Community Cloud: $0
Standard Cloud: $25 per Month
Enterprise: Custom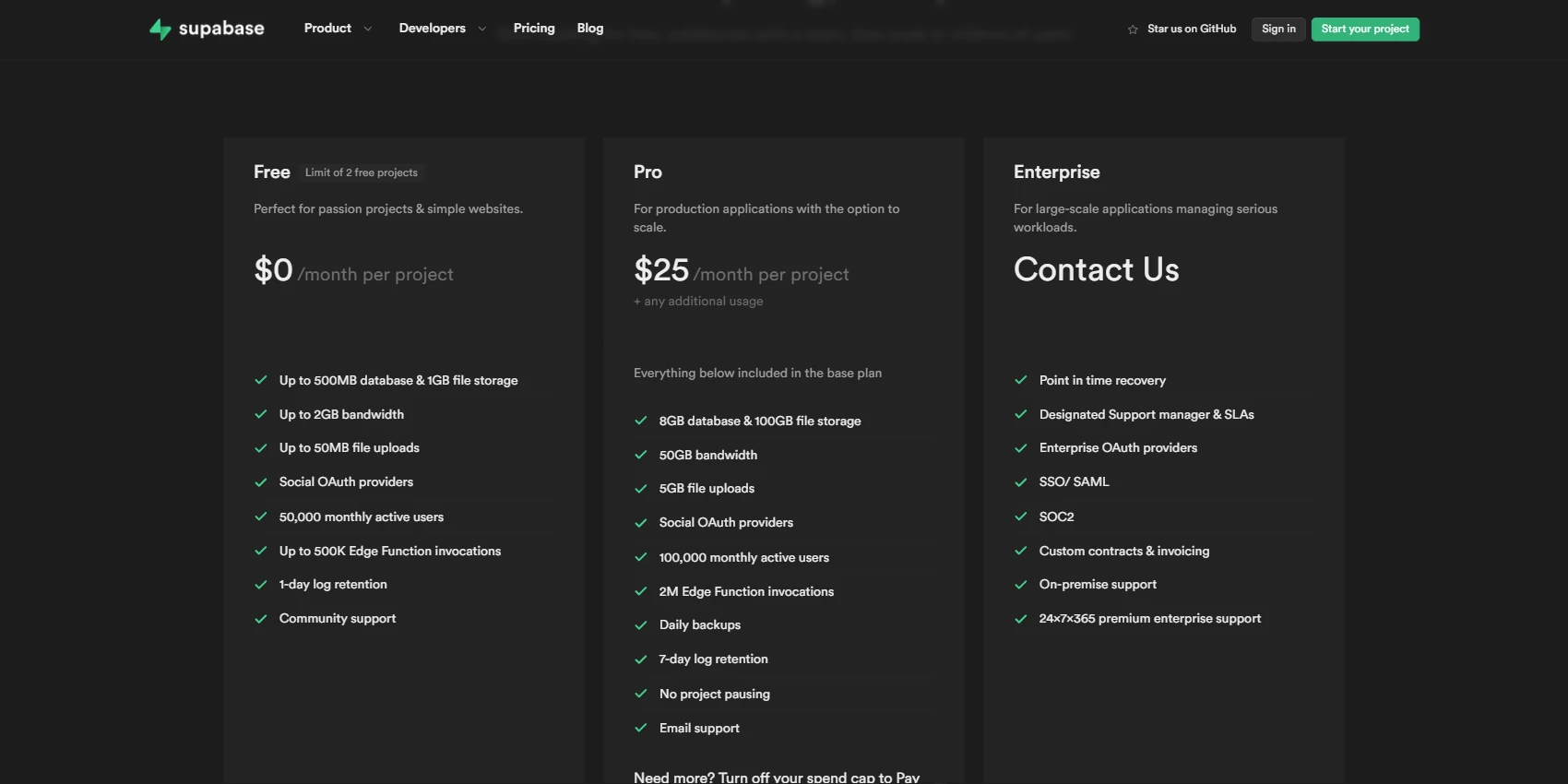 11.

Scriptcase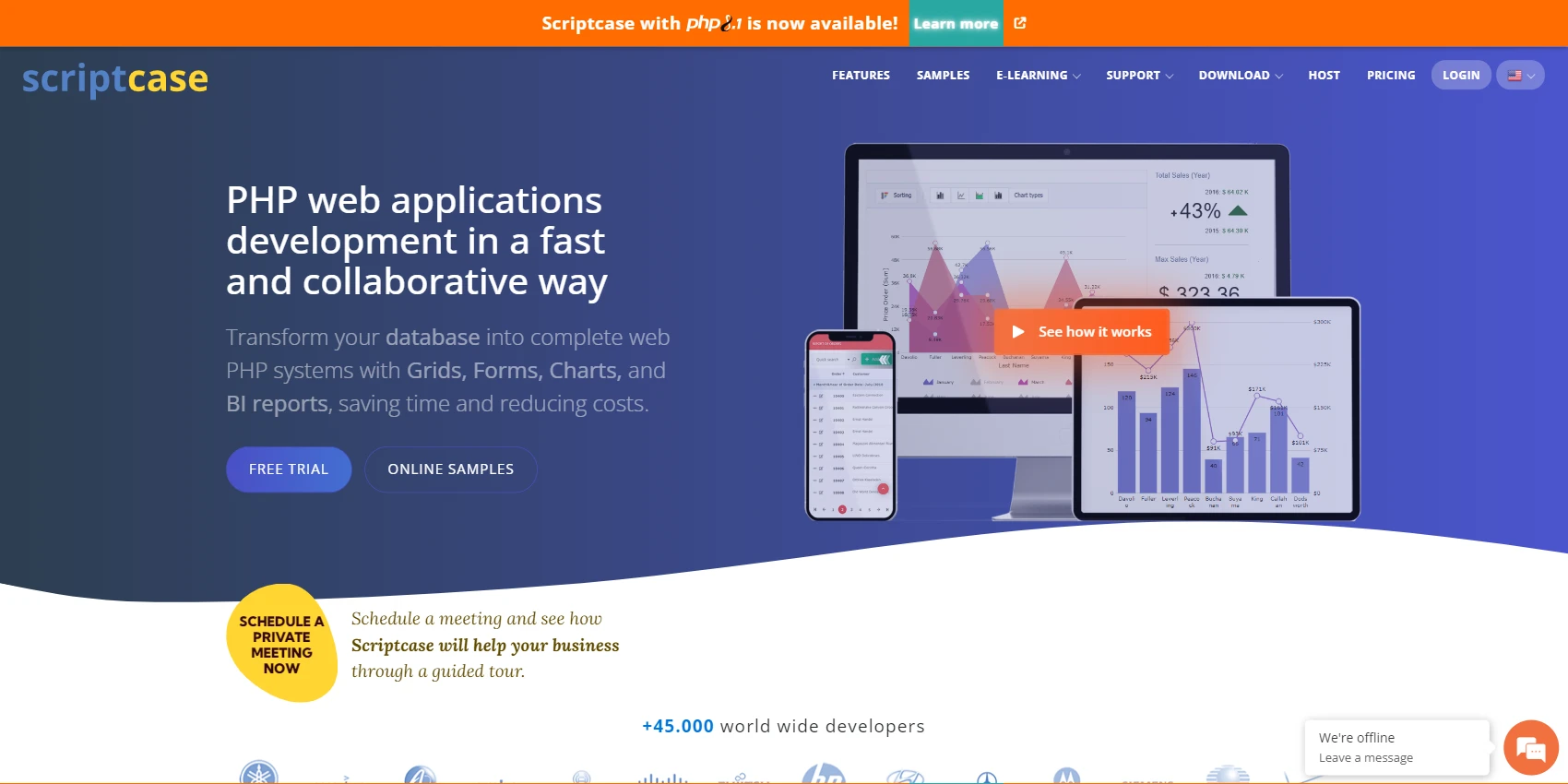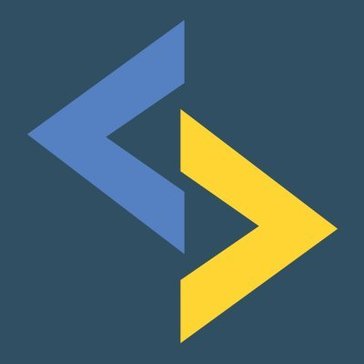 Scriptcase is a tool that helps developers create web applications in PHP more quickly and efficiently. Scriptcase connects to one or more databases, allowing developers to create applications that include data queries, summaries, graphs, and pivot tables.
In addition, Scriptcase provides ready-made themes, fonts, and integrations with other APIs. Whether you are working alone or in a team, Scriptcase makes it easy to create web applications that meet your business requirements.
Learn More About Scriptcase
Key Features of Scriptcase
Turn your database into complete web PHP systems, saving time and reducing costs.
Create applications, complete web systems and advanced reports with Business Intelligence concepts using our database-based PHP code generator.
Easily connect to your data source through a simple and secure interface.
Compatible with a variety of databases, including MySQL, MariaDB, PostgreSQL, SQLite, Interbase, SQL Azure, Amazon Aurora, Firebird, Access, Oracle, MS SQLServer, DB
and Sybase.
Say goodbye to your spreadsheets: turn your CSV, XLS and ACCESS files into databases and create web applications.
Scriptcase provides an application for creating business dashboards with key performance indicators (KPIs) that are relevant to a particular purpose or business process.
What I Like/Dislike About Scriptcase
Pros:
Scriptcase is an easy-to-use tool that helps generate PHP applications.
You can easily create your program by dragging and dropping items.
The software is web-based and compatible with the majority of common databases.
Scriptcase makes deployment easy and can be accessed and administered from anywhere in your local network.
Cons:
Difficult to find script case developer
The documentation can be a bit lacking.
The codes are quite difficult to understand, as the tool has already generated part of it.
Scriptcase Pricing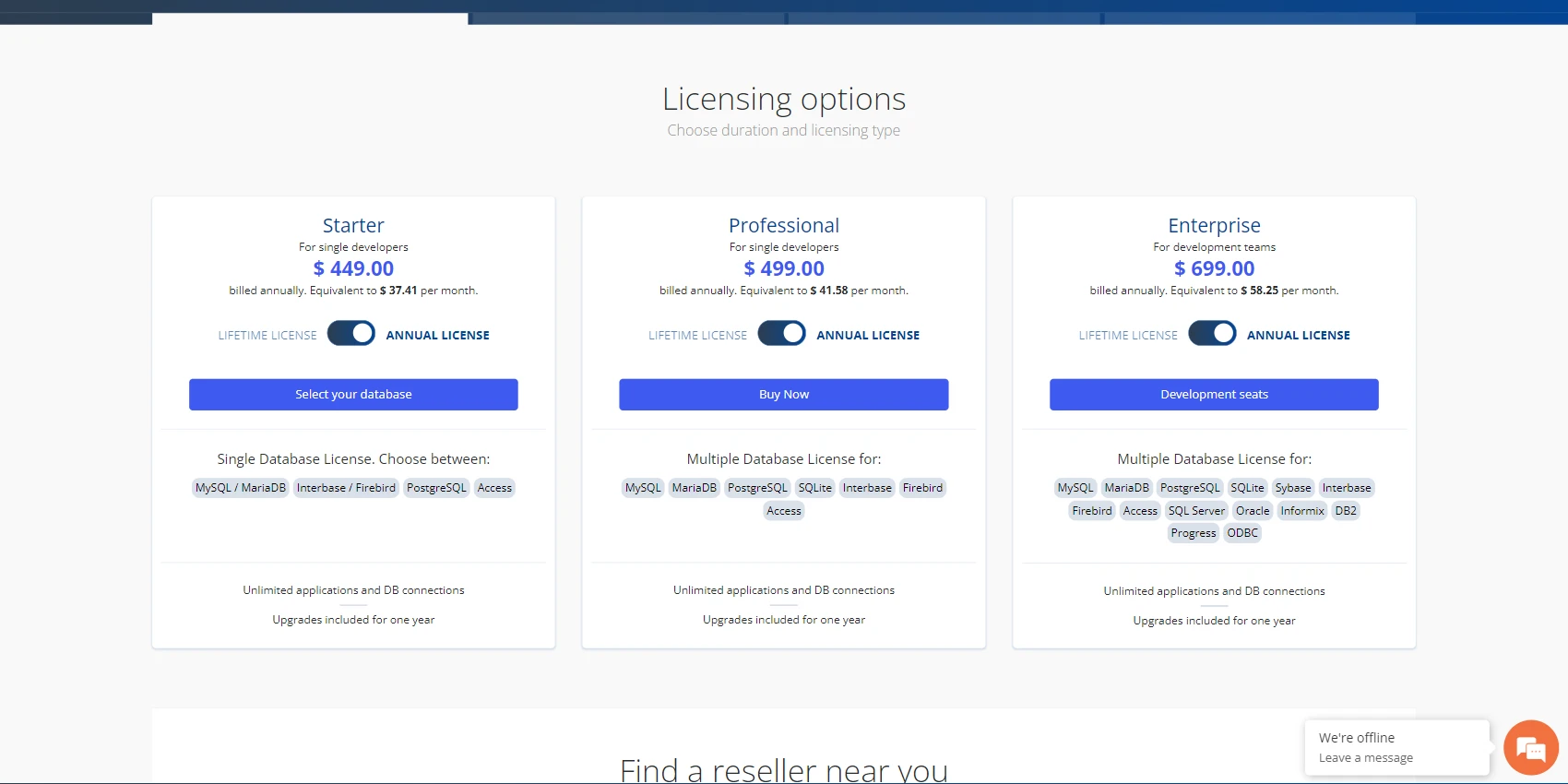 About Josip
Josip Miskovic is a software developer at Americaneagle.com. Josip has 10+ years in experience in developing web applications, mobile apps, and games.
Read more posts →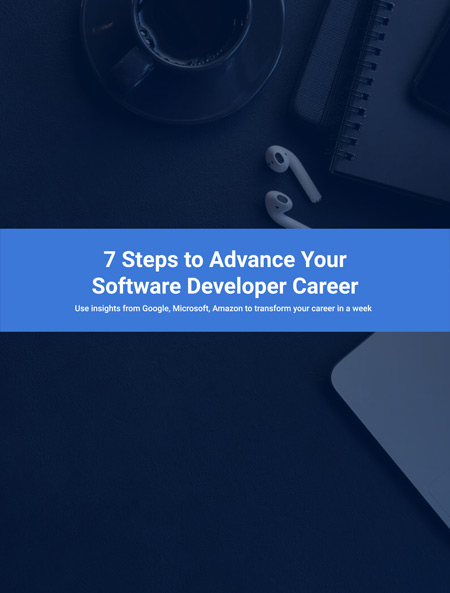 Download Free Software Developer 
Career Guide
I've used these principles to increase my earnings by 63% in two years. So can you.
Dive into my 7 actionable steps to elevate your career.