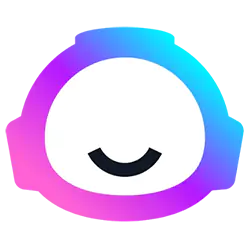 Jasper Art

Review

Read this Jasper Art Review before you spend $200!

Jasper Art is one of the best AI image generators. It can generate images, illustrations, and artistic pieces based on text prompts. It is currently priced at $20 per month for unlimited AI image generation which makes it the most affordable tool on the market.

With a bit of learning on prompt choice, Jasper Art can produce stunning images that match a desired image mood, art style, or photorealistic representation of objects in the world.

Try Jasper Art for free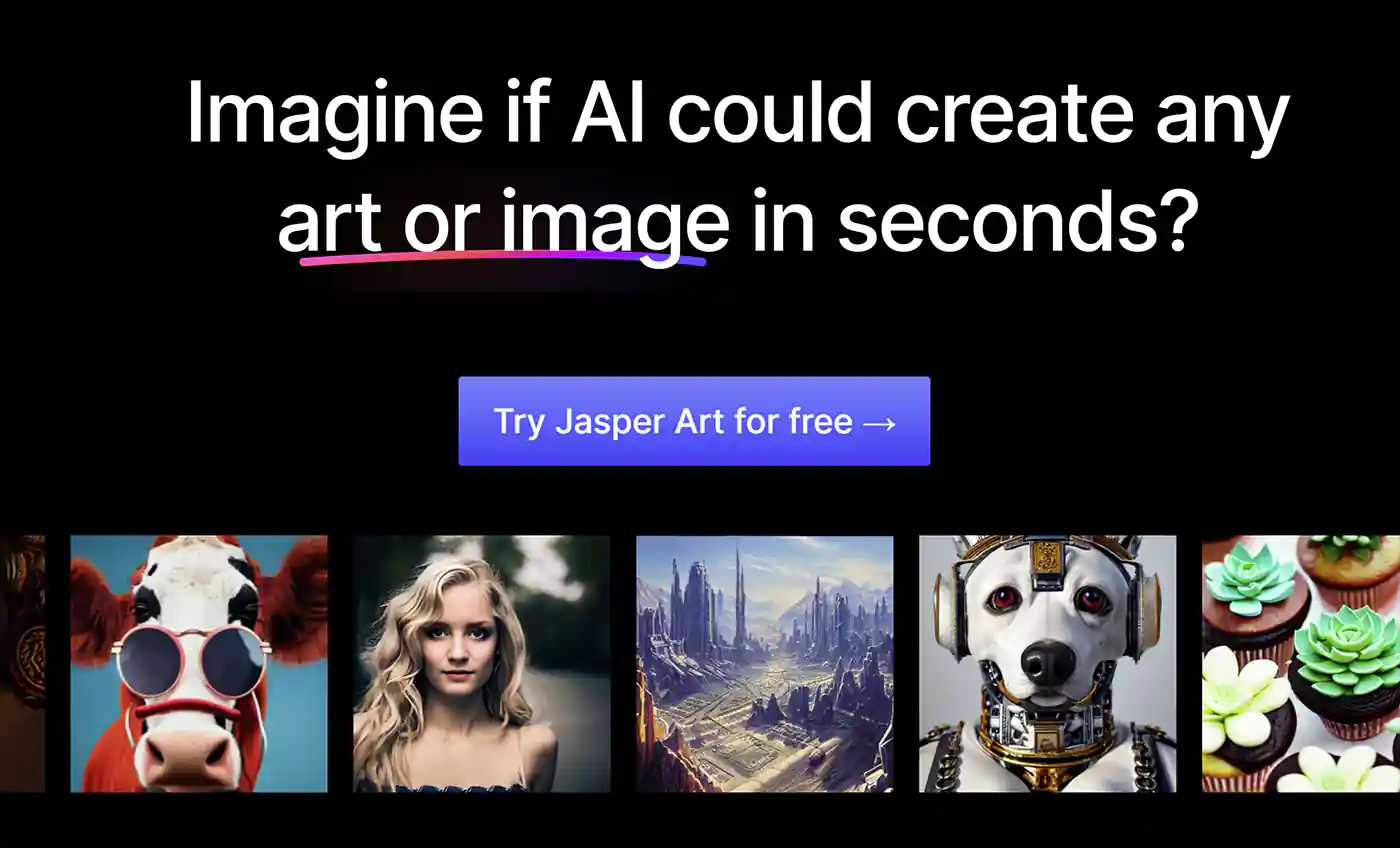 Josip's Review of Jasper Art
I found Jasper Art to be incredibly helpful when creating visuals for my projects. With a bit of learning on prompt choice, I was able to easily generate stunning images that match a desired mood, art style, or realistic representations. The image generation time is decent - usually taking around 10-20 seconds - making it more convenient than searching for individual stock images.
Some of the downsides I found with Jasper Art is that its content filter on the textual prompt can sometimes get in the way, I had poor results with images that have faces and hands, and there's no way to see the image generation history but this did not hamper my experience too much.
Keep in mind that Jasper Art is still in beta. The software will get better, but also expect the price to go up. For now, at only $20 per month for unlimited image generation, Jasper Art is worth a try. It can save you a lot on stock photo fees.
Jasper Art key takeaways:
| | |
| --- | --- |
| Price | $200 per year or $20 per month |
| Free trial | Limited 5 days trial. Credit card required |
| Image dimensions | 512x512, 1024x1024, 2048x2048 |
| Image generation time | 10-20 seconds |
Jasper Art Rating:  4.2 out of 5
Key Features of Jasper Art
Generates 4 images for every prompt input.
Use an image as a starting point for generating art
Generated images are available in three downloadable sizes.
Provides a variety of customization options, including filters for mode, medium, artist, style, and keywords.
Creates amazing images that fit a desired mood, art style, or realistic portrayal of something in the real world.
Images are copyright-free and can be used for commercial projects such as blog posts, marketing emails, and advertisements.
Jasper Art Pros and Cons
Pros:
Offers a user-friendly interface and easy navigation.
Competitive pricing plan
It's not based on a credit system so you can keep generating AI images until you get a perfect result.
Great customer service
Cons:
Content filter can sometimes get in the way
Poor results when generating faces and hands
No way to see the image generation history
Limited image resolution
Jasper Art Pricing
Jasper Art pricing starts at $20 per month.
Jasper Art pricing plans:
Monthly: $20 per month
Yearly: $200 per year
How To Use Jasper Art?
Step 1: Choose the mode
To start using Jasper Art, choose your preferred way of generating images. Jasper Art lets you create images using two modes:
Text Mode: Describe what kind of image you want to create.
Image mode: Upload an image as a starting point.
Step 2: Write AI Art prompt
The quality of your generated image will only be as good as your prompt.
Here are some tips that will help you write an AI art prompt:
Choose the subject: Start by selecting a subject for your image, such as an animal, landscape, or object.
Add adjectives: Adjectives can help create interesting visuals and set the mood of the image. Try to use multiple adjectives to give your prompt more depth and meaning.
Include an artist's name: If you want your artwork to resemble a particular style, include an artist's name in the prompt so that the AI can mimic their style accordingly.
Set quality level: Mention the desired quality of the artwork (low/medium/high/4k/8k) so that it is generated according to that standard.
Avoid banned words: Make sure not to use words that are banned by Jasper Art.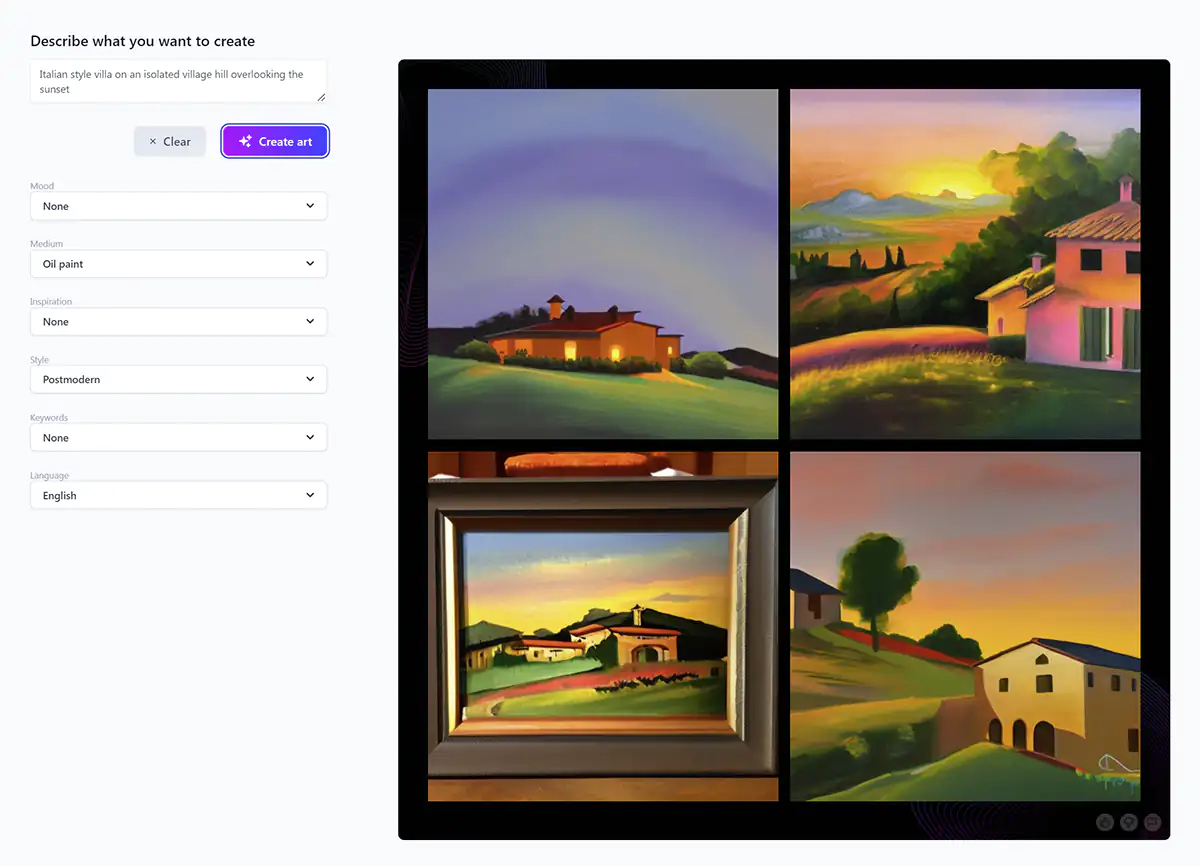 Step 3: Configure Jasper Art Settings
Besides the open-form textual field, Jasper lets you select these settings:
| Jasper Art Setting | Options |
| --- | --- |
| Mood | Calm, Exciting, Fun, Gloomy, Happy, Romantic, Sad, Whimsical |
| Medium | Acrylic paint, Chalk, Collage, Graffiti, Ink, Mixed media, Oil paint, Photography, Tempera paint, Watercolor |
| Inspiration | Andy Warhol, Ansel Adams, Caravaggio, Claude Money, Frida Kahlo, Georgia O'Keeffe, Gustav Klimt, Jackson Pollock, Jean-Michel Basquiat, Keith Haring, Leonardo da Vinci, Pablo Picasso, etc. |
| Style | Abstract, Anime, Art deco, Baroque, Digital, Impressionism, Pop art, Postmodern, Realism, Surrealism |
| Keywords | Ambient light, Black and White, Close-up, Flat lighting, Full face portrait, High resolution, Highly-detailed, Photorealistic, Realistic |
| Language | Bulgarian, Chinese, Czech, Danish, Dutch, English, Estonian, Finnish, French, German, Greek, Hungarian, Indonesian, Italian, Japanese, Latvian, Lithuanian, Polish, Portuguese (all Portuguese varieties mixed), Romanian, Russian, Slovak, Slovenian, Spanish, Swedish, Turkish, Ukrainian |
Step 4: Generate the image
After you click on the "Create art" button, the image generation process will take about 10-20 seconds.
Jasper Art will automatically generate four image variations for you. From there, you can either download images in your desired format or automatically copy them to your clipboard.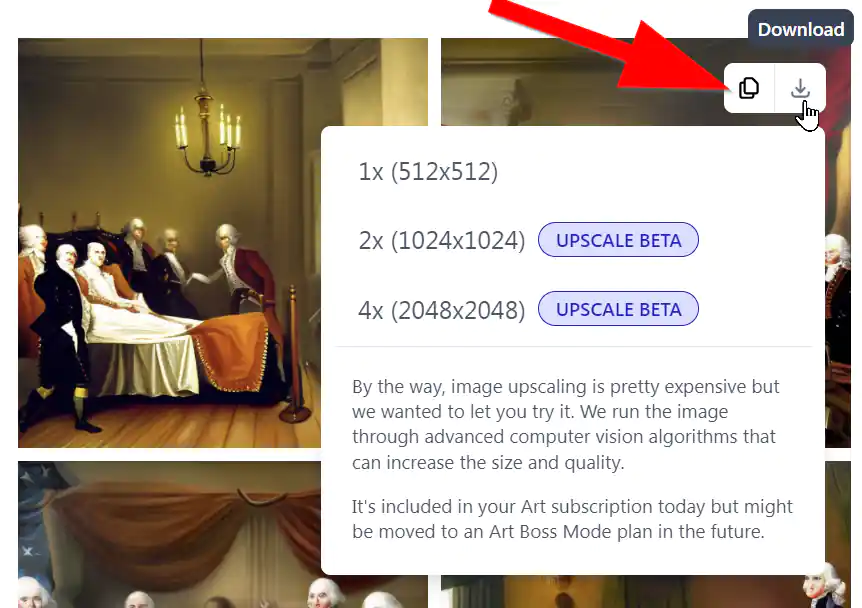 Step 5: Keep tweaking your prompt and settings
Jasper Art lets you create unlimited images, so keep tweaking your prompt and settings until you get a perfect result.
Jasper Art Images Examples
Examples of AI generated images for the prompt: "High quality realistic photograph of a modern house in the middle of a rain-forest".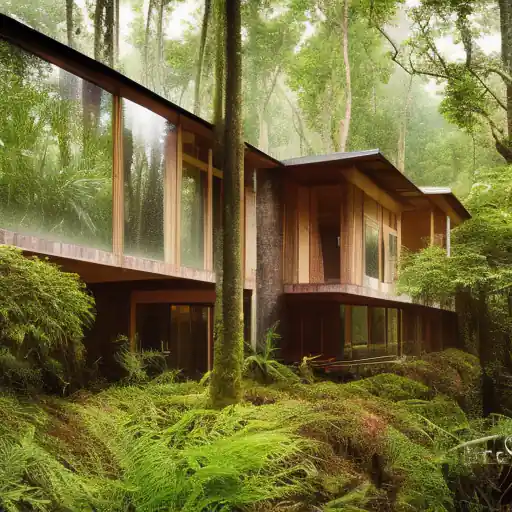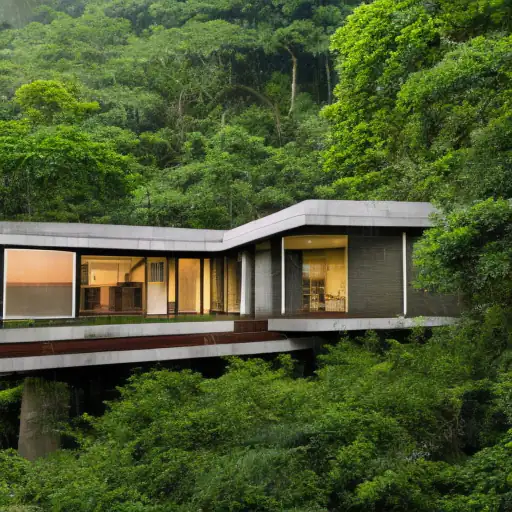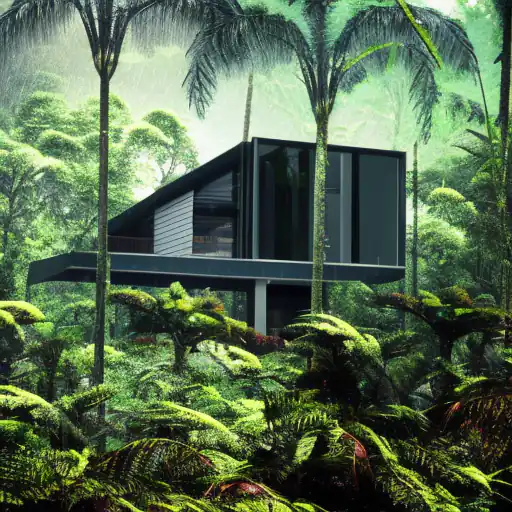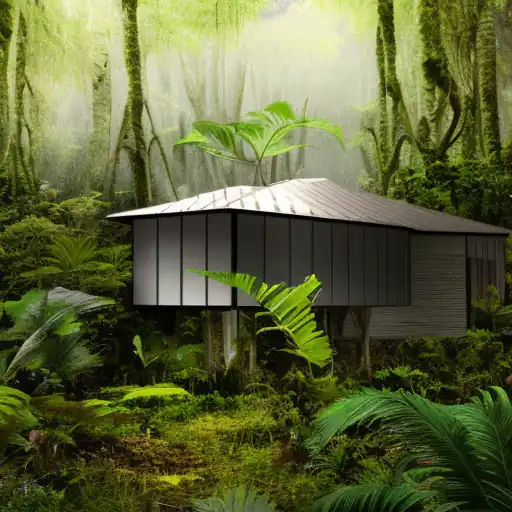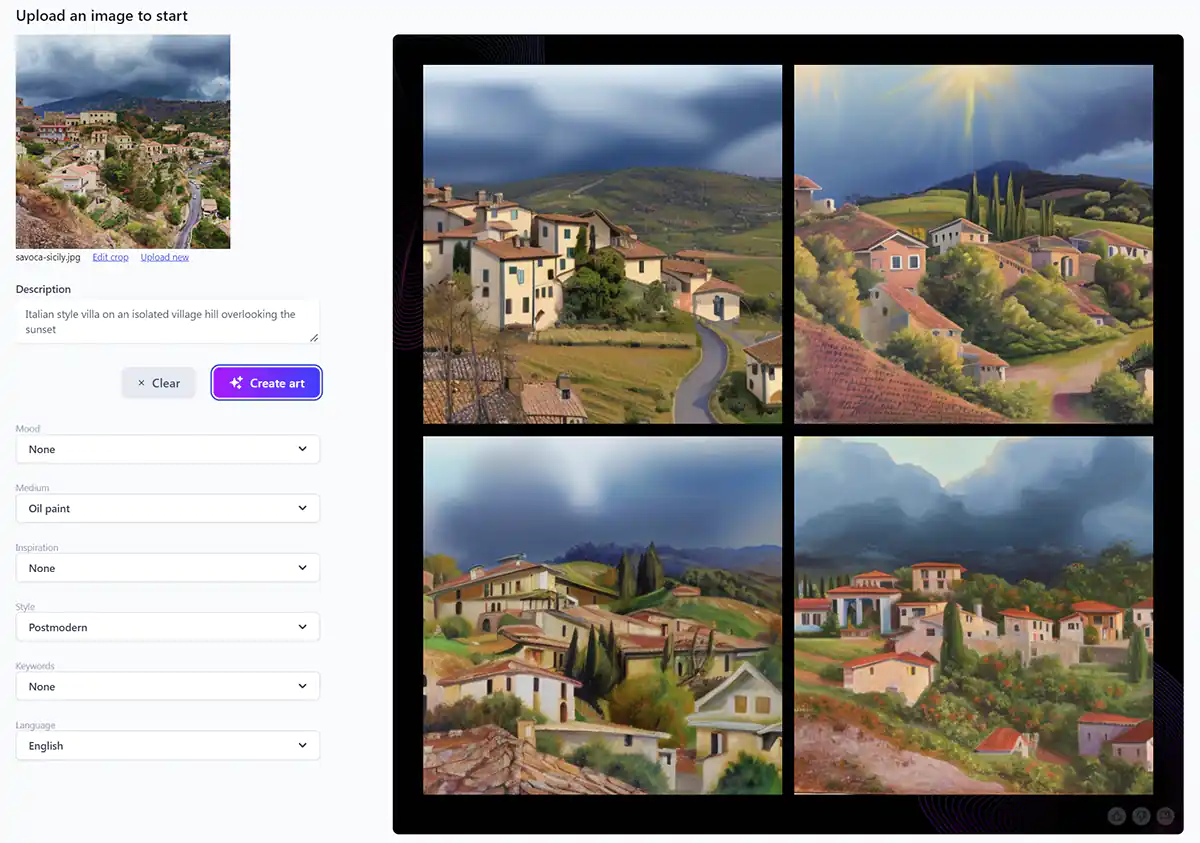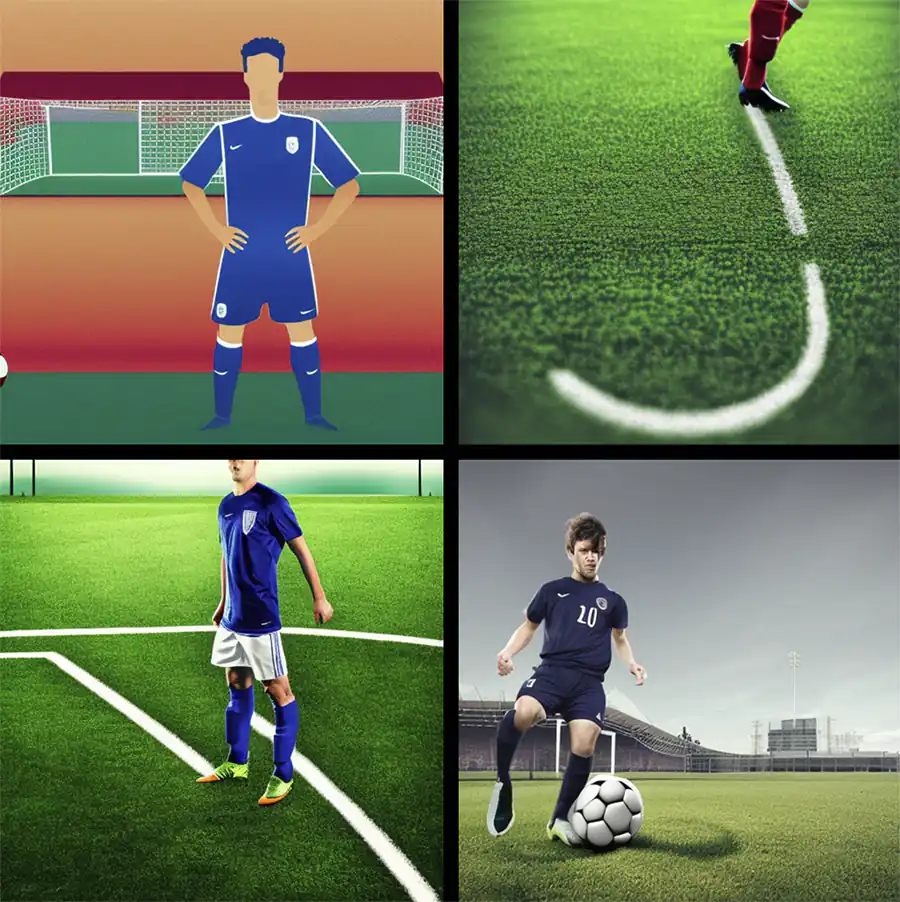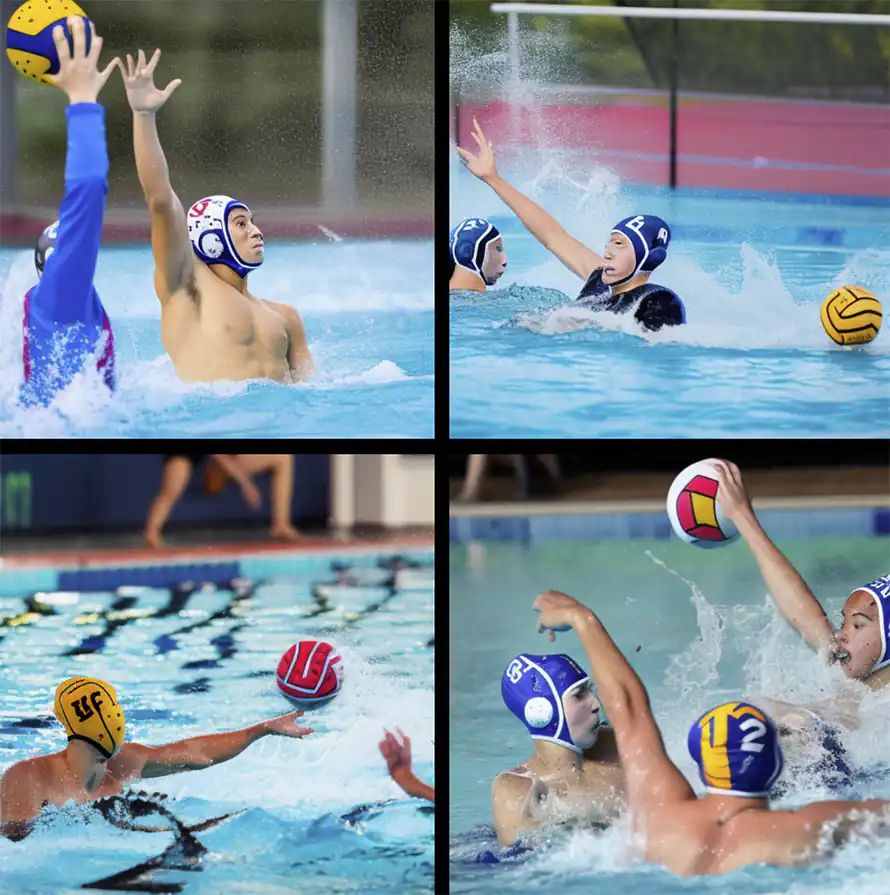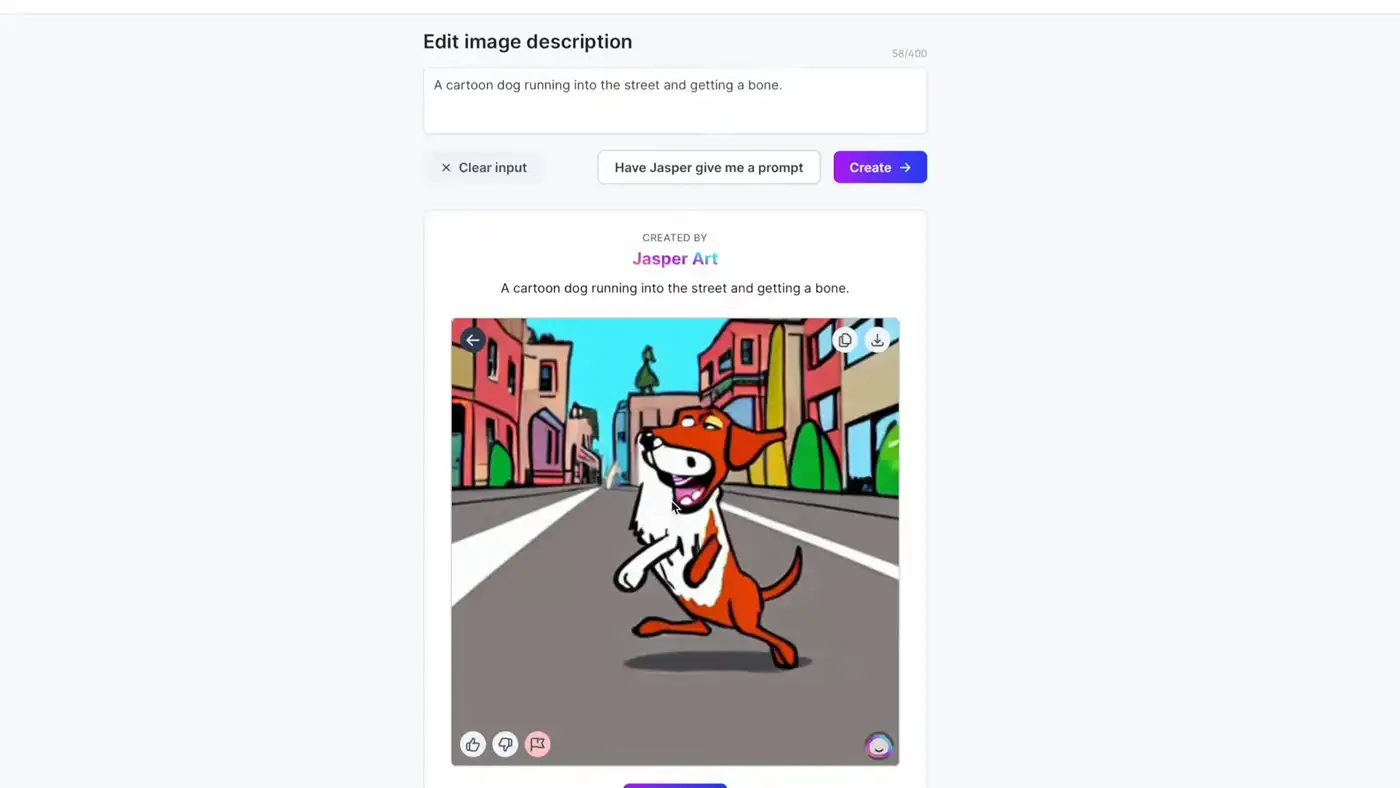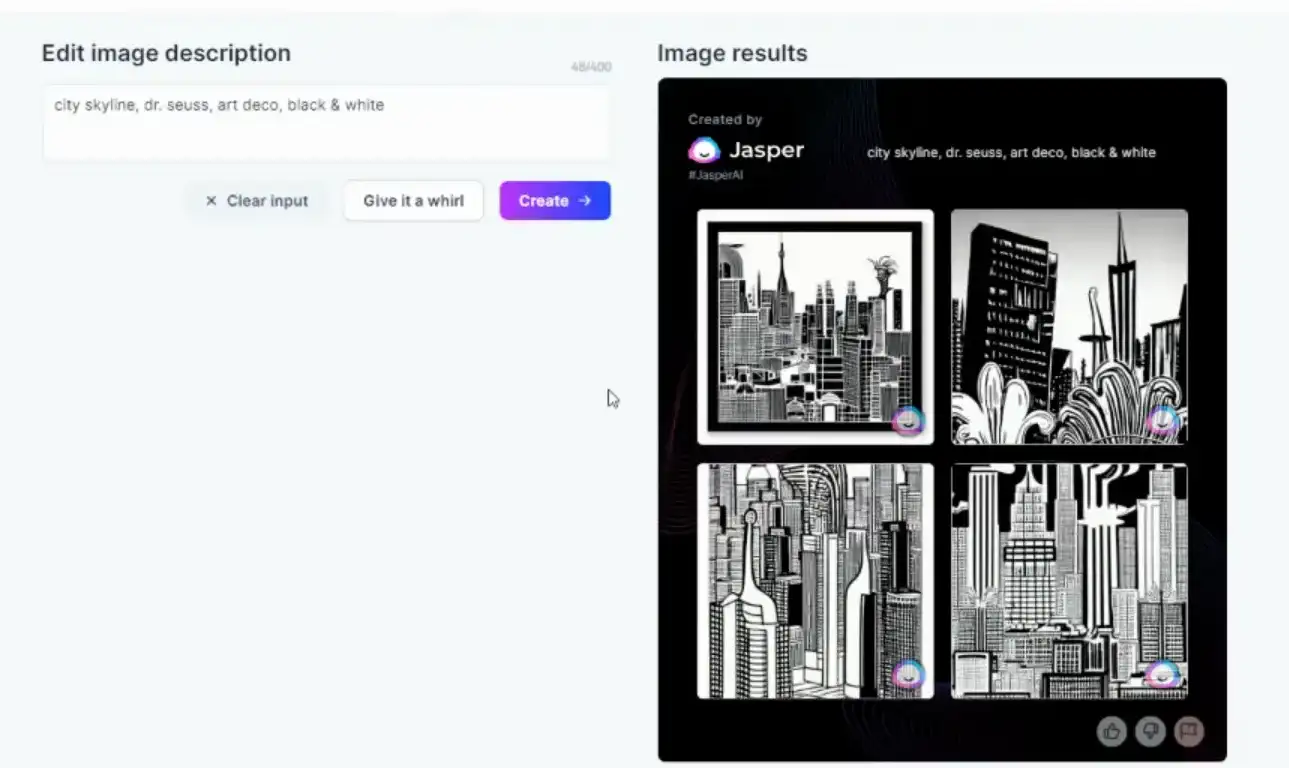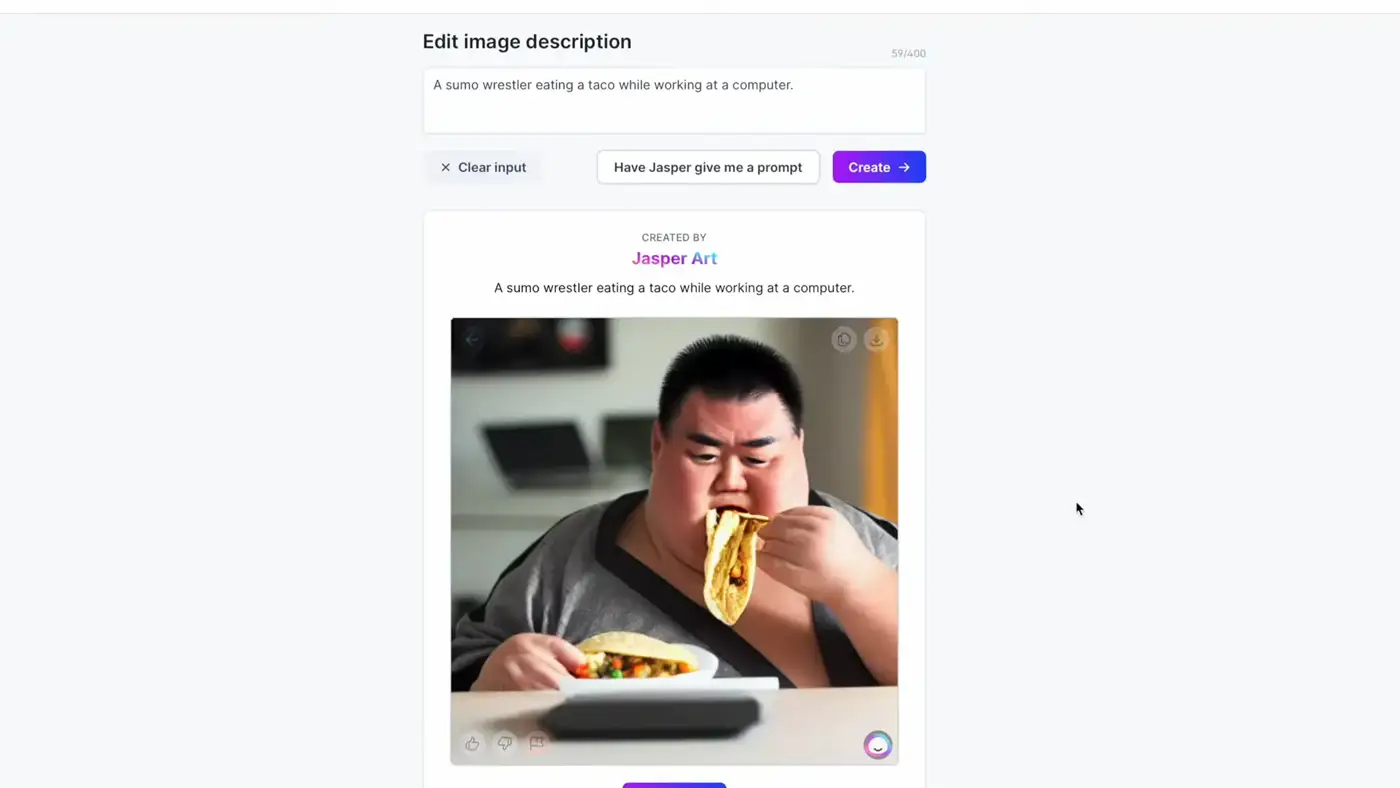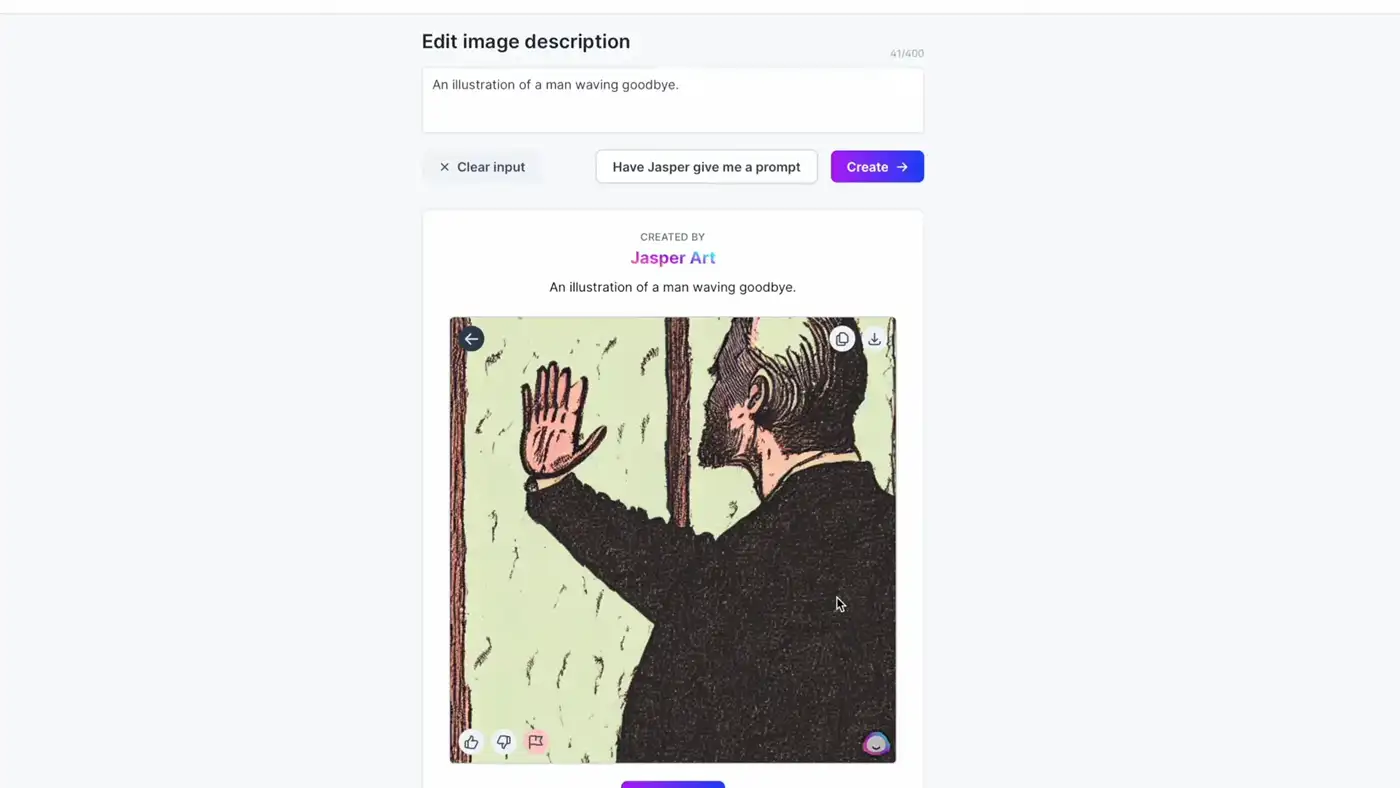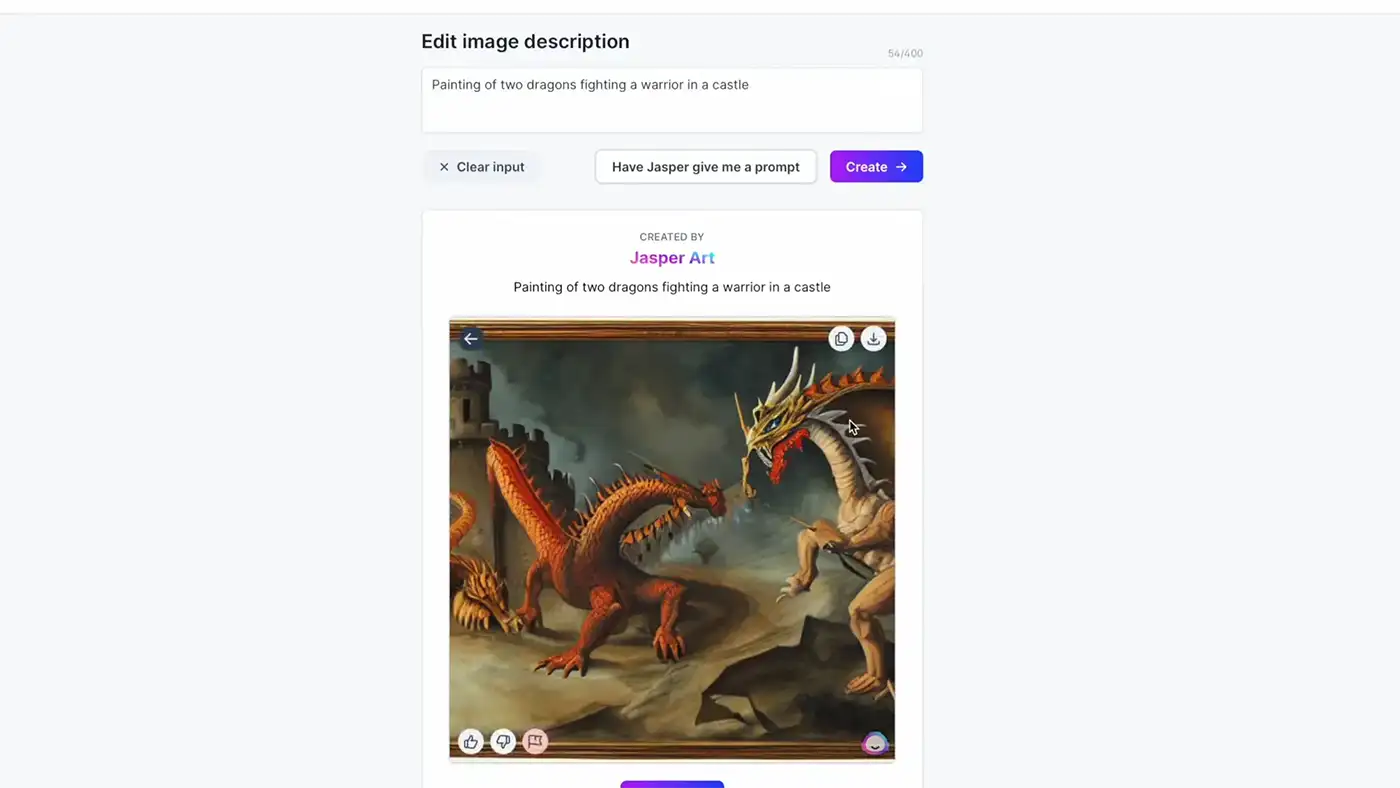 How does Jasper Art compare to other image generators?
Some of the most popular Jasper Art alternatives include:
Nightcafe
Midjourney
DALL·E 2
Canva AI Image Generator
Deep Dream Generator
Fotor GoArt AI Art Generator
Compared to other AI image generators, Jasper Art has the big benefit of unlimited image creation for an affordable price. Most other alternatives are based on credit usage or limited GPU time.
In terms of image quality, I've been getting slightly better results with Midjourney. However, Midjourney operates through a Discord server which makes it harder to use than Jasper Art.
Jasper Art Support
Jasper Art support is very friendly. I've reached out to them to temporarily pause my membership during a vacation and they were quick to respond and take care of my ask.
Jasper Art Support Email: hey@jasper.ai
Who created Jasper Art?
Jasper is an AI Content Platform that helps individuals and businesses use artificial intelligence to improve their content creation. The company recently raised $125 million in a Series A funding round and is valued at $1.5 billion. The company has grown rapidly since its launch in 2021 and now has over 100,000 paying subscribers. The CEO, Dave Rogenmoser, believes that Jasper is working to make AI accessible to the masses and teach people how to use it responsibly.
Besides Jasper Art, the company offers Jasper AI Writing Assistant, Chrome extension, and Jasper Chat.
Jasper Art FAQ
Can I use Jasper Art for commercial projects?
You can use Jasper Art for commercial projects such as creating images for your blog, marketing materials, and advertisements.
Images created using Jasper Art are covered by the creative commons license, which means others can use them as well. Additionally, Jasper Art generates images using the information it finds online, which may copy the style of famous artists and could potentially infringe on their copyright.
Can Jasper Art produce photorealistic images?
Jasper Art can generate photorealistic images based on a given prompt. For example, if you enter "An apple" as the prompt, Jasper Art will generate a series of photorealistic images. However, it may be more challenging to create realistic images with more complex or paradoxical prompts, such as "A dog reading a newspaper at a bar." If you are having trouble creating realistic images, you can help the AI by adding an artist modifier, such as "by Édouard Manet." This way, the generated image will better match your desired style.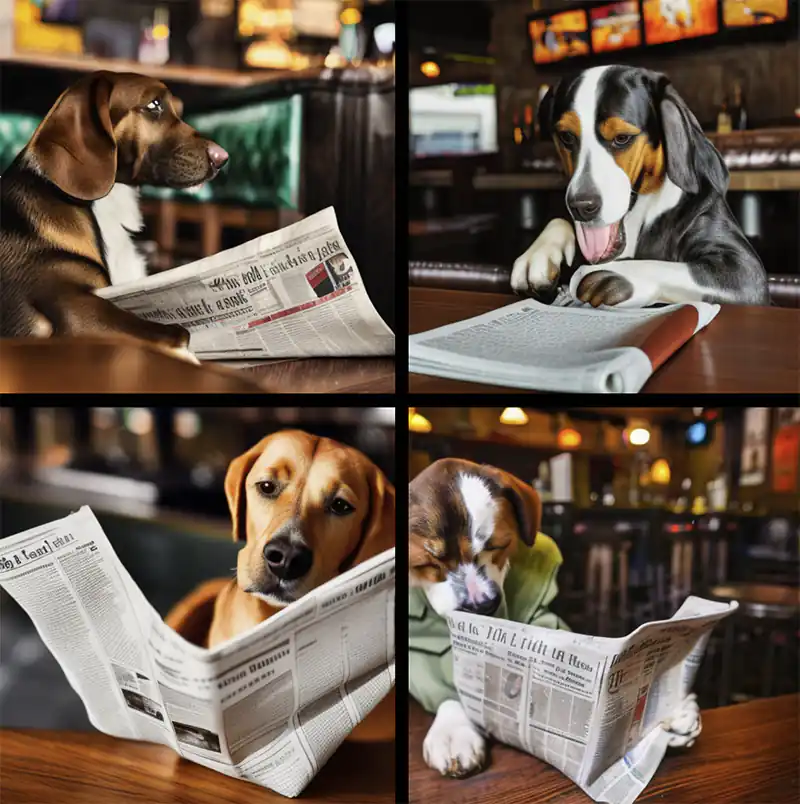 Is Jasper Art worth it?
Jasper Art is worth it if you need unique images for your projects. It lets you create stunning images that match your desired style for your social media campaigns, book design, blogs, and many more use cases.
It doesn't cost you much to try. For only $20 per month, Jasper Art gives you unlimited image generations.
---
Review published on: