Avocademy Course Review | Read before you spend $1,997!
By Josip Miskovic
•
Updated on
Avocademy - What is it?
Avocademy is UI/UX Bootcamp and educational platform.
It helps people transition to the UX/UI design field through an affordable and short curriculum.
The main benefit of their program is the "learn by doing" approach.
The approach helps students build design portfolios and prepare them for the job market with experience from the real world.
Learn more about Avocademy
How will Avocademy help me in my career?
Avocademy has helped students land jobs at Morgan Stanley, CVS, Deloitte, Assurant, Delta, Airlines, IBM, Dell, Herbalife, Johnson & Johnson, Spectrum, Powerly, Ribbon, Bellhop, and more.
By the end of the course, you will know everything you need to be a UX designer and everything you need to land a job.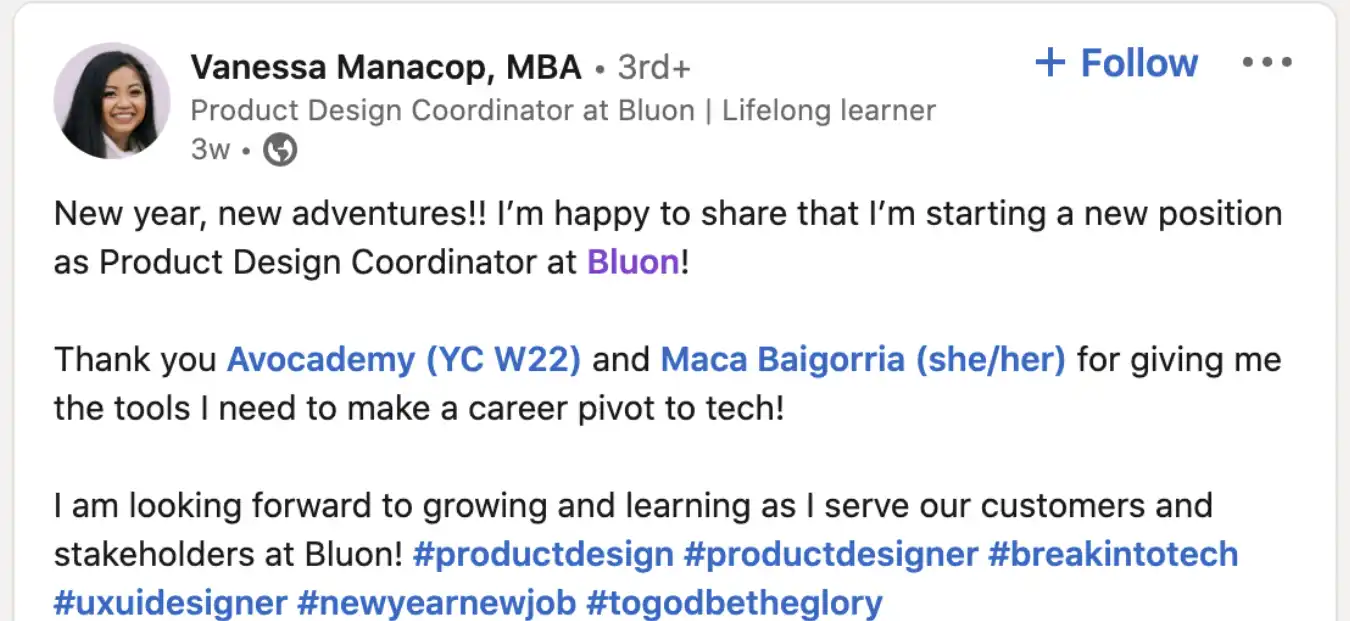 Who started Avocademy?
Maca Baigorria and Alexandra Amico founded Avocademy in 2020.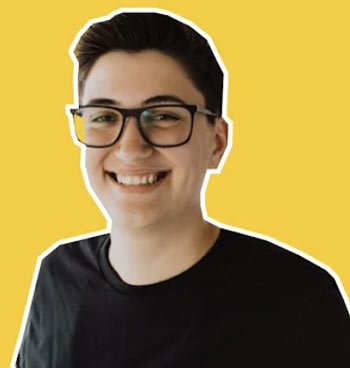 Maca Baigorria is a founder and mentor at Avocademy. She has previous experience working for Boeing, Flashpoint, IBM, and PwC.
Alexandra Amico is a co-founder of Avocademy. Alexandra has previous experience working as a Project and Product Manager. Before helping to start Avocademy, she worked at Boeing and PwC.
Avocademy UX/UI Fundamentals Course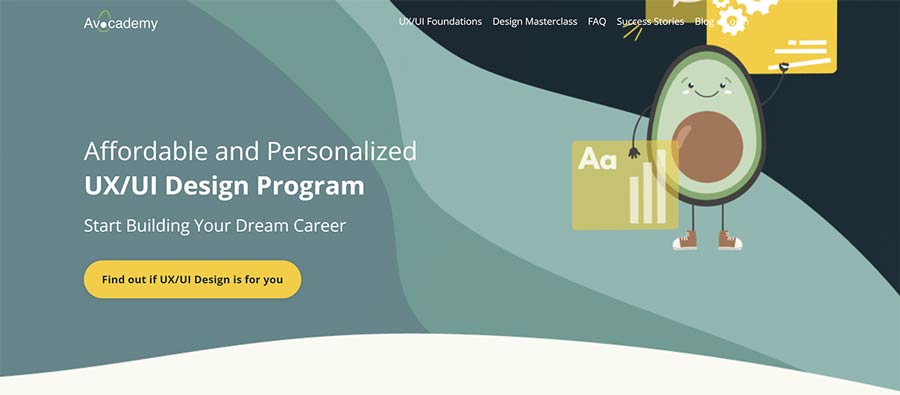 The Fundamentals Course is the first step in your Avocademy journey.
You don't need prior experience to get started with Avocademy.
The first part of this course will help you understand the basics of UX and UI design.
Experienced professionals have curated the content, and each module includes videos and links to explain concepts well enough so that you can complete the activity. The purpose of the course is for you to learn by "doing" the activities.
Avocademy divided the course into 6 different sections. It will take 8 to 16 weeks to finish the entire course.
Duration: 8 to 16 weeks
Cost: $1,997
Total activities: 22 activities
Total modules: 6 sections
Format: All course content is pre-recorded.
Experience needed: None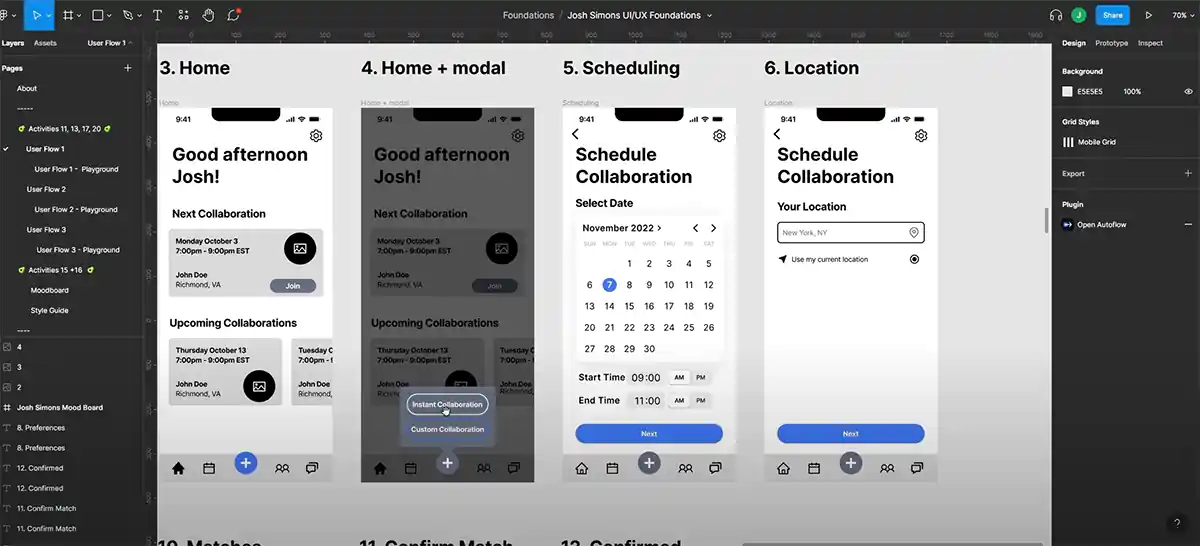 Avocademy Fundamentals Course Review
Avocademy Fundamentals course has 6 modules:
Module 1: UX and UI Design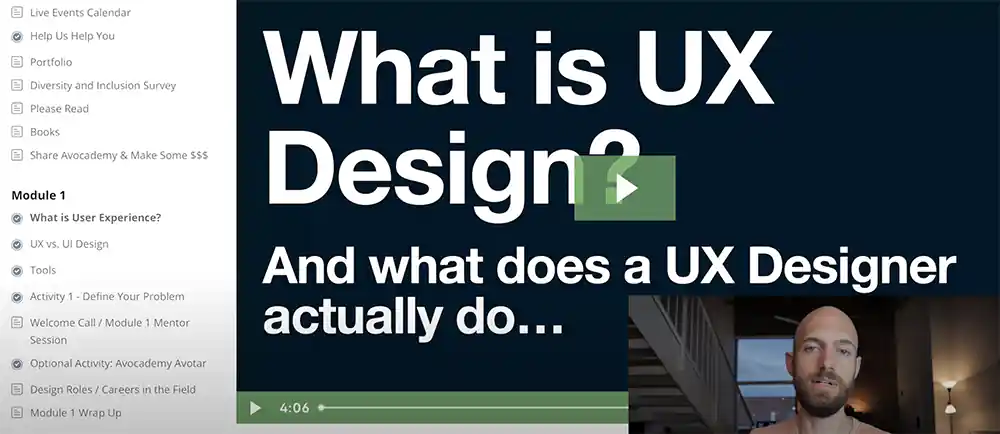 This module provides an introduction to the field of UX and UI design, including the roles and applications of user experience design in technology. It also covers design thinking, design research methods, ideation techniques, and user stories.
Module 2: User Research
This module teaches users how to conduct research with users to develop people-centered products. It covers research methods, research plans, synthesizing research, and ideation techniques.
Module 3: Ideation
This module teaches users how to use design thinking methods to brainstorm solutions to their project problems. It covers developing problem statements (How Might We's), ideation techniques, user stories, and sketching.
Module 4: Information Architecture and Wireframing
This module teaches users about the fundamentals of information architecture and how to develop user flows and wireframes. It also covers UX design principles, sitemaps and navigation, user flows, material and iOS guidelines, low and medium-fidelity wireframing, interaction design, and prototyping tools.
Module 5: UI Design, Prototyping & Testing
In this module, users will learn about how to build realistic-looking user interfaces (UI) using principles of visual design. They will also learn how to build a prototype and test it with real users. Finally, they will learn how to synthesize findings from their usability tests.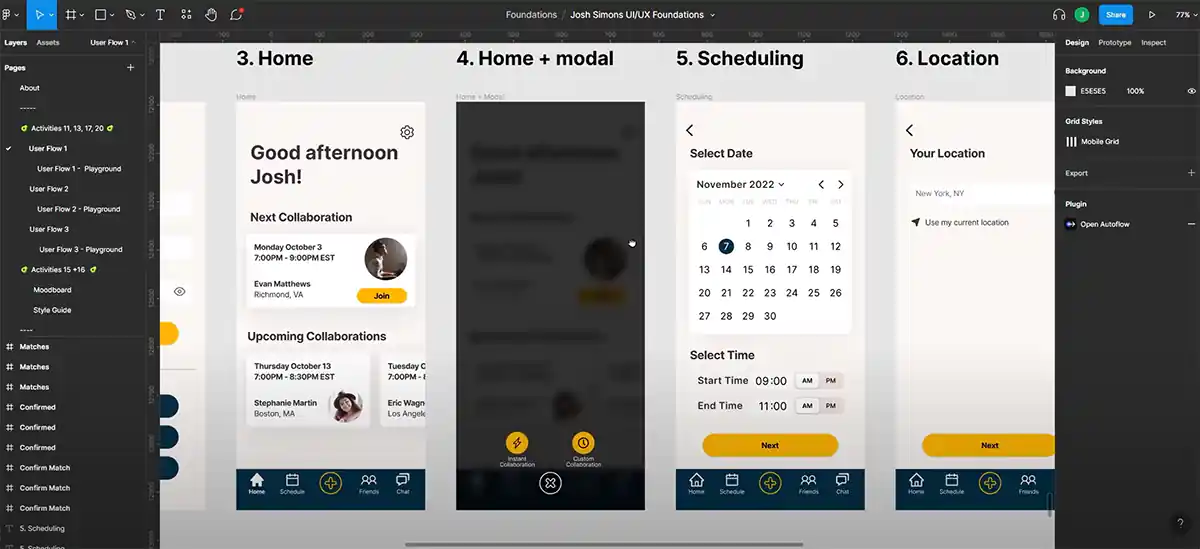 Module 6: Portfolio Building
This module walks users through how to develop a case study and build a portfolio to showcase their work.
Mentorship program
The UX/UI Foundations program does not have a sole mentor, and instead, you will work with different mentors based on the module you are in.
Pro: Each module has a set of mentors who you can connect with based on their specialty or expertise. You can also connect with them through Slack.
Con: Many students find the lack of dedicated mentorship to be one of the program's drawbacks because it can make it difficult to form relationships and get consistent feedback.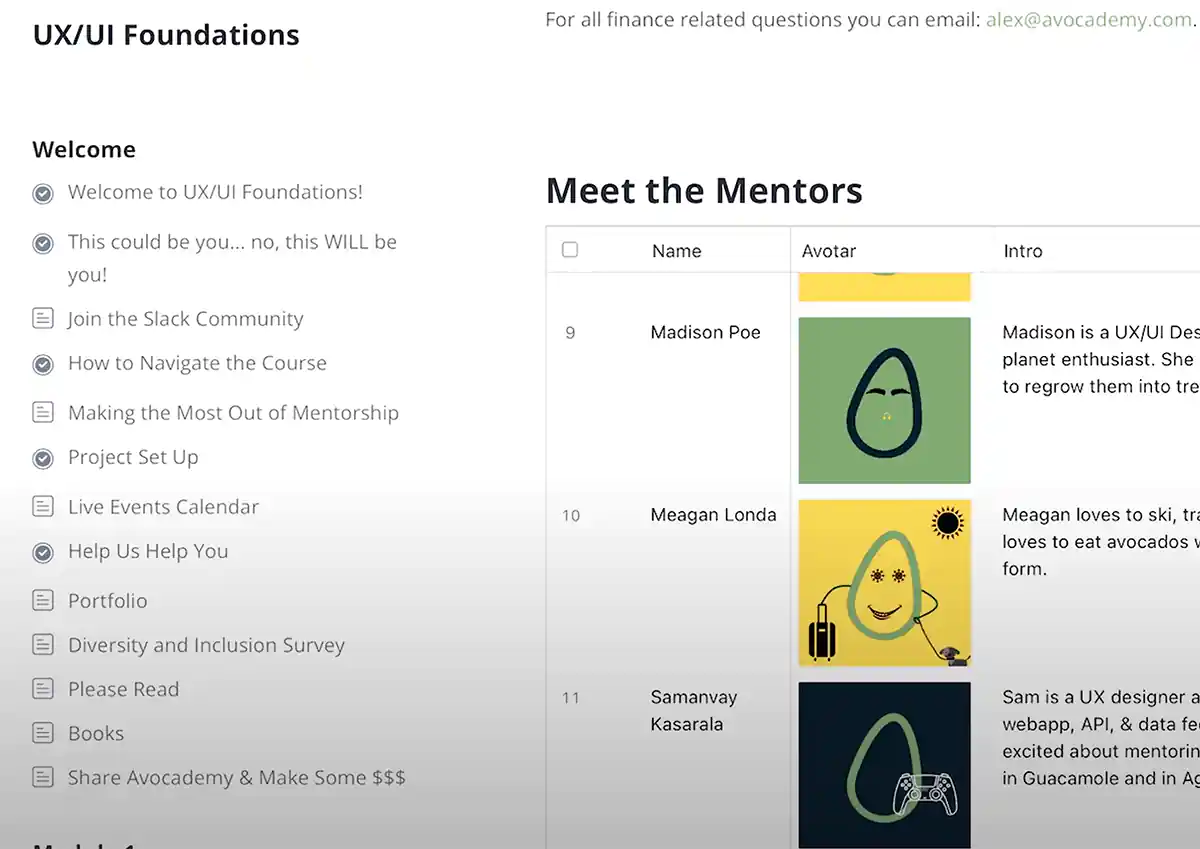 Career Jumpstart
What is it?
The Career Jumpstart program offered by Avocademy is an intense, but ultimately beneficial, course that helps prepare participants for a career in UX.
What does it offer?
The program offers resume and portfolio reviews, as well as help to find job opportunities. Participants also work on projects with other professionals in the industry.
What is it good for?
The program has helped many people find jobs within the UX industry. For anyone considering a career in UX, the Career Jumpstart program is a great option.
After two projects with the career jumpstart program, Maca and her team will help you find and apply for a UX job.
Cost: $5000.
Is Avocademy Career Jumpstart worth it?
Yes.
The price tag of $5000 for the Avocademy Career Jumpstart program may seem like a lot at first, but when you consider all that the program offers -- resume and portfolio reviews, help to find job opportunities, working on projects with other professionals in the industry -- it is well worth the investment.
Avocademy claims that 95% of its participants receive job offers within six months of completing the program so if you are considering a career in UX, the Career Jumpstart program is definitely worth checking out.

Avocademy prides itself on its diversity and inclusivity.
78% Racial Minorities
80% Women
35% LGBTQ+
Career Jumpstart program summary:
Resume and portfolio review
Help finding UX job opportunities
Project work with other professionals in the industry
FAQ: Avocademy Review
How long is the Avocademy program?
The Avocademy course lasts 8 to 16 weeks. You have 16 weeks to complete the course if you want to do it at your own pace.
What will you learn?
Avocademy course teaches you:
The basics of UX/UI design
How to conduct research with users to develop people-centered products
How to brainstorm solutions to problems using design thinking methods
Information architecture and wireframing
UI design principles and how to create realistic-looking user interfaces
Prototyping and testing user interfaces with real users
How to develop a case study and build a portfolio
How much is Career Jumpstart?
The cost of Avocademy Career Jumpstart program is $5000.
Does Avocademy offer payment plans?
Yes. Avocademy offers payment plans in the US and UK.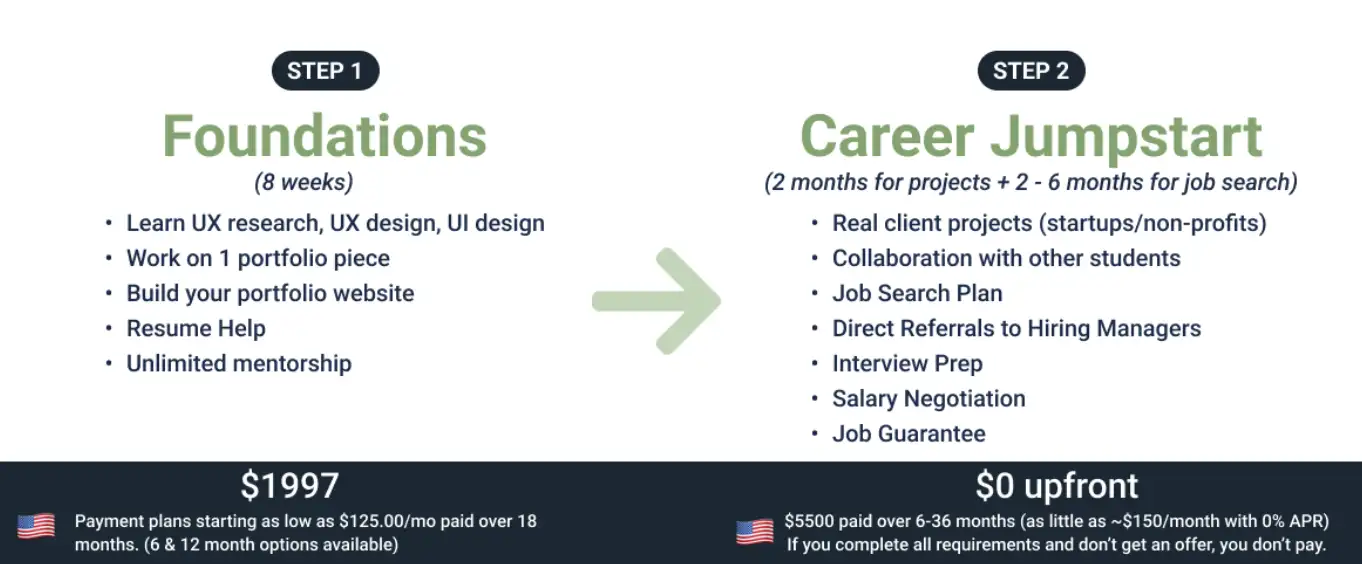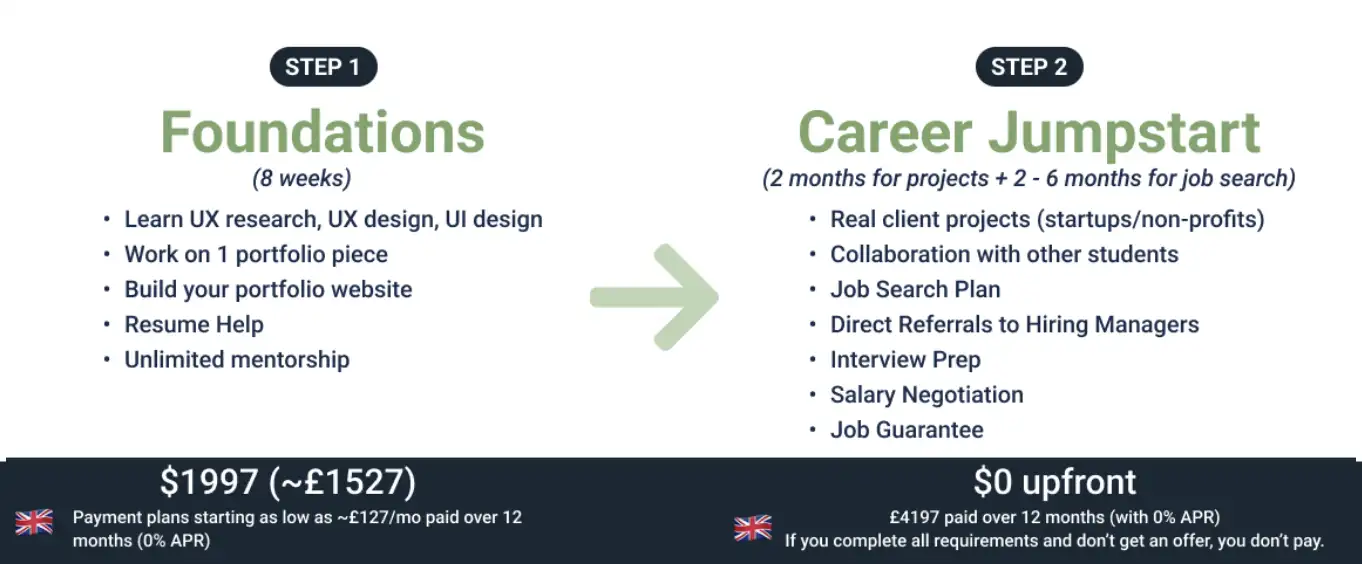 What are Avocademy graduates saying?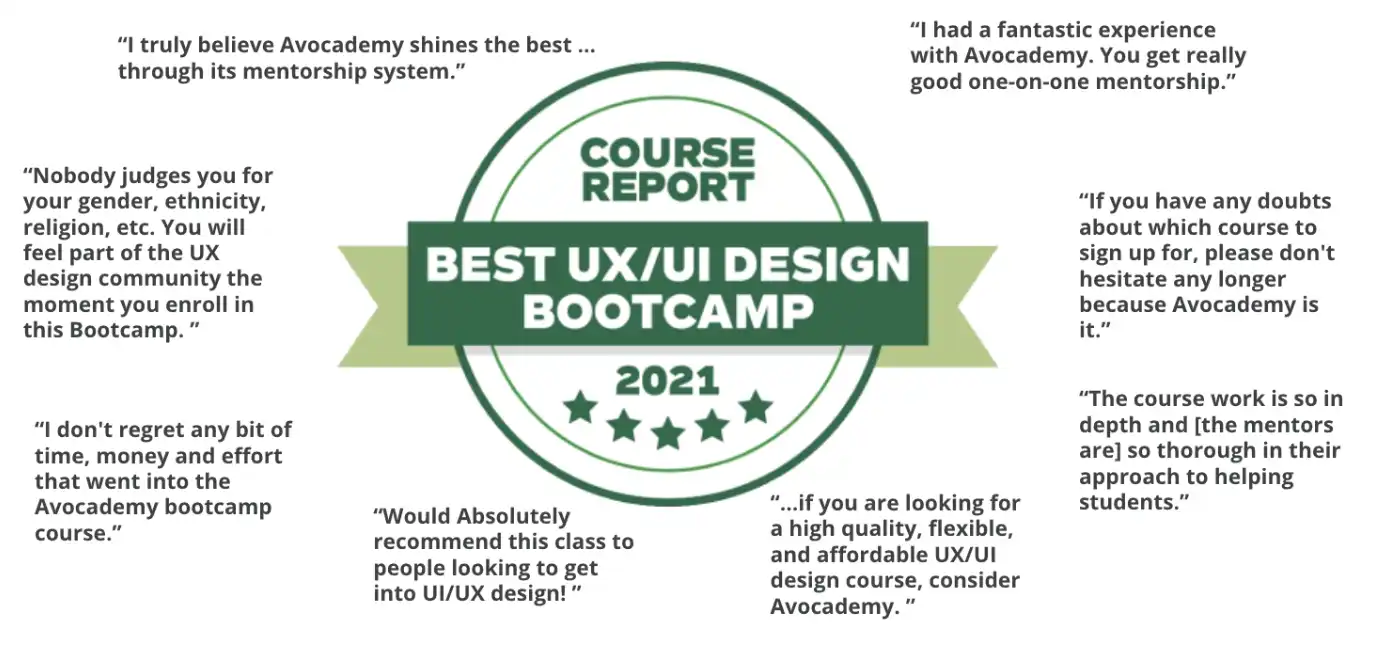 Still unsure if Avocademy is right for you?
Check out this webinar by the founder, where she walks you through Avocademy.
Or, schedule a free 20 min session with an Avocademy mentor to get a feel for the course: here (scroll to the bottom of the page).
About Josip
Josip Miskovic is a software developer at Americaneagle.com. Josip has 10+ years in experience in developing web applications, mobile apps, and games.
Read more posts →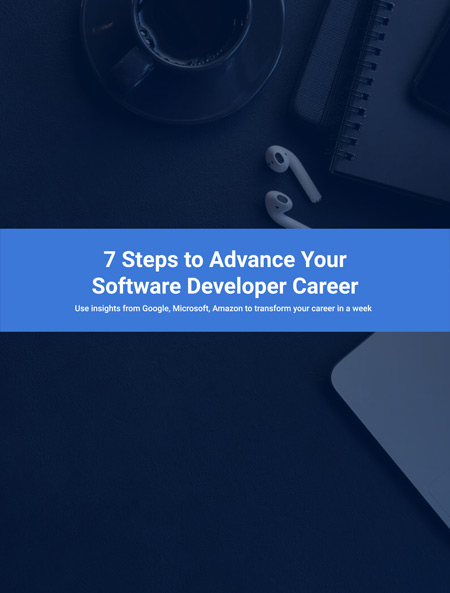 Download Free Software Developer 
Career Guide
I've used these principles to increase my earnings by 63% in two years. So can you.
Dive into my 7 actionable steps to elevate your career.