8 Best Conversion Rate Optimization Software to Boost Revenue in 2023
By Josip Miskovic
•
Updated on
Are you losing money because of your checkout process?
Conversion Rate Optimization (CRO) is the optimization of a website to increase the percentage of visitors that convert into customers.
CRO is a process that you can apply at any stage of the customer journey, from acquisition to post-purchase retention.
Conversion rate optimization software focuses on areas with friction. For example, if you are seeing user-drop on the shipping selection page, shipping software can help you improve the user experience. And that leads to better conversion.
We will go over best conversion rate optimization software that you can use to improve your ecommerce business.
Why should you trust these reviews?
I have years of ecommerce experience working as a software developer:
Worked with 8-figure ecommerce companies.
I got to implement many of the best conversion optimization softwares.
I observed how conversion optimization software can help businesses increase their revenue.
Identify your weak points
If you want to improve your conversion rate, the first step is to identify where in the process you are losing customers. There are several tools and techniques that can help you do this.
Focus on understanding the problem first, put KPIs in place, and then use software to fix it.
I often see businesses make the mistake of focusing on the wrong thing. They try to fix things that don't matter, or they spend too much time on minor changes that won't have a big impact.
CRO solutions aren't only for boosting final conversion rates. I've seen them make customers happy to do business with certain companies.
Conversion Funnel: Inverted cone vs Cylinder
Analyze user behavior on the main pages (categories, product pages, and cart), form a sales funnel, and set intelligent forms.
If the sales funnel has a cylindrical form and your offer meets the interests of your visitors, the conversion rate will increase with no additional effort. However, this is rarely the case. Thus, in most cases, a sales funnel looks like an inverted cone consisting of several segments.
If one of these segments has a meager conversion rate, define the problematic pages, find the primary reason, and optimize using the right CRO tool.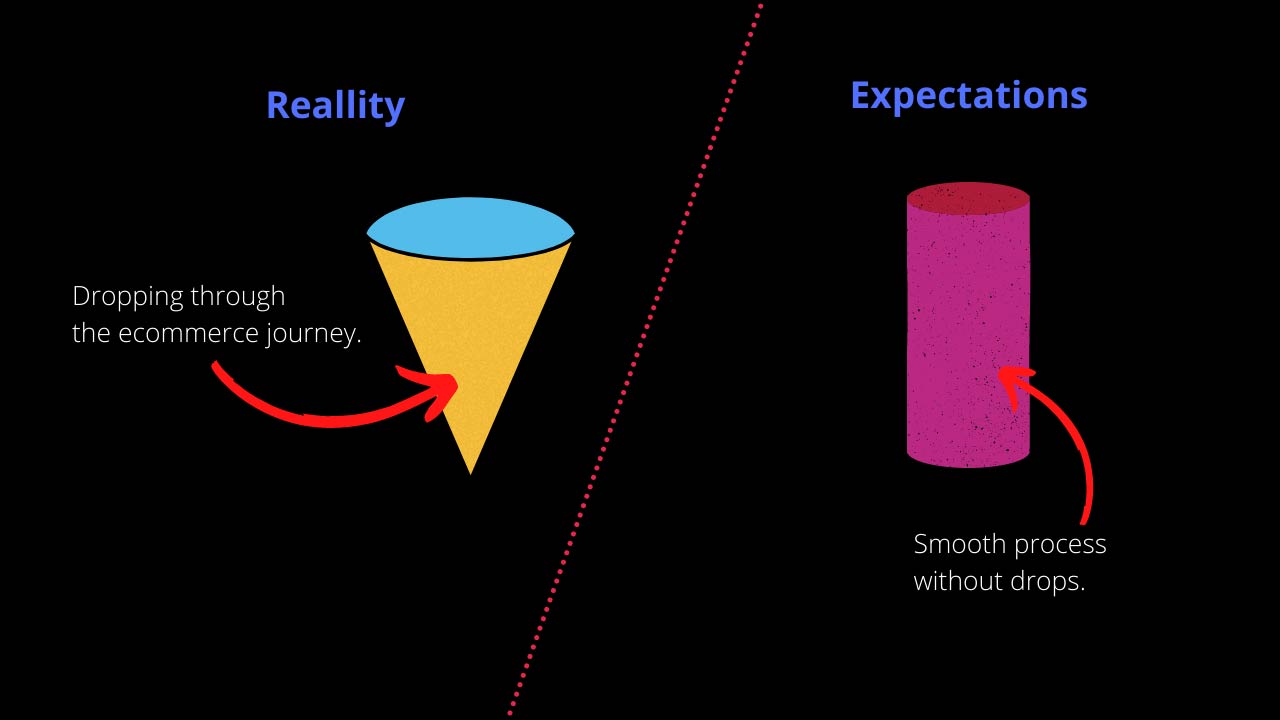 Web analytics tools
Web analytics tools provide you with data on your website traffic. They let you know where the users are coming from, what they are looking for and how they behave once they land on your site.
You can use this information to determine which areas of the checkout process need improvement. For example, if there is a drop in conversion rate after adding items into a cart, you can use the information to enhance your product page.
HotJar
Best user behavior analysis tool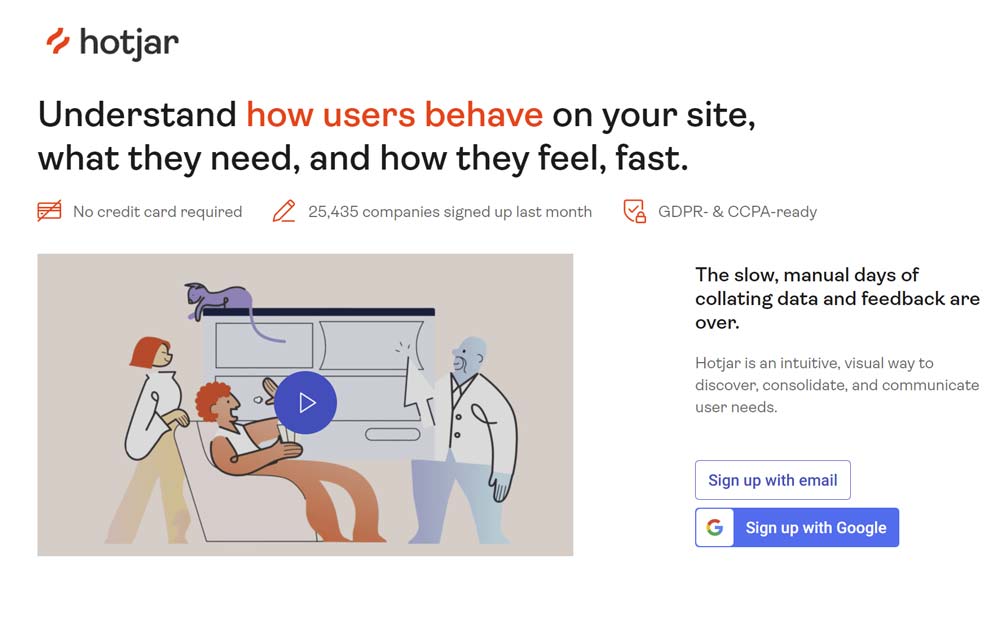 HotJar is a behavior analytics tool. It helps you understand how your customers are using your website. Using that understanding, you can improve struggling areas of your website.
HotJar's most powerful feature is its ability to show you how people are really using your site. You can see where they're clicking, how far down the page they got, and what friction point they've encountered.
A drawback of HotJar is that it slows down your site. It adds a JavaScript file that gathers data on user interactions. It's especially important nowadays with Google pushing for faster sites.
To integrate HotJar to your website, all you have to do is add the JavaScript snippet to your site. Once you do, HotJar will start recording anonymous data about how visitors are interacting with your site.
Pricing plan
Basic - Free for 35 daily sessions
Plus - $39 per month for 100 daily sessions
Business $99 per month for 500-2500 daily sessions
Scale $389 per month for 4000 daily sessions. (more sessions available on request)
Limitations aside, HotJar is the best tool for learning about user behavior.
Plerdy
Best for overall CRO of the website

Plerdy is a conversion rate optimization toolkit.
It offers a variety of tools to identify problem areas on your website:
Heatmaps
SEO checker
Session replay
Net Promoter score
Conversion funnel
Plerdy gives you suggestions on CRO by analyzing most common interactions with a website's key components.
Pricing plan
Free Free for 100 sessions, 2000 pageviews, and 3 heatmaps
Start - $23 per month for 1000 sessions, 10000 pageviews, and unlimited heatmaps
Business $47 per month for 2000 sessions, 25000 pageviews, and unlimited heatmaps
Premium $79 per month - 4000 daily sessions, 50000 pageviews, and unlimited heatmaps
Plerdy is loaded with features, but you might consider if you need all of them or they are just creating noise.
Bolt Checkout
Best checkout optimization software for large business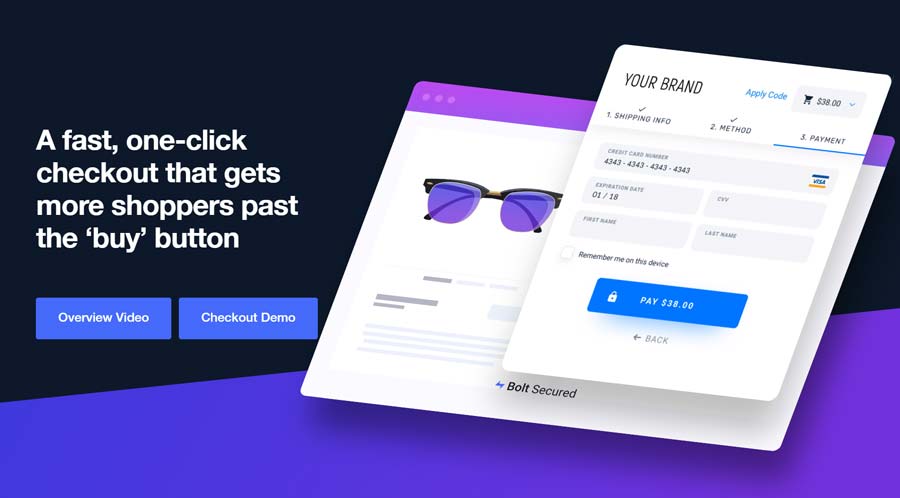 Friction in the checkout is a top reason shoppers don't complete their purchase. The checkout process usually involves three steps - shipping address, shipping method, and payment information.
Bolt Checkout saves shoppers basic information during their first purchase, so they never have to enter personal or payment data again. Bolt claims their customers convert 80% higher.
With Bolt, shoppers save their payment information during checkout to create both a universal Bolt account and a store account with that specific retailer.
This means that shoppers have one login to access all of their purchases at any participating store - no need for separate logins or registrations with each retailer they shop with. This saves them time and helps retailers create a better customer experience on their website.
Bolt is great if you are looking to revamp your complete checkout experience.
My favorite feature of using Bolt is how quick it's to set up the checkout page. I've seen developers spend months creating a custom checkout. Using Bolt will save you time and your customers can have a better checkout process.
Pricing plan
A big drawback is the price.
Bolt pricing is quote-based. It's based on factors such as:
Sales volume
Integration type
Processing fees
The typical cost is around 0.5-2% on top of credit card costs. So, have all your numbers in place before you make the switch. Conversion rate increase might not be worth the extra cost.
Search.io
Best search engine for large ecommerce websites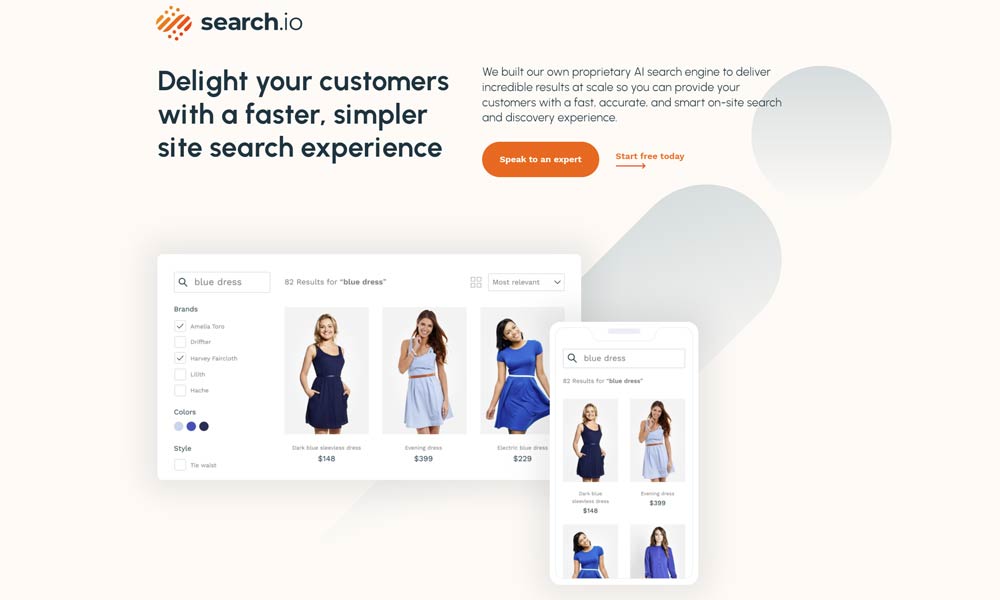 Search is an important factor for ecommerce conversion. Customers that use search are 2-3 times more likely to convert.
Search.io is a powerful search service that integrates with ecommerce platforms. It offers integrations with Shopify, Webflow, Drupal. You can also integrate it with your own custom platform.
Search.io offers a wide range of features, including:
Autocomplete to suggest search terms as customers type
Spelling correction
Faceted search to allow customers to filter results by price, color, size, and more
Product images and videos in search results
The key to increasing conversion through search is giving people what they want. Fast.
Working with stores that have millions of products, I found that having reliable search engine software is essential. The last thing you want is trying to manually configure how your search page should work.
Search.io uses Neuralsearch™ engine combined with machine learning algorithms to analyze user behavior and business data to provide the best search results.
Consider adding Search.io to your ecommerce store if you have a lot of products. A large catalog is hard to browse, so having a solid search engine in place is a must.
Pricing
Starter - $19 per month - 10k queries, 10k records, 1 domain
Standard - $99 per month - 100k queries, 100k records, 1 domain
Business - $399 per month - 250k queries, 250k records, 5 domains
Business + - $999 per month - 1M queries, 1M records, 10 domains
ShipperHQ
Best shipping software for ecommerce platforms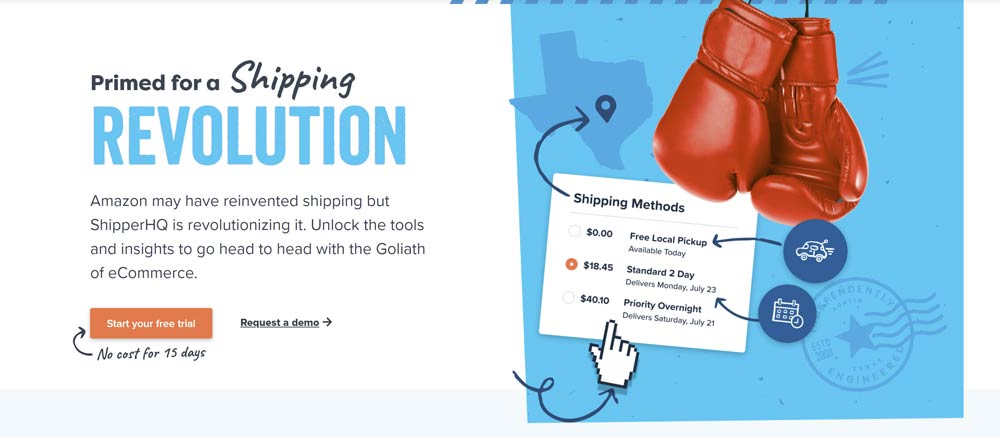 When it comes to shipping, customers want two things: affordability and accuracy.
Amazon has over 100 million Amazon Prime members, according to Jeff Bezos. Everyone is after free shipping. Two-day delivery is becoming the new norm.
In order to keep up, you need to offer affordable and accurate shipping. That's where ShipperHQ comes in.
ShipperHQ is a shipping management software that helps businesses automate their shipping process.
It integrates with all the major carriers, including FedEx, UPS, USPS, and DHL. This means that you can offer a variety of shipping options to your customers, including next-day and two-day delivery.
It allows you to provide affordable shipping rates, accurate delivery dates, and makes your checkout experience trustworthy.
ShipperHQ uses your business logic to make it simple and easy to show your customers the most compelling shipping options.
Calculate accurate shipping costs to offer customers the best rates possible while staying profitable.
Delivery dates and time slots can be customizable based on your business - for example, you may have three delivery dates depending on where the package is going.
Offer customers transparent shipping options to improve trust in your brand and decrease shopping cart abandonment.
Shipping notifications - inform customers of package progress at every stage.
Provide free shipping for high-value orders to increase average order value and decrease the number of abandoned carts.
Compares prices for two or more shipping methods from two or more carriers and show only the cheapest option to a client.
Pricing
Essential - $46 per month - 2 carriers, 2 shipping rules, email and chat support
Basic - $92 per month - 4 carriers, unlimited shipping rules, email and chat support
Standard - $230 per month - 4 carriers, unlimited shipping rules, priority support
Advanced - $370 per month - 8 carriers, unlimited shipping rules, priority support
Hubspot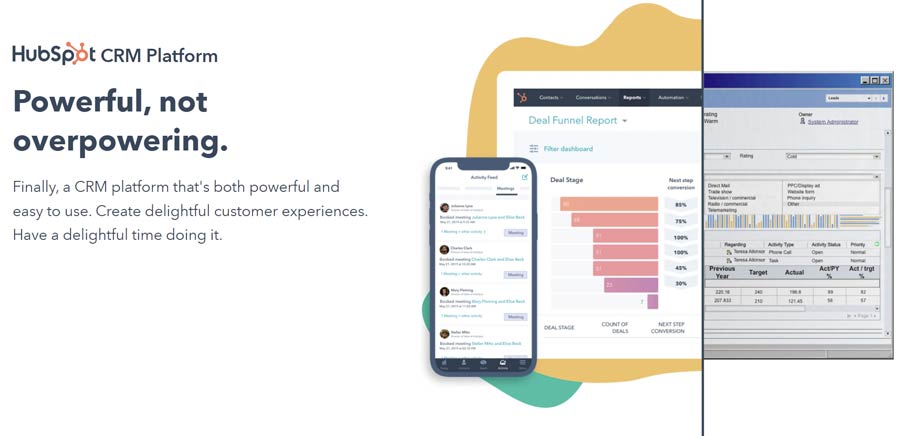 Your customers got to the checkout page, but they didn't buy?
If you got their email address, it's time to reach out. Abandoned cart emails will increase your conversion rate.
HubSpot helps you create a strong marketing automation strategy that integrates email, social media and PPC together, all from one place - the HubSpot CRM.
It offers powerful lead scoring and built-in reports within your inbox for better insights into customer behavior. Keep pushing for the right thing, and eventually your leads will turn into customers.
Hubspot's feature include:
HubSpot makes it easy to pull all the information you need right in front of you for better decision making.
All in one place - no need to jump between different tools and accounts, or worry about lag times caused by emailing data from multiple sources.
Set up triggers based on customer behavior so your messages are always relevant and timely.
Segment your lists to target specific customers with tailored messages.
Send automated welcome emails, birthday greetings, or other customized content.
Intercom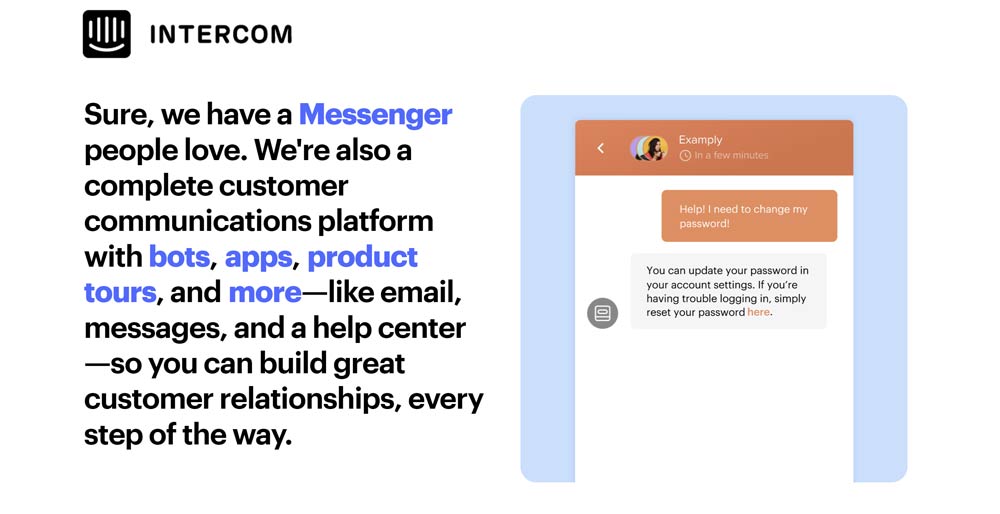 Managing customer relationships is one of the most important parts of running a business.
Ecommerce customers expect to communicate with a human being whenever they have a question.
Intercom is an all-in-one platform for messaging, customer service and marketing automation that helps you build relationships at scale.
Intercom's features include:
Send targeted messages to specific customers or groups of users based on their behavior or demographics.
Send targeted messages based on user location or language.
Identify customers who are most engaged with your product so you can focus on keeping them happy and driving growth.
How do you optimize conversion rate?
To optimize conversion rate use:
HotJar to understand how customers are using your website.
Plerdy for general website CRO optimization.
Optimizely to run A/B tests to find out what works.
Bolt for high-converting checkout experience.
ShipperHQ for fast, accurate shipping rates and dates.
HubSpot or any other CRM to keep track of leads throughout the buying cycle.
Search.io to make it easy for customers to find what they're looking for on your website.
Intercom for personalized customer support.
FAQ
What is the average conversion rate in ecommerce?
The average conversion rate in ecommerce is around two percent.
There are many things you can do to increase your conversion rate, including using HotJar to understand how customers are using your website, running A/B tests with Bolt, offering accurate shipping rates and dates with ShipperHQ, keeping track of leads with HubSpot
What are types of conversions in ecommerce?
Conversion of e-commerce sites comprises micro and macro conversions. Macro conversions are the objectives that a company has for its website, such as getting leads or making sales. Micro conversions, on the other hand, are the individual steps taken by a customer to reach the macro conversion goal. Examples of micro conversions include adding an item to a shopping cart, signing up for a mailing list, or submitting a contact form.
About Josip
Josip Miskovic is a software developer at Americaneagle.com. Josip has 10+ years in experience in developing web applications, mobile apps, and games.
Read more posts →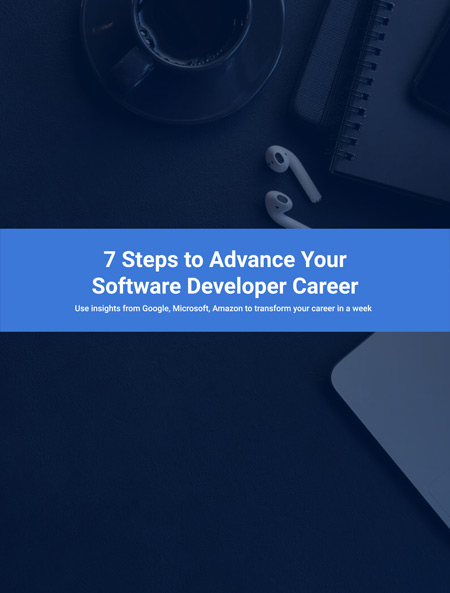 Download Free Software Developer 
Career Guide
I've used these principles to increase my earnings by 63% in two years. So can you.
Dive into my 7 actionable steps to elevate your career.