Who called me from this phone number? | 9 Services To Find Out
Have you ever received a call from an unknown number and wondered who it was?
It can be frustrating trying to figure out the source of these mysterious calls, but luckily there are services available that help you find out who called.
In this article, we'll explore some of the best websites that will help you identify anonymous phone numbers so that you can rest easy knowing exactly who is on the other end of the line.
Here's a list of the best services to help you figure out who called you from a phone number:
1. TruePeopleSearch
Best free phone lookup service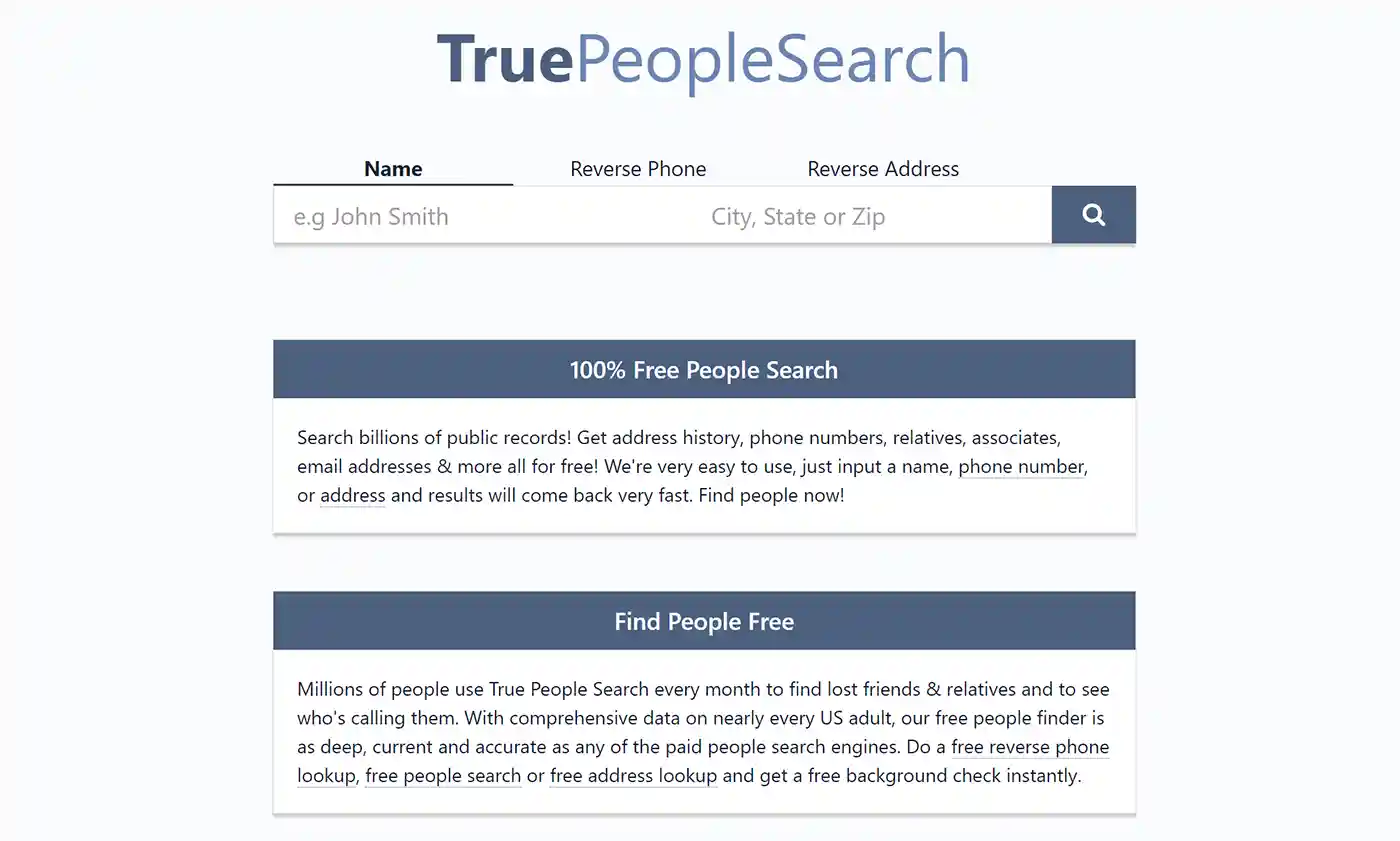 TruePeopleSearch is the best free service to figure out who called you from a phone number.
This app is a useful tool for many professionals, but its accuracy can be hit or miss.
Users have reported discrepancies in location information, with the app showing previous residents instead of current ones. Additionally, the associated phone numbers provided can also be inaccurate. The "larger map" option, which once linked to Google Maps, no longer functions properly.
Despite these drawbacks, TruePeopleSearch still offers free unlimited lookups to reverse phone number, address, and name searches.
For a free app, it's hard to complain too much, and it remains a highly recommended option for basic people lookup services.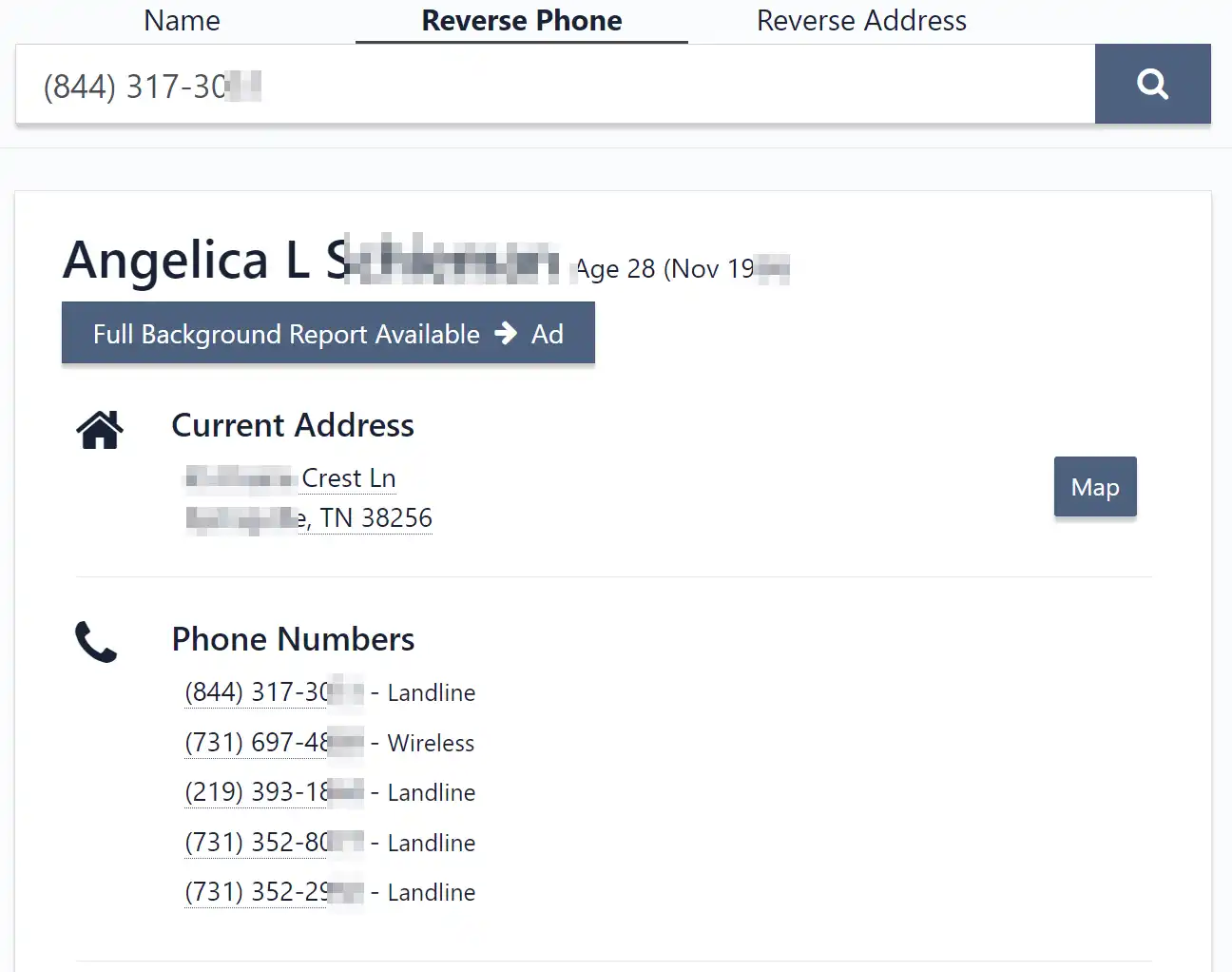 How accurate is TruePeopleSearch?
The accuracy of the information on TruePeopleSearch can vary and may not always be reliable. The information comes from multiple sources including public records and social media.
It's important to verify any information you find on TruePeopleSearch before making decisions based on it.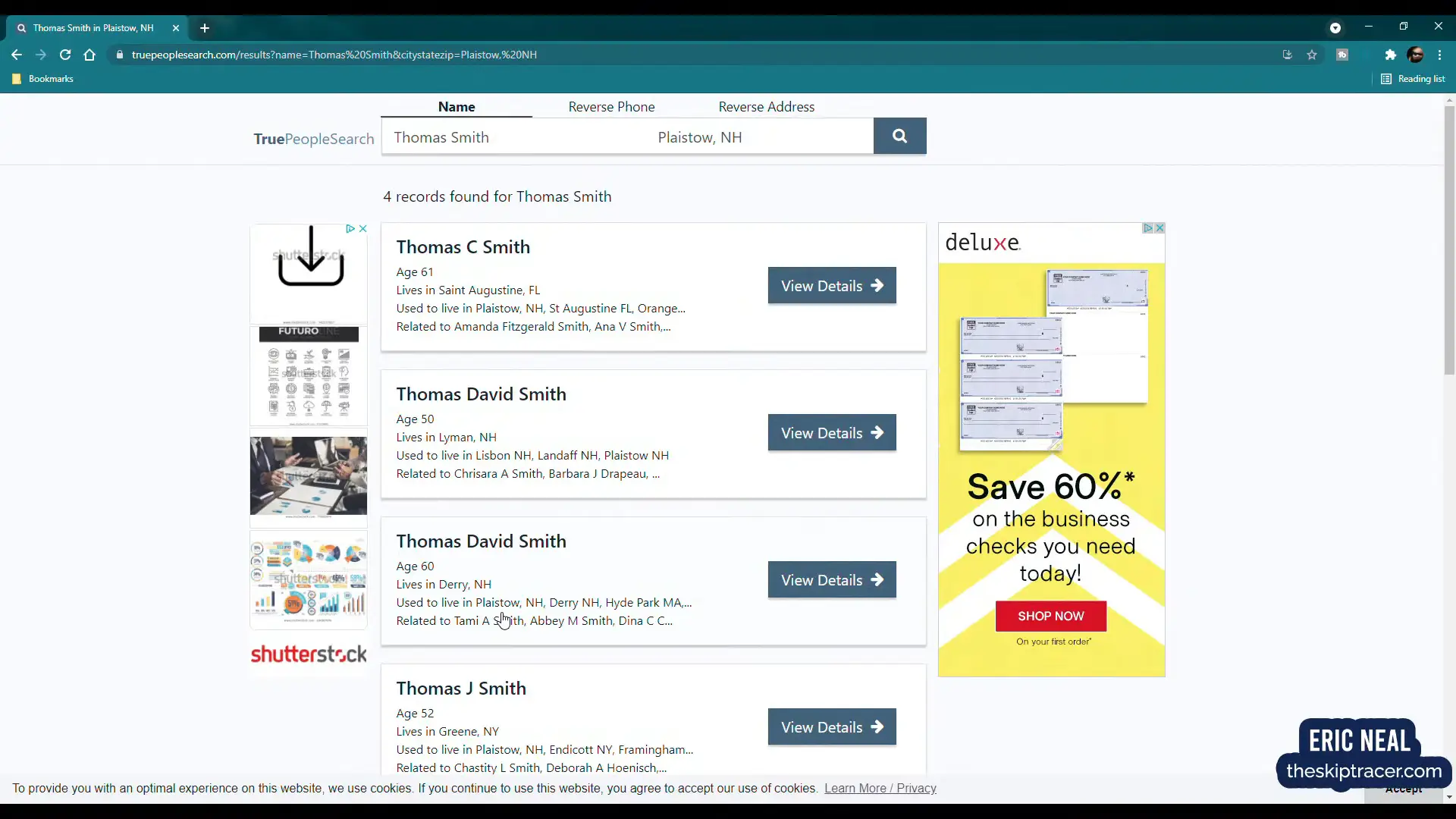 Is TruePeopleSearch safe to use?
TruePeopleSearch has several red flags:
the lack of information on the About Us and Contact pages raises concerns about the transparency of the operation
the content of the Privacy Policy page seems to have been copied from another site without any modifications
users can request the removal of their profiles, but the terms attached to this service are not clear
Overall, be cautious when you use TruePeopleSearch.
How to get my record removed from TruePeopleSearch.com?
If you want to remove your record from TruePeopleSearch.com, it's surprisingly easy.
Simply visit the website and find the special option for removal.
But always be cautious with these websites. In some cases, the removal process may not actually remove your entry but simply confirm it.
2. BeenVerified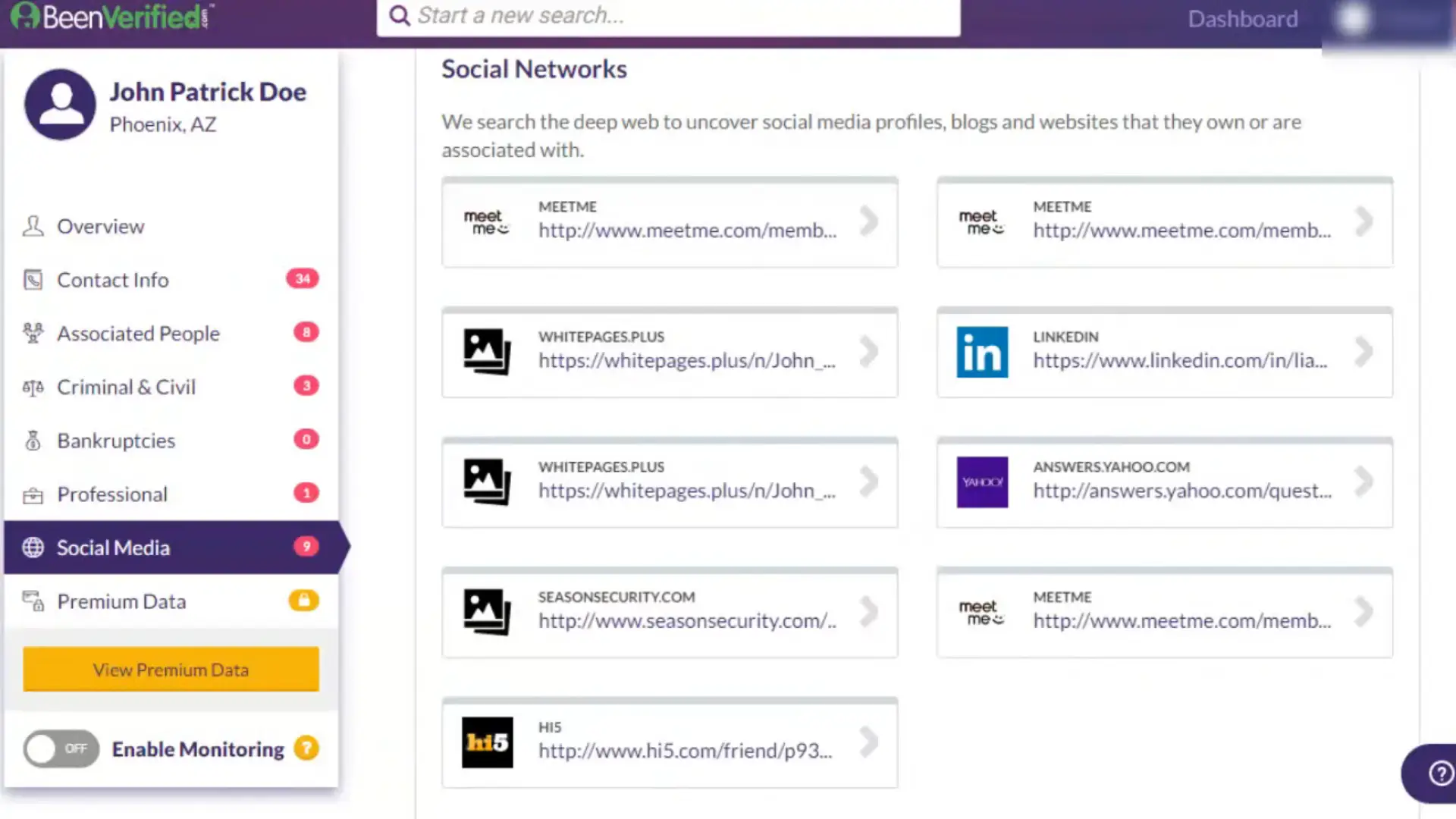 BeenVerified is the best website for finding detailed information about people who spam you with calls.
Intelius and Spokeo are not as good because they are not as transparent and user-friendly. I was surprised at how much information I was able to find on BeenVerified.
The report was good, easy to read, and accurate.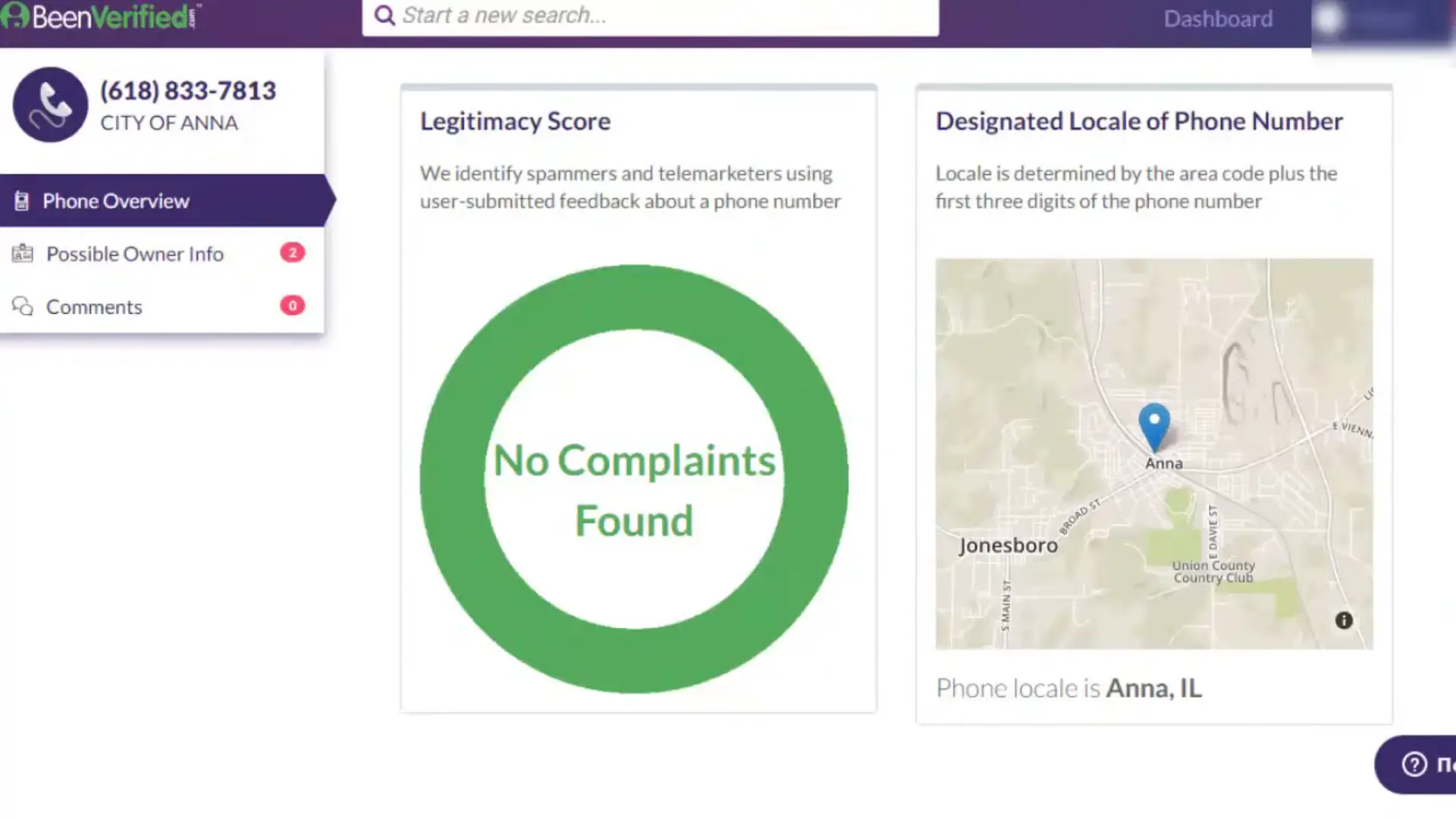 BeenVerified Pricing
BeenVerified offers two membership options:
One-month membership starts at $26.89 and includes unlimited searches for various types of information.
Three-month membership starts at $17.48 per month, which is a total of $52.44, offering a 35% savings.
3. Spokeo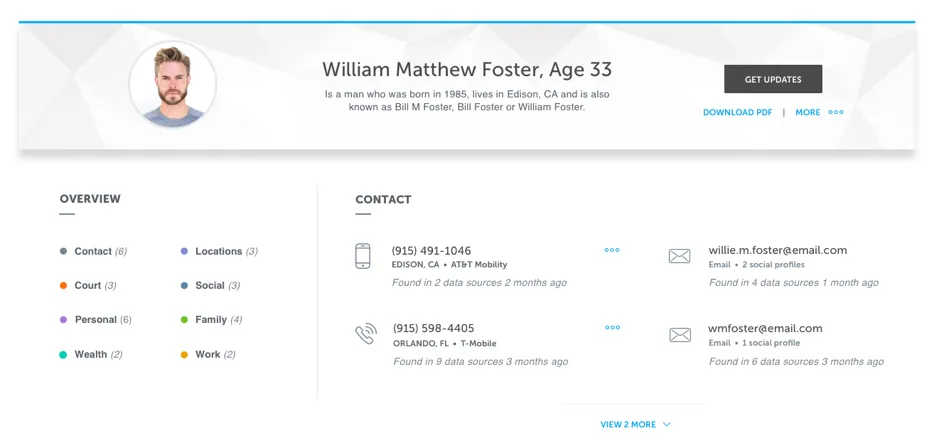 Spokeo is a good reverse phone search service. With only a few clicks, you can learn who the person is that is calling you from an unfamiliar number.
Spokeo searches millions of numbers so that you can have all the information you need about the caller in just seconds.
Spokeo Pros:
Special filters for easier information retrieval
Identification of unknown callers
Quick and accurate data generation
Simple and user-friendly website design
Provides location and relative information
Allows users to cancel their subscription at any time
Can search for people by area code
Spokeo Cons:
Monthly subscription fee for detailed search results
Inaccurate information can lead to communication problems
No free trial for detailed search results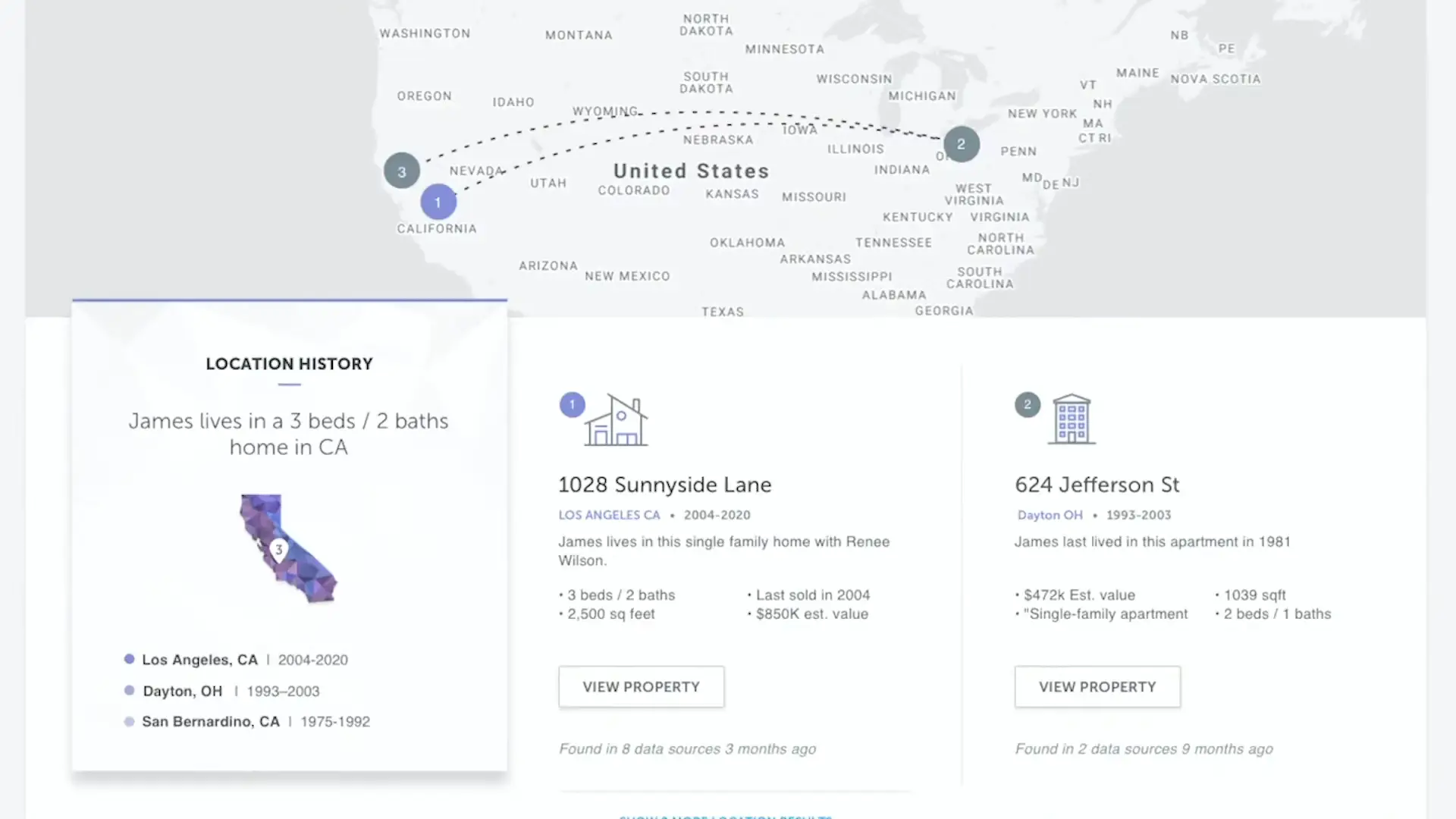 Spokeo Phone Lookup Report
The final report was easier to read than the Intelius report. They even gave you a PDF that was not cluttered.
But there is an extra fee of $0.50 for the PDF report service, which I think is a little too much. Like Intelius' results, the accuracy varied but was overall what we thought it would be.
Here's a sample Spokeo Report:
Spokeo Pricing
Spokeo has two membership options:
month-by-month costs $19.95 per month
three-month membership costs $14.95 per month
4. Intelius
Best service for background checks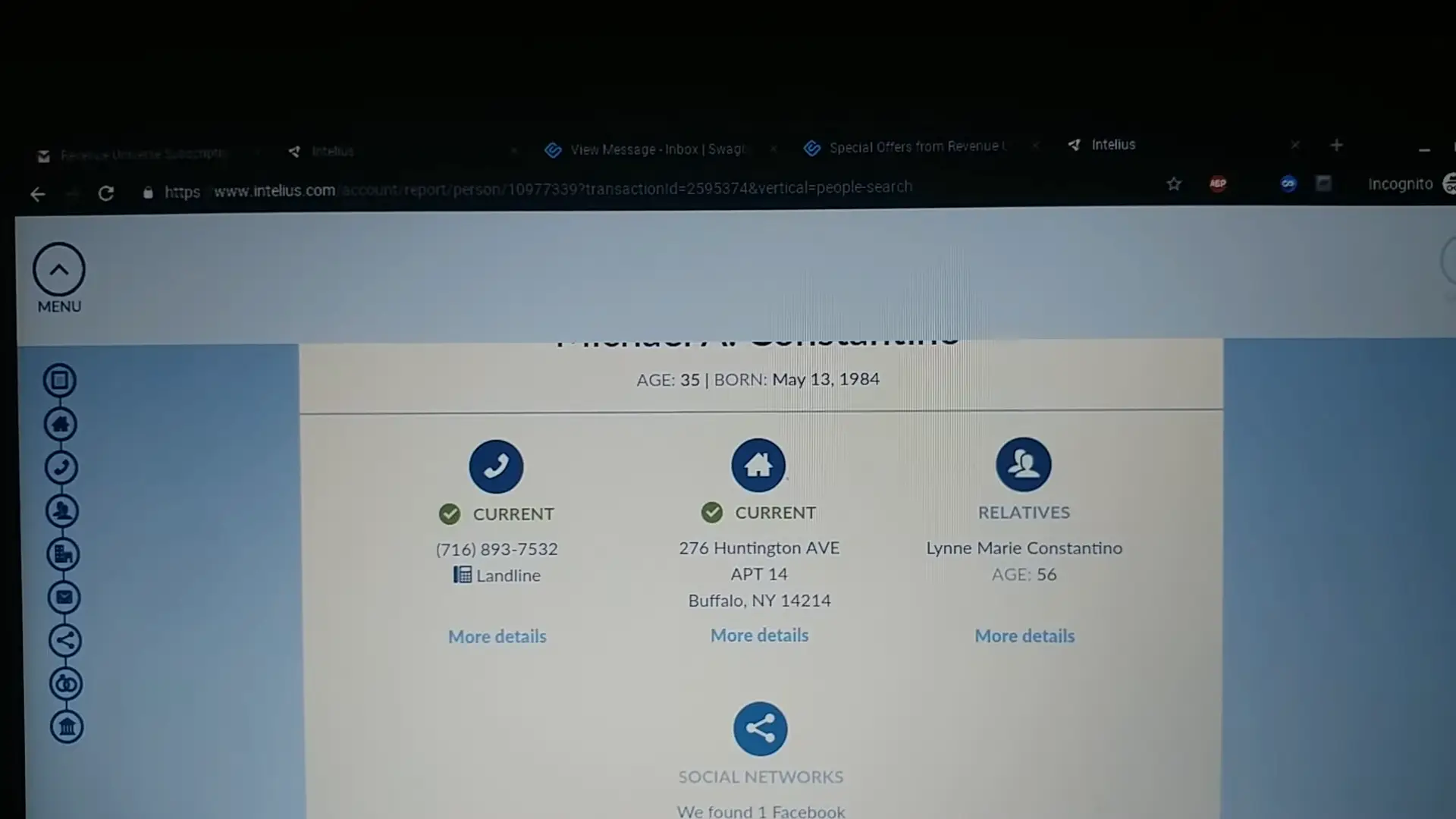 Intelius is public records and people search website that provides access to a vast database of information.
Intelius was founded in 2003 and is based in Bellevue, Washington.
Intelius allows you to search for information about individuals by name, address, phone number, email address, and more. The website offers various services such as background checks, reverse phone lookup, and people search.
Intelius aggregates data from various sources, including public records, commercial data providers, and social media profiles. The information provided by Intelius can include contact details, criminal records, court documents, employment history, and other public records.
Intelius Pros:
Provides access to accurate public records
Offers an innovative way of presenting reports through a web graph
Offers various services including background checks, social media searches, email lookup, criminal background reports, and reverse phone lookup
Provides education history of individuals
Trustworthy company that has been in operation for nearly 20 years
Creates reports quickly
Intelius Cons:
Relatively high price compared to some other people search websites
Only shows results from the United States
Non-transparent pricing plans can make it difficult to know the total cost upfront
Intelius Pricing
Intelius Reverse Phone Lookup Trial: $0.95.
Intelius Reverse Address Lookup: $4.95-$14.95.
Intelius Criminal Record: $14.95 for statewide; $29.95 for nationwide.
5. US Phone Search
If you want to quickly find out who owns an unknown number, US Phone Search is the way to go!
US Phone Search is a tool that can find millions of records. It can tell you who is calling you and where they are calling from. It is quick and easy to use.
This service provides different ways to search for a phone number, including with an email address or street address.
6. Cocofinder
CocoFinder is a good way to find who's calling you.
It connects with different databases to give you lots of information about a person, like their name, email address, home address, and social media profiles. With CocoFinder, you will have all the information you need to make informed decisions quickly and easily.
The search engine looks for data in many places and gives you the results fast, so you don't have to wait long for the information you need.
7. WhatIsThisNumber
WhatIsThisNumber is a website where you can find out who owns a phone number by searching through thousands of public databases. The searches are quick and reliable, and there is no limit to the number of searches you can do.
To find out information on a person, all you have to do is enter their phone number into the search engine and click search.
8. WhoCallsMe
WhoCallsMe is another good option to figure out who's calling you.
WhoCallsMe database includes entries for telemarketers, scammers, non-profit organizations, charities and political surveyors added by users themselves.
9. Peoplesearchfaster
PeopleSearchFaster is an easy-to-use website that you can use to look up phone numbers for free! In just a few seconds, PeopleSearchFaster will help you find out who called you.
With this service, you can find out accurate information about your callers, such as their name, address, and even where they are. You can also find out information about their social media accounts or any existing permits they may have from the government.
PeopleSearchFaster is not always accurate when you are trying to find out who is calling you from a phone number. However, it is free.
FAQ
Which features to look for in reverse lookup tools?
The most important features to look for in reverse lookup tools are:
Phone number activity tracking: A useful feature that allows you to track the activity associated with a phone number, such as call frequency and timestamps.
Review date availability: Look for tools that provide the date for any reviews associated with the phone number, which can help you assess the accuracy and relevance of the information.
Number search function: A basic but essential feature of any reverse phone lookup tool, allowing you to enter a phone number to obtain information on the associated owner or business.
Categorized results: Some tools categorize phone numbers based on their types, such as telemarketer, scammer, or business, which can help you quickly identify the nature of the call.
Rating system: Some tools provide a rating system for phone numbers, which can help you quickly assess the trustworthiness of the caller.
Color coding: Another visual aid that some tools use to categorize phone numbers, using color codes to indicate the type of call.
Concise information display: Look for tools that display information clearly and concisely, so you can quickly get the information you need.
User-friendly interface: A well-designed and user-friendly interface is key, especially if you plan to use the tool frequently.
Quick search results: Tools that can provide quick search results are helpful, especially if you need to identify the caller before answering the call. Some tools may also provide additional information, such as social media profiles associated with the phone number.
What kind of information do reverse phone lookup services provide?
A reverse phone lookup service provides the following information associated with a phone number:
Name (both first and last or business name)
First name (for residential listings)
Last name (for residential listings)
Full address
House number
House fraction (if applicable)
Pre-directional (directional placed in front of the street name)
Street name
Street type
Post-directional (directional placed after the street name)
Suite number (if applicable)
Latitude
Longitude
City
State
Zip5 (first five digits of the zip code)
ZIP4 (first four digits of the zip code)
NPA (area code of the phone number)
NXX (exchange of the phone number)
Postfix (suffix of the phone number)
Listing type (business, residential or government)
Flags (such as non-pub or non-listed)
Error code (if non-zero, means an error occurred)
Status (either "valid" or "invalid")
About Josip
Josip Miskovic is a software developer at Americaneagle.com. Josip has 10+ years in experience in developing web applications, mobile apps, and games.
Read more posts →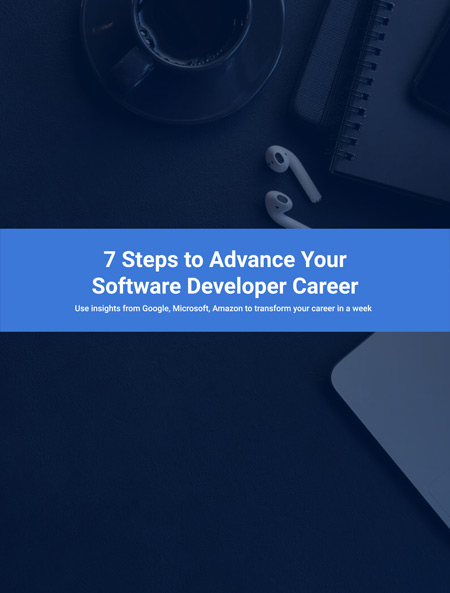 Download Free Software Developer 
Career Guide
I've used these principles to increase my earnings by 63% in two years. So can you.
Dive into my 7 actionable steps to elevate your career.