6 Best AI Logo Generators in 2023
Every time I start I side project, the first thing I make is the logo. I don't want to spend too much money or time, so I usually hire a freelancer on UpWork for around $100 or $200.
Lately, I've been experimenting with AI Logo Generators. The idea is:
spend less money,
get it quicker,
and have more control over the design.
I'll tell you the truth right away: AI Logo Generators are not that good yet.
You are not going to get a design masterpiece, but you can get a decent logo to kickstart your project.
Let me walk you through 6 Best AI Logo Generators in 2023:
What are the best AI Logo Generators in 2023?
Here's a list of the AI Logo Generators in 2023:
1.

Logo.ai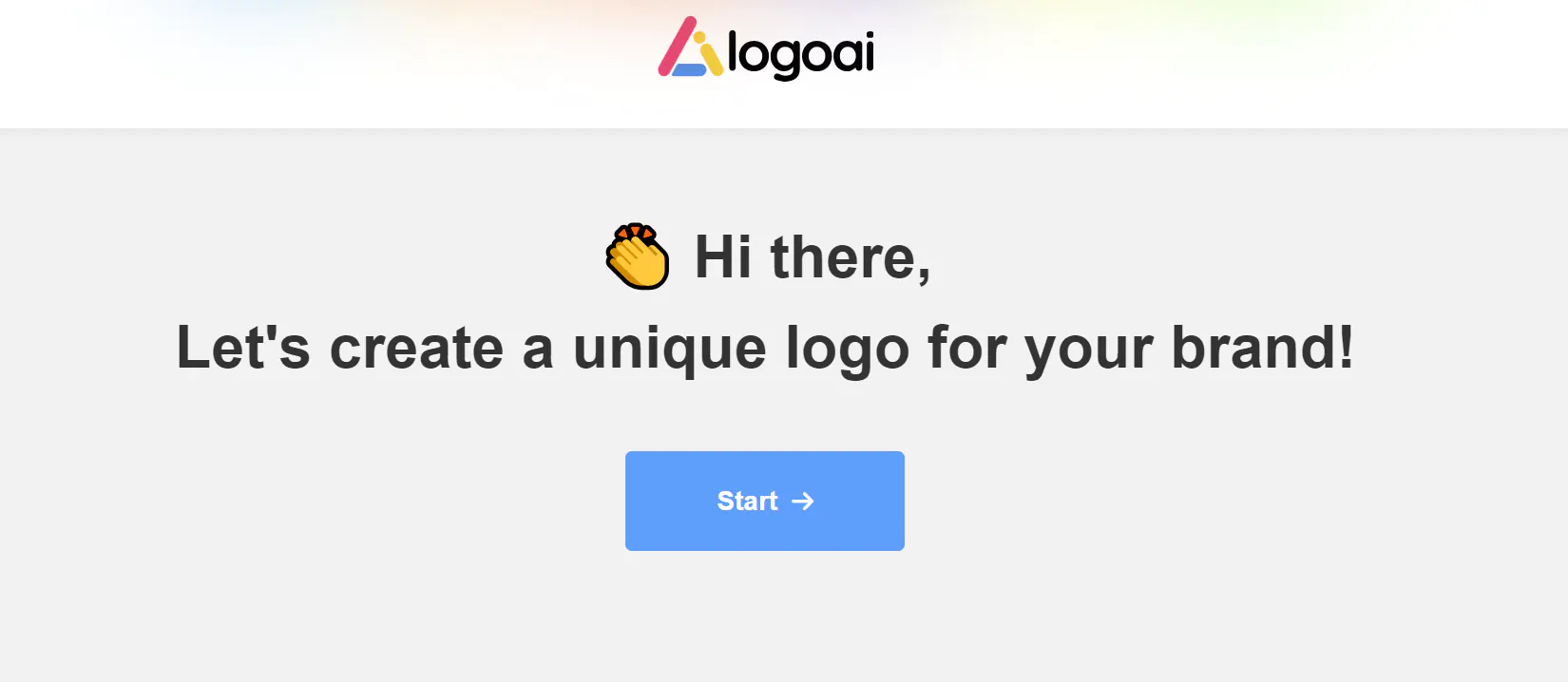 The truth is... there's not much AI to Logo.ai. But, you can still create an amazing logo.
To create a logo, you go through a simple step-by-step logo maker where you select your:
Company Name
Niche / Industry
Colors
Style
Icon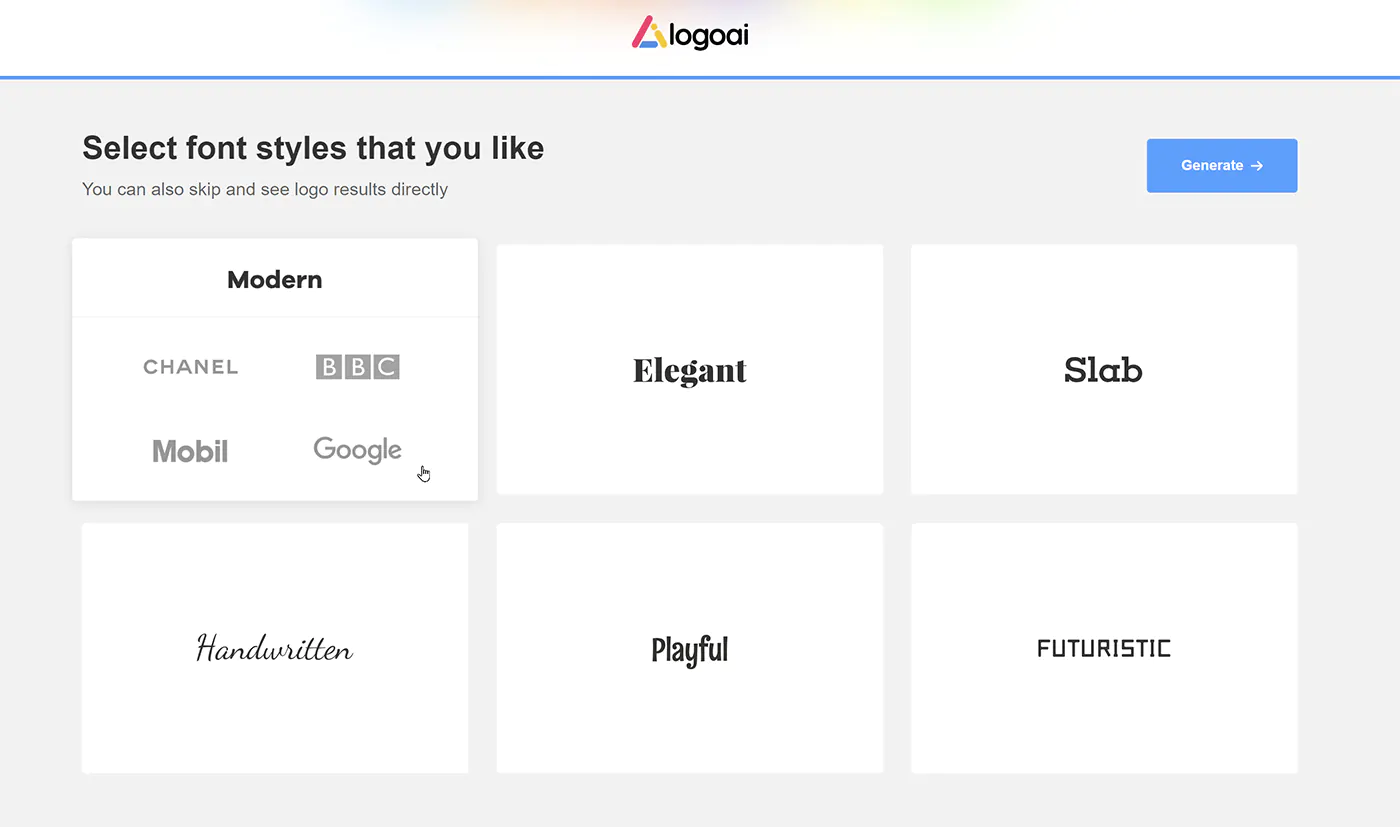 You end up with a pretty good logo which you can then modify.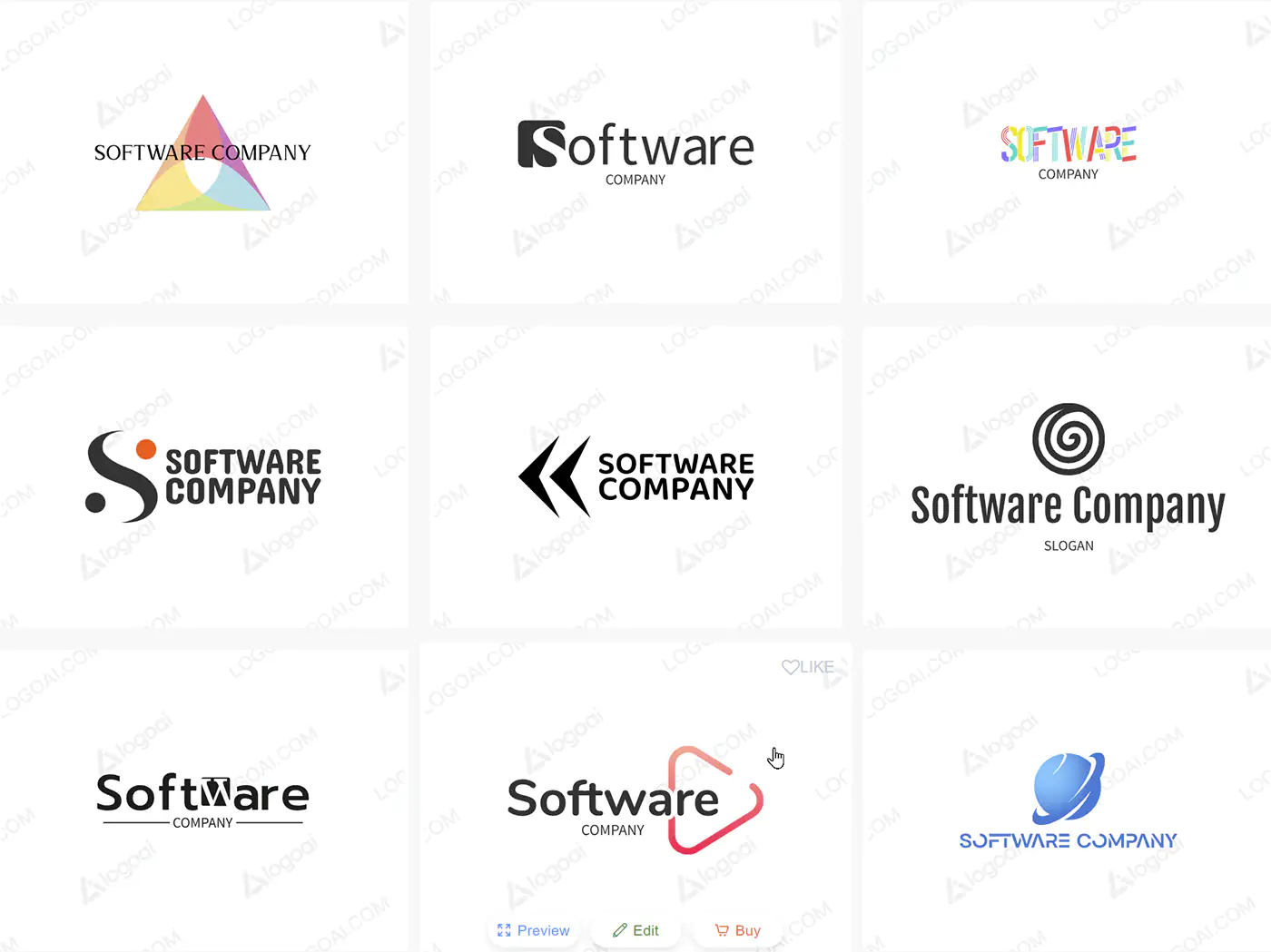 Honestly, it's so easy that you should just
give it a try
.
Learn More About Logo.ai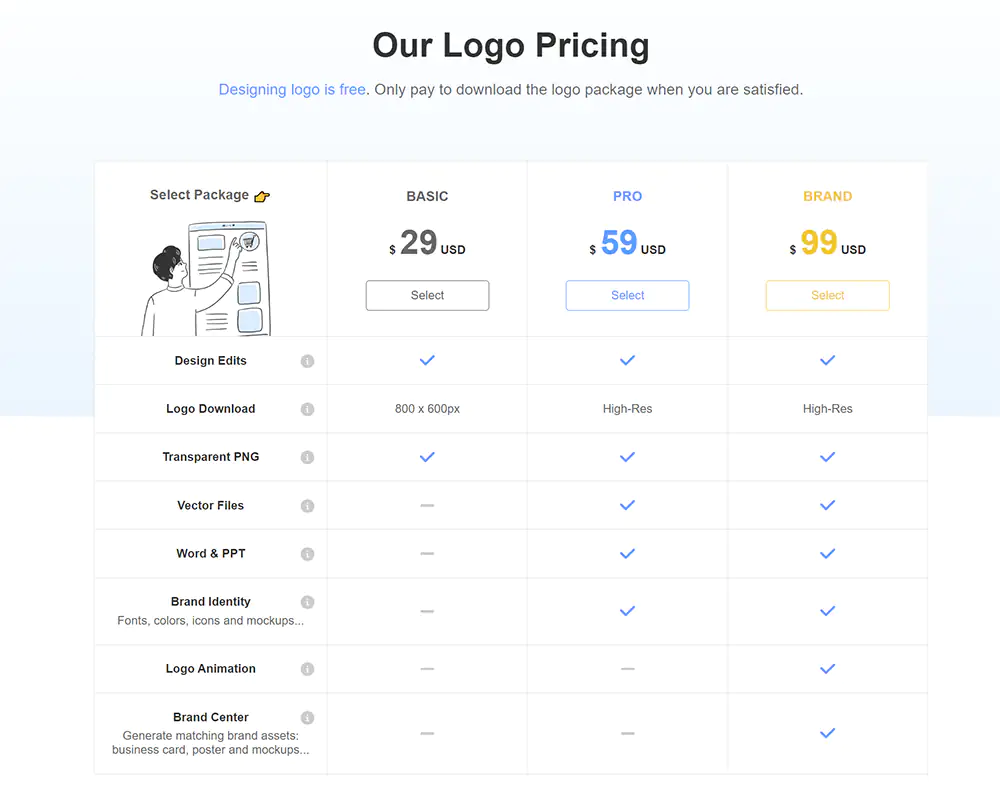 2.

Looka
Best AI Logo Generator for Small Businesses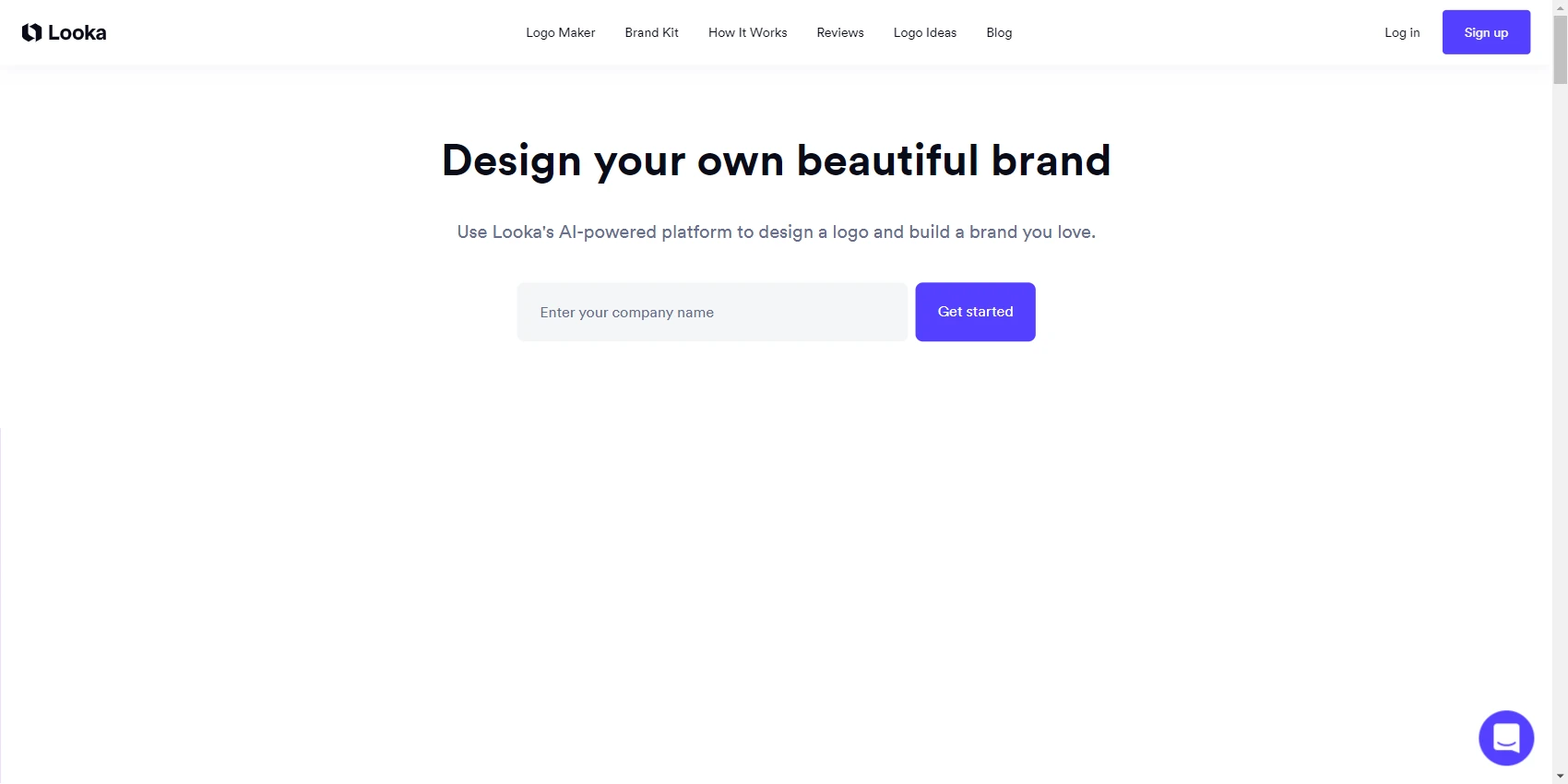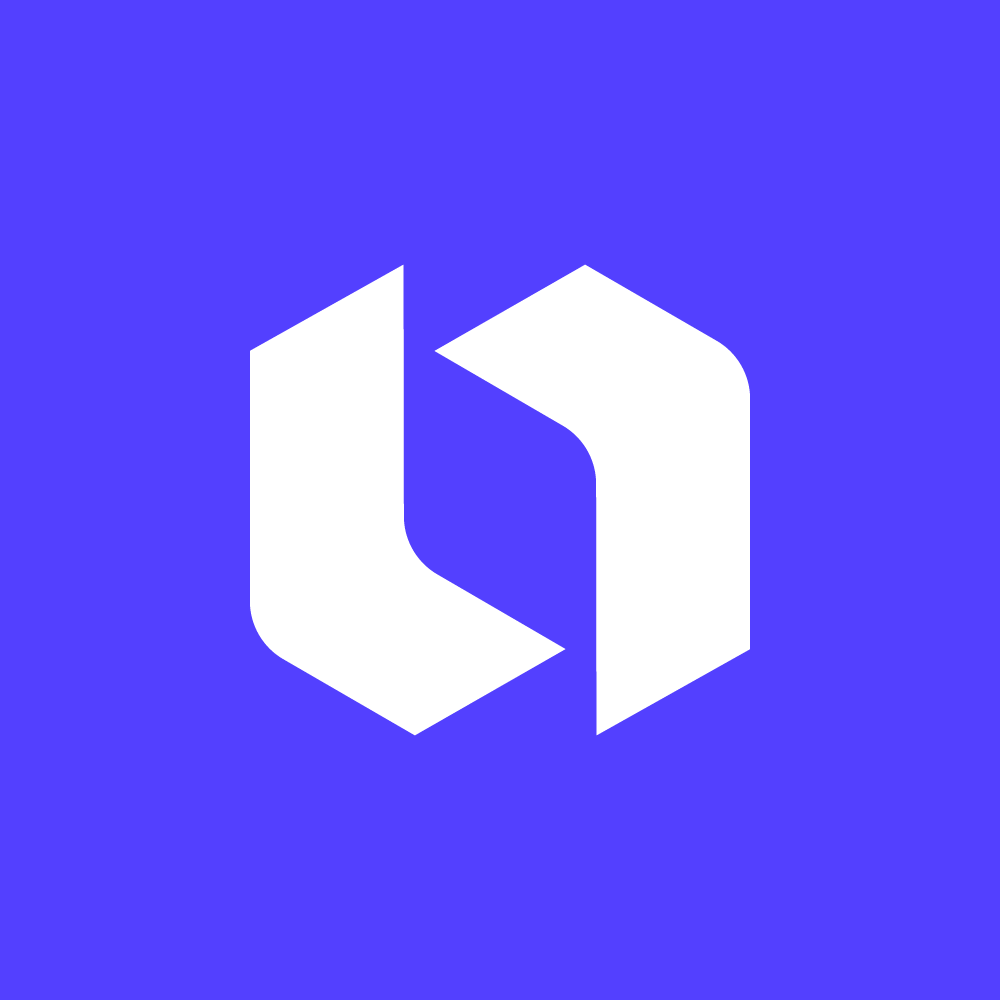 Looka is an online logo design platform that uses artificial intelligence to give users a feel of working with a professional designer. It allows anyone to easily create custom logos without any prior design experience.
Besides logo generation, Looka includes tools for creating business cards, letterheads, and other visual assets to complete your brand identity.
My Take On Looka
Looka is a user-friendly logo design platform with AI-powered capabilities that make it easy for businesses to create an iconic logo in just 5 minutes.
I found the interface to be intuitive and clean, allowing me to sort through typography easily and mix and match fonts without difficulty. I was also impressed by their AI element which helped me quickly find icons for my logo with minimal effort.
Learn More About Looka
Key Features of Looka
Logo Maker: Design a logo and build a brand using Looka's AI-powered platform.
Brand Kit: Create hundreds of branded marketing materials, customize designs, and get exclusive partner offers.
Business Card Design Templates:
Font and Color Guides: Consistent branding with font and color guides
What I Like/Dislike About Looka
Pros:
Ideas : Get ideas quickly and check changes and options easily.
Fonts and Color Schemes: Fresh fonts and color schemes available.
User Interface: Clean user interface that is user-friendly.
Customer Support: Excellent customer support to help with logo design.
| Pricing | Reasonable pricing for a logo, including a colour palette and PDF.|
Cons:
Paying for Logo: You must pay for the logo before you can change it.
Customization Limitations: Limited on customizing logo. No 3D logo option available.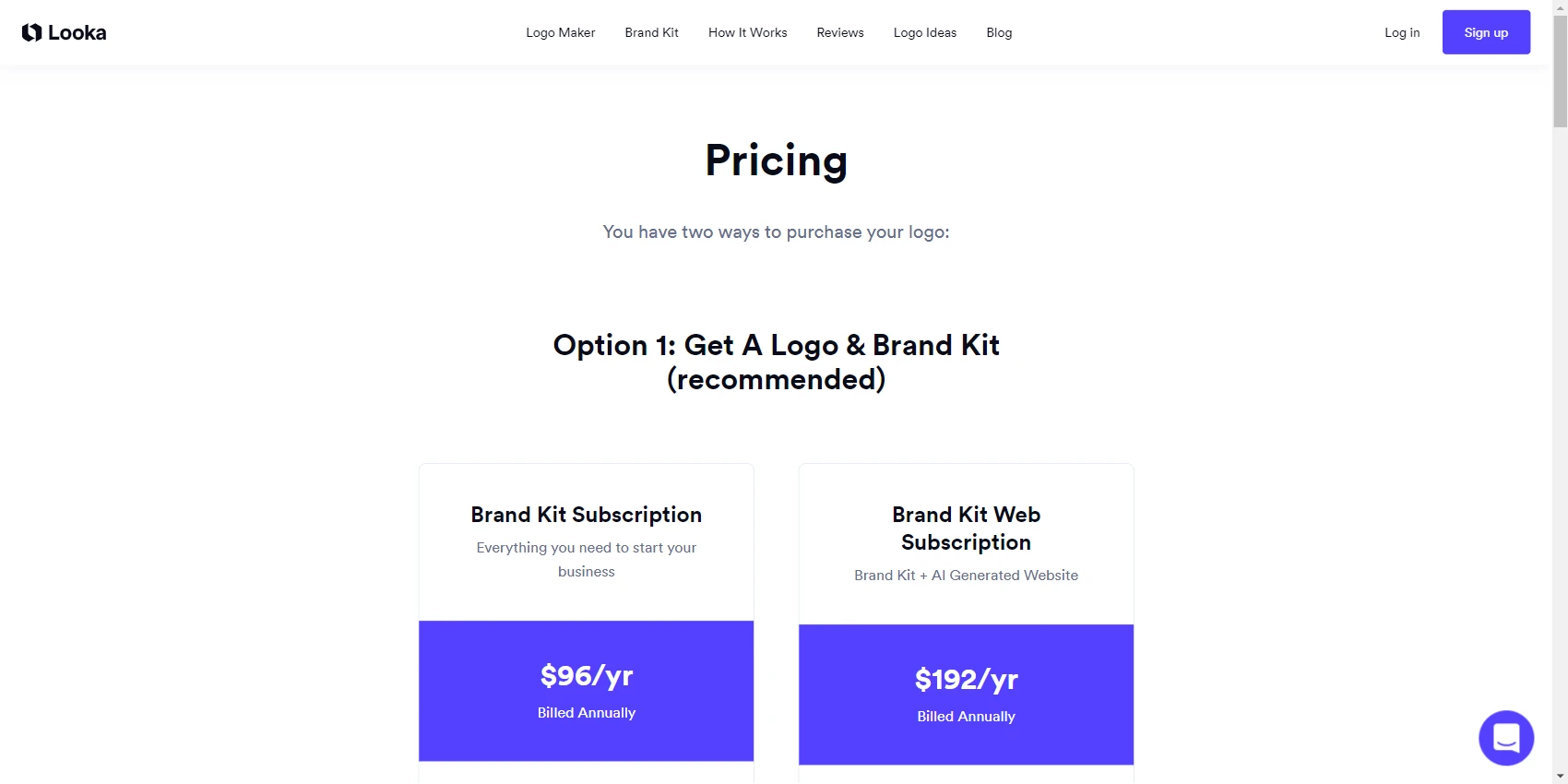 3.

BrandCrowd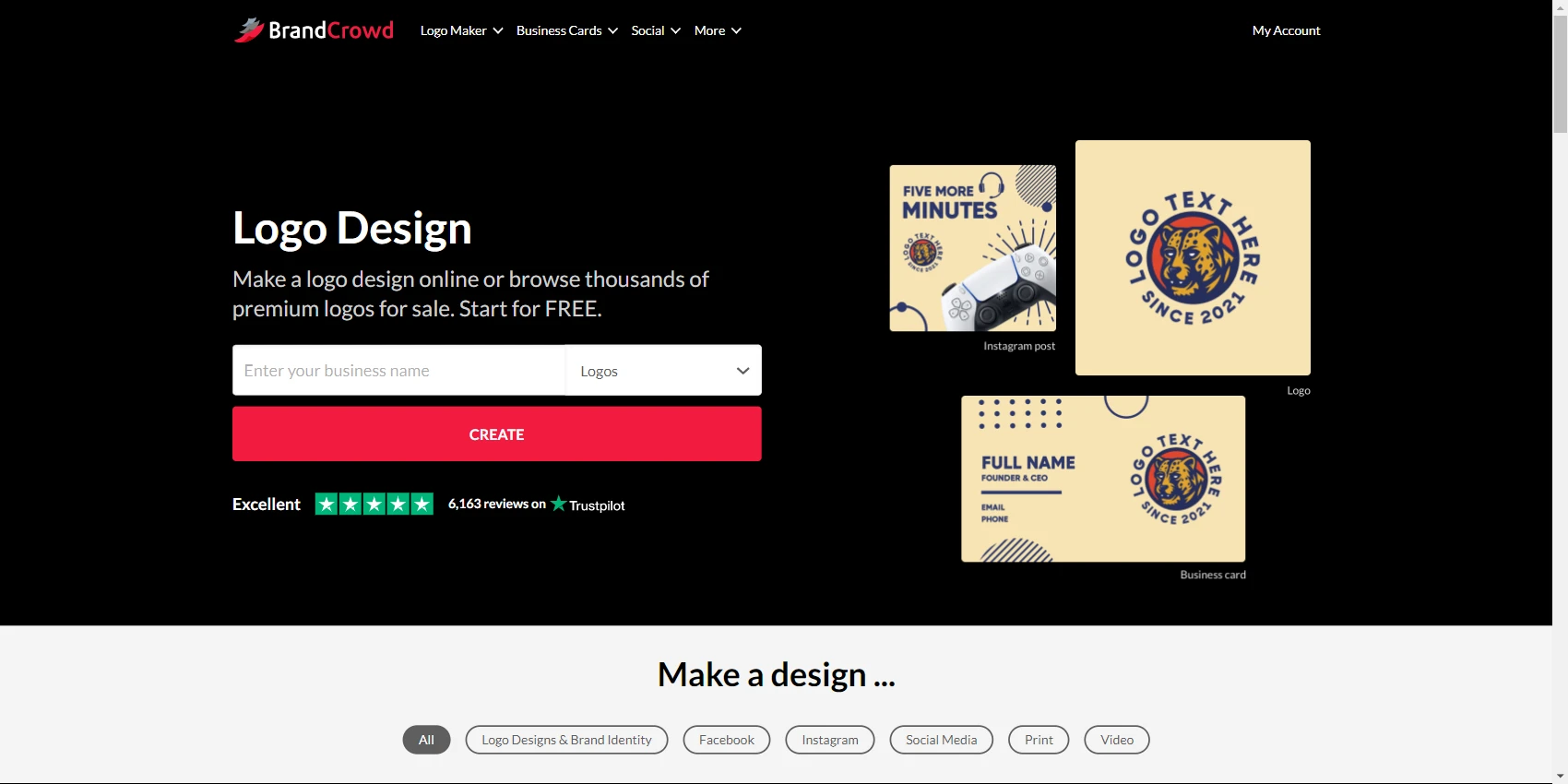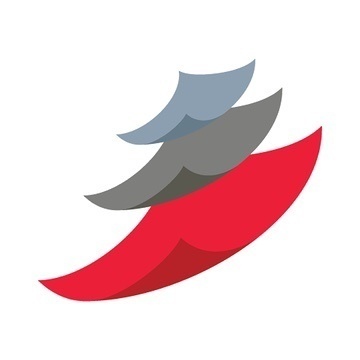 Brandcrowd is an online logo design platform that allows users to create stunning logos, social media headers, banners, and posts.
The platform offers a variety of customizable options such as text, colors and fonts to help users personalize their design. Additionally, they offer an asset library of over 21,000+ icons designed by professional logo designers.
I found the platform very user-friendly and intuitive. It was easy to use the drag-and-drop editor to create my design from scratch or customize one of the existing templates. I also liked that I had access to saved preferences for easy access when creating future projects.
Although there were many features I liked about Brandcrowd's services, there were some things that I didn't like as well. For instance, their selection of logo designs is limited compared to other platforms out there.
Additionally, while the quality of designs offered by Brandcrowd may be good enough for most use cases it may not be suitable for higher-end branding projects where more complex graphics are needed.
Learn More About BrandCrowd
Key Features of BrandCrowd
Asset Library: Access a library of 21,000+ icons designed by professional logo designers.
Custom Fonts: Personalize designs with custom fonts.
Customizable Branding: Modify existing templates to create custom branding designs.
Templates: Utilize pre-made templates for logos, business cards, social media posts, etc.
What I Like/Dislike About BrandCrowd
Pros:
Easy Creation & Editing: Very easy to create, and edit state-of-the-art logos, social media headers, banners, and posts to specific network dimensions.
Affordable Pricing Plans: Offers three different pricing plans ranging from free to $349 depending on the user's needs and budget.
Satisfaction Guarantee: Offers a money-back guarantee if not satisfied with the product.
Cons:
Limited Logo Design Selection
The quality of designs offered by Brandcrowd may not be the best.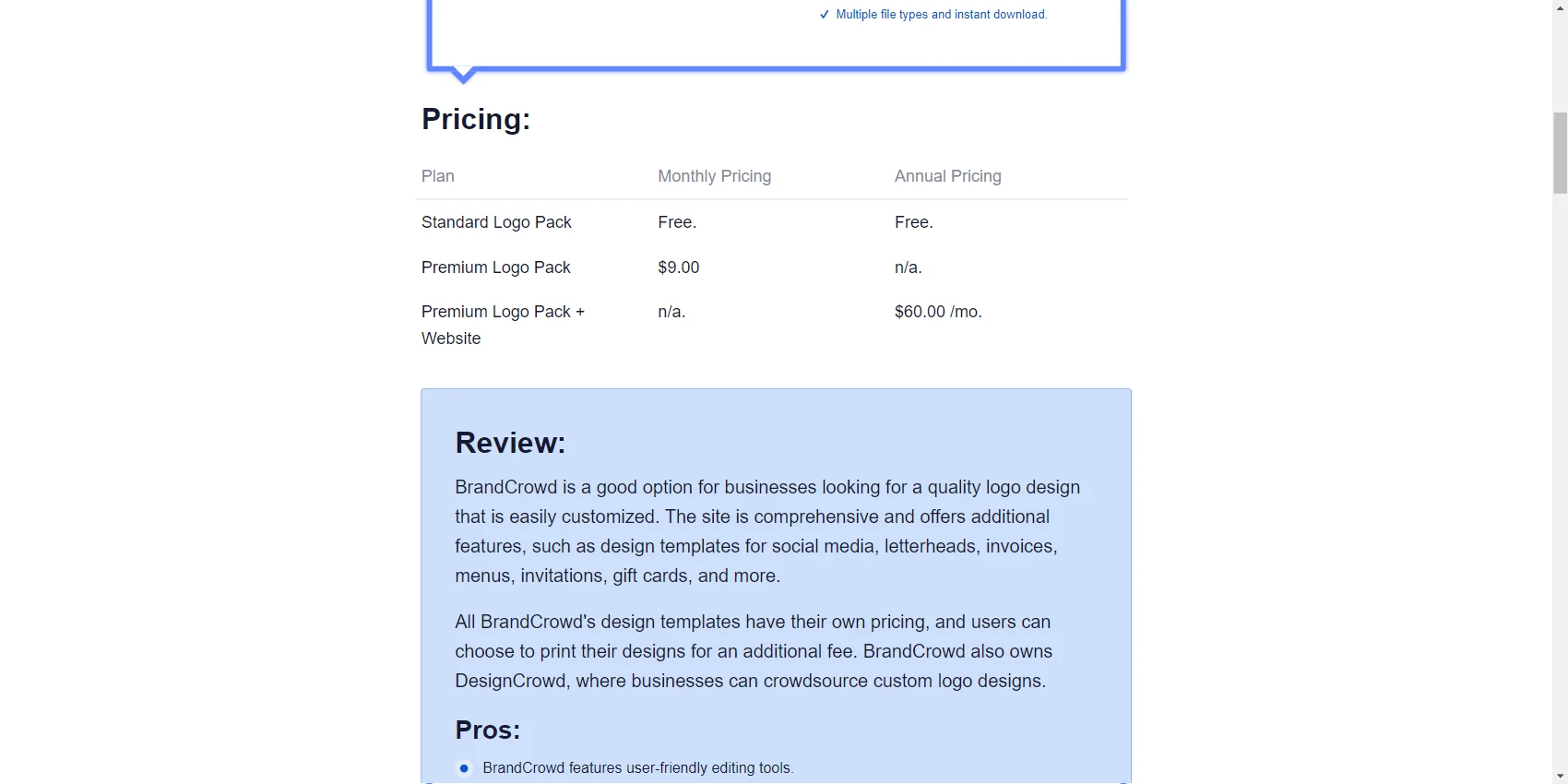 4.

Tailor Brands AI Logo Generator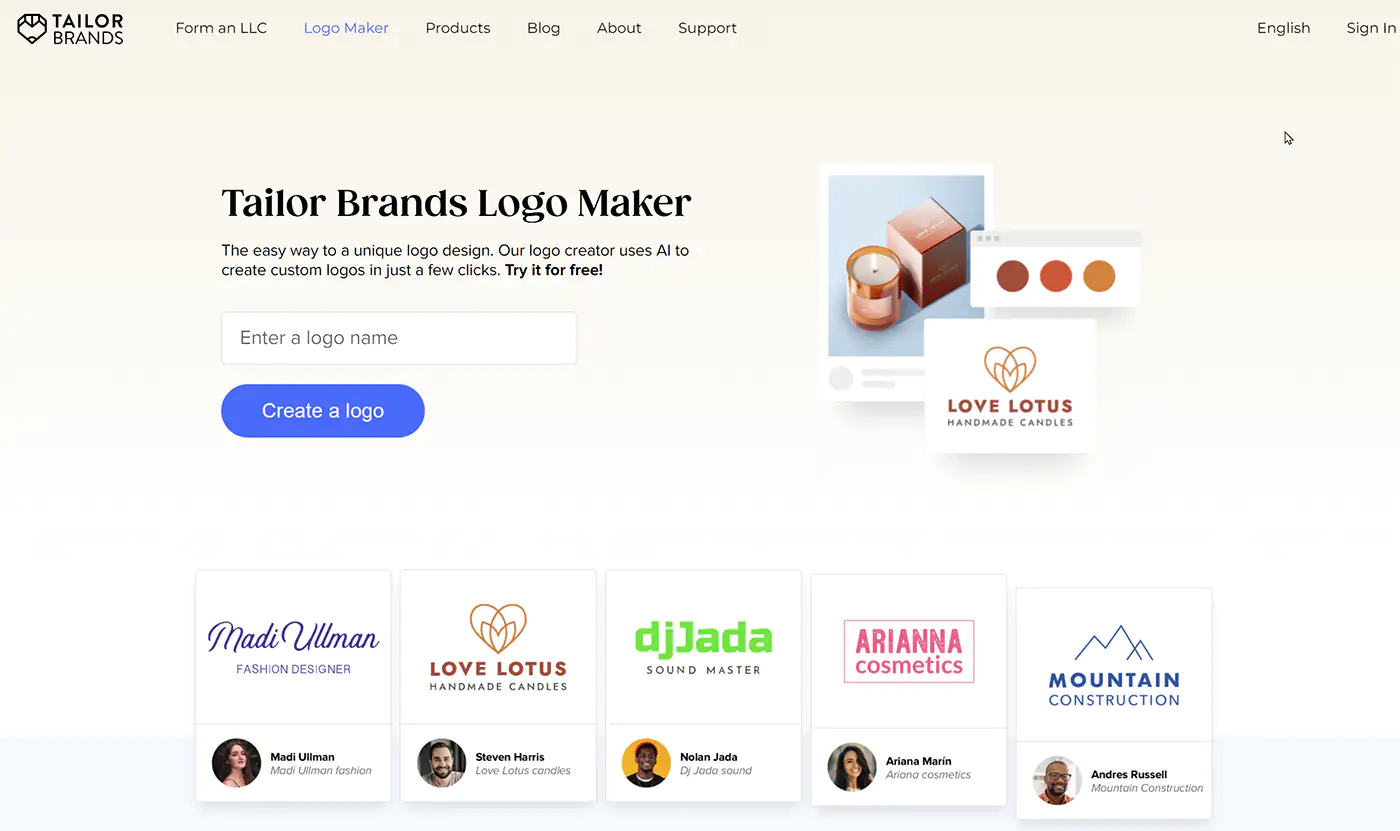 Tailor Brand's AI Logo generator is another decent option.
The logo generator has a simple UI that takes you through some basic questions. It's very easy.
The process was exciting, but I was disappointed with the result. I tried a couple of times and every time the results were boring.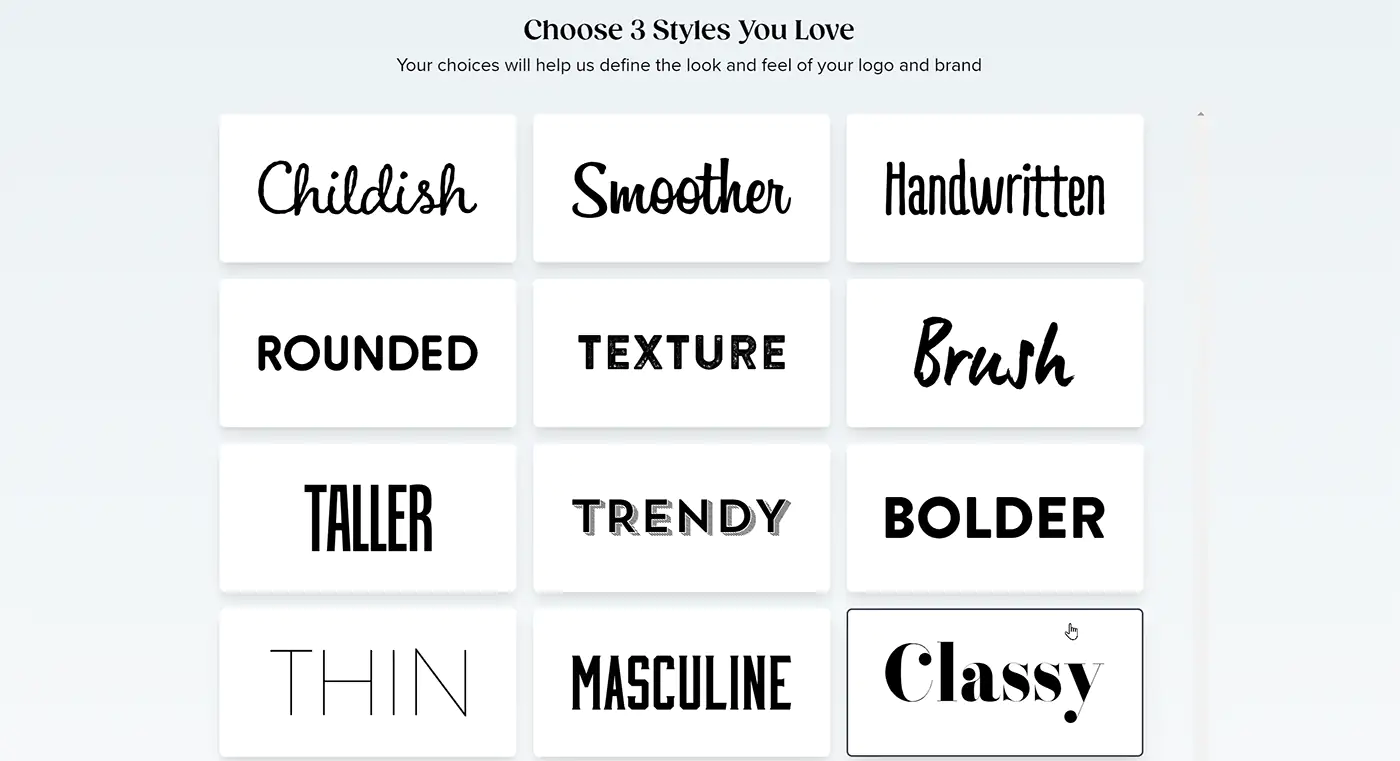 On the good side, Tailor Brands gives you a nice preview of how your logo would look on business cards, t-shirts, and accessories.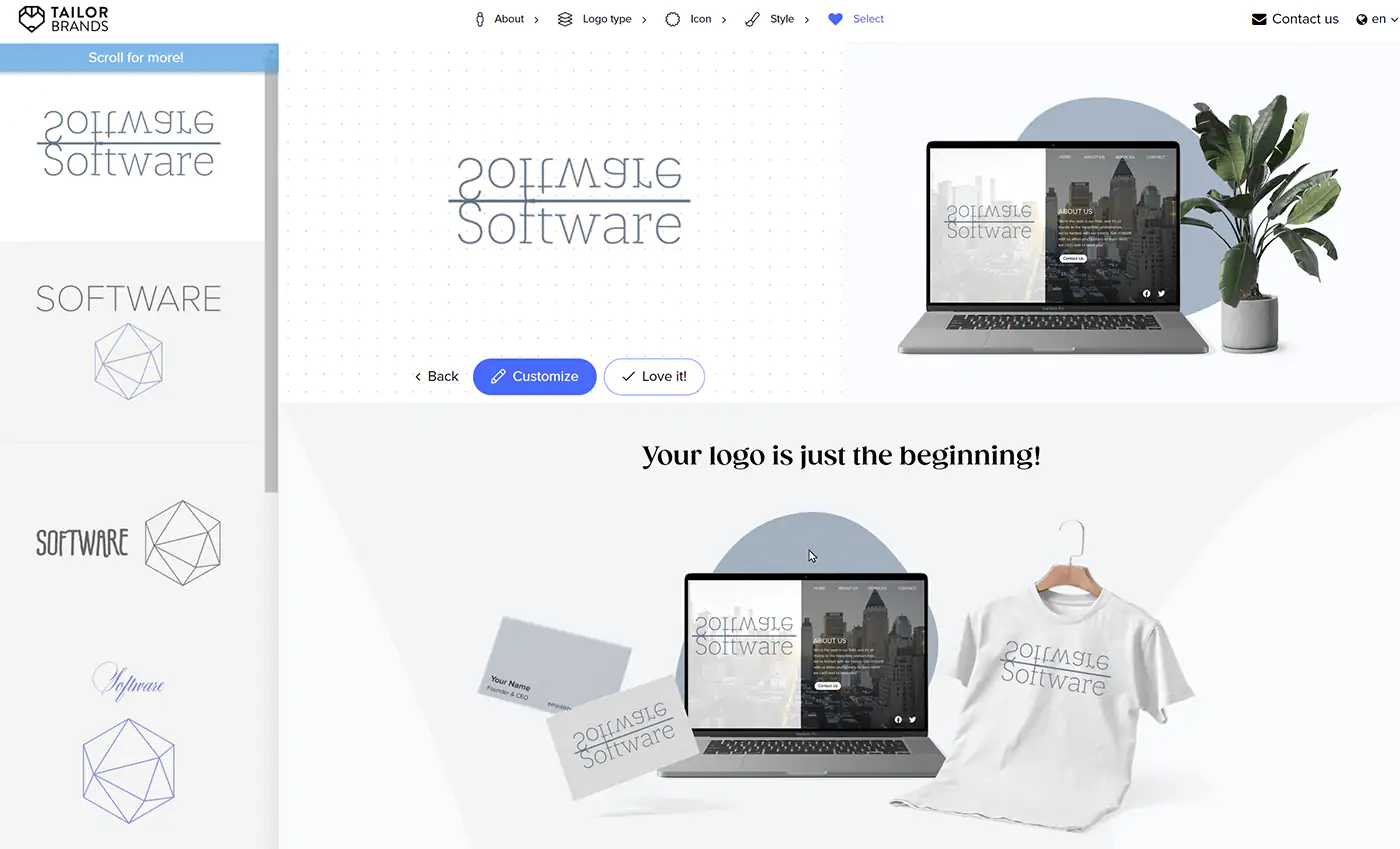 Learn More About Tailor Brands AI Logo Generator
5.

logomaster.ai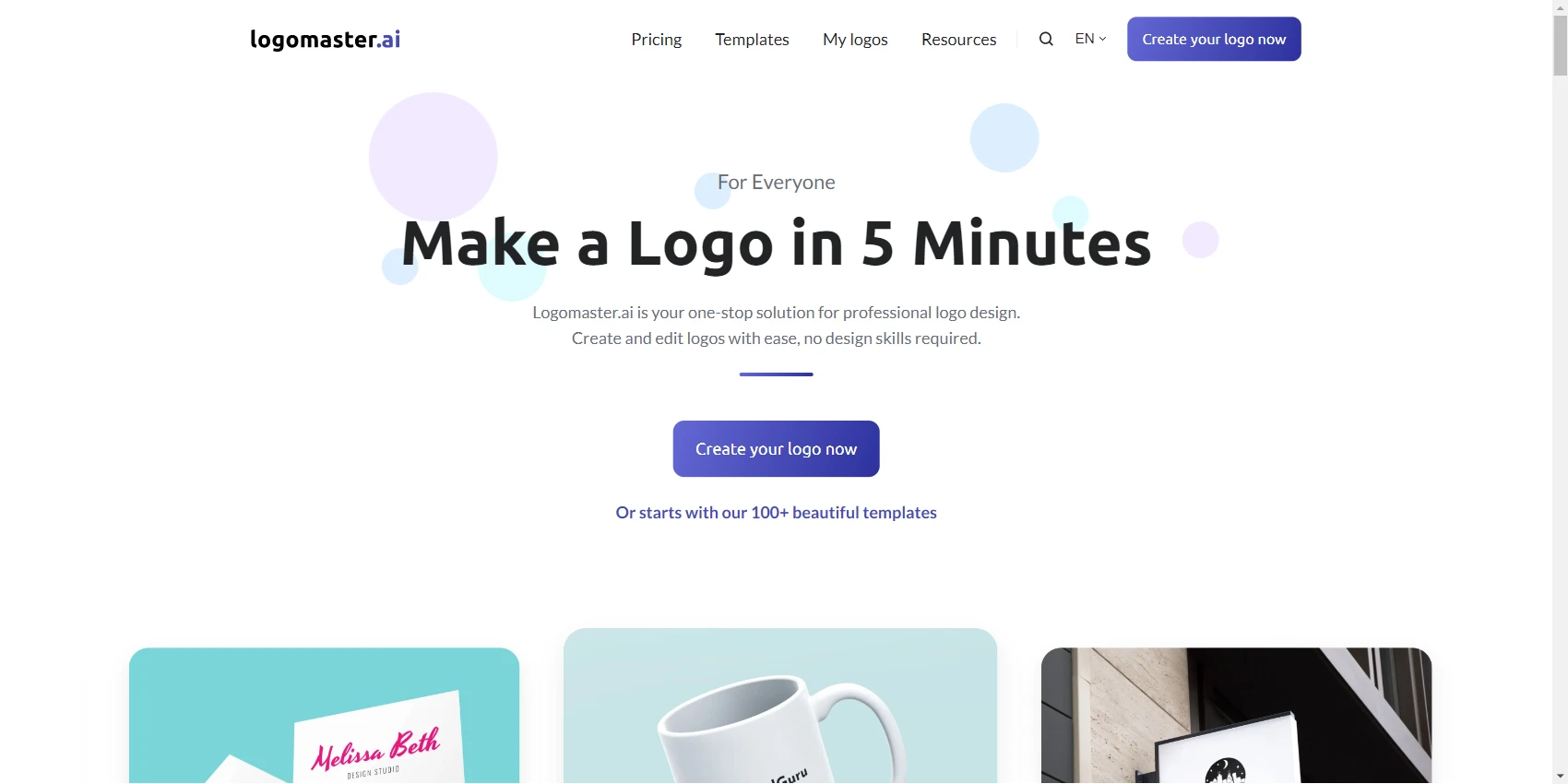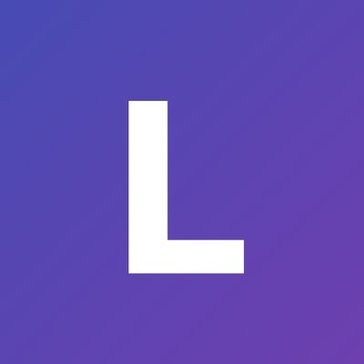 Logomaster.ai is a logo maker and design platform that makes creating a logo easily.
With the Professional Logo package, Logomaster provides web-ready files such as transparent PNGs suitable for websites and social media; print-ready vector files perfect for business cards, banners, and posters; high-resolution 4096px logos suitable for all purposes; and royalty-free logos.
I found Logomaster to be an excellent choice for anyone looking for a cost-effective logo creation tool. The interface was very user friendly which made it easy to navigate the hundreds of templates available on the platform. I also appreciated the customization tools that allowed me to get exactly what I wanted in my final logo design.
The only downside I experienced was that there is no free version available so customers must pay to be able to design any logo. However, if you are willing to invest some money into your brand then Logomaster is definitely worth considering!
Learn More About logomaster.ai
Key Features of logomaster.ai
Logo Maker and Logo Design: Create and edit logos with ease, no design skills required. Get your logo ready in 5 minutes.
Professional Logo Package: Use the logo in print or digital.
Royalty-Free Logo: Use the purchased logo for any commercial or non-commercial purpose.
Make Changes and Re-Download: Change any part of your logo design for unlimited time.
All Colors Included: Get extra dark logo, white logo and colored background logo provided as logo variations.
What I Like/Dislike About logomaster.ai
Pros:
Easy to Use: Logomaster.ai is an easy to use platform that guides you step by step until the desired Logo is finished.
Variety of Templates: It allows to design any type of logo, it has more than 100 templates that facilitate the design of the Logo.
Cons:
Pay to Design: There is no free version available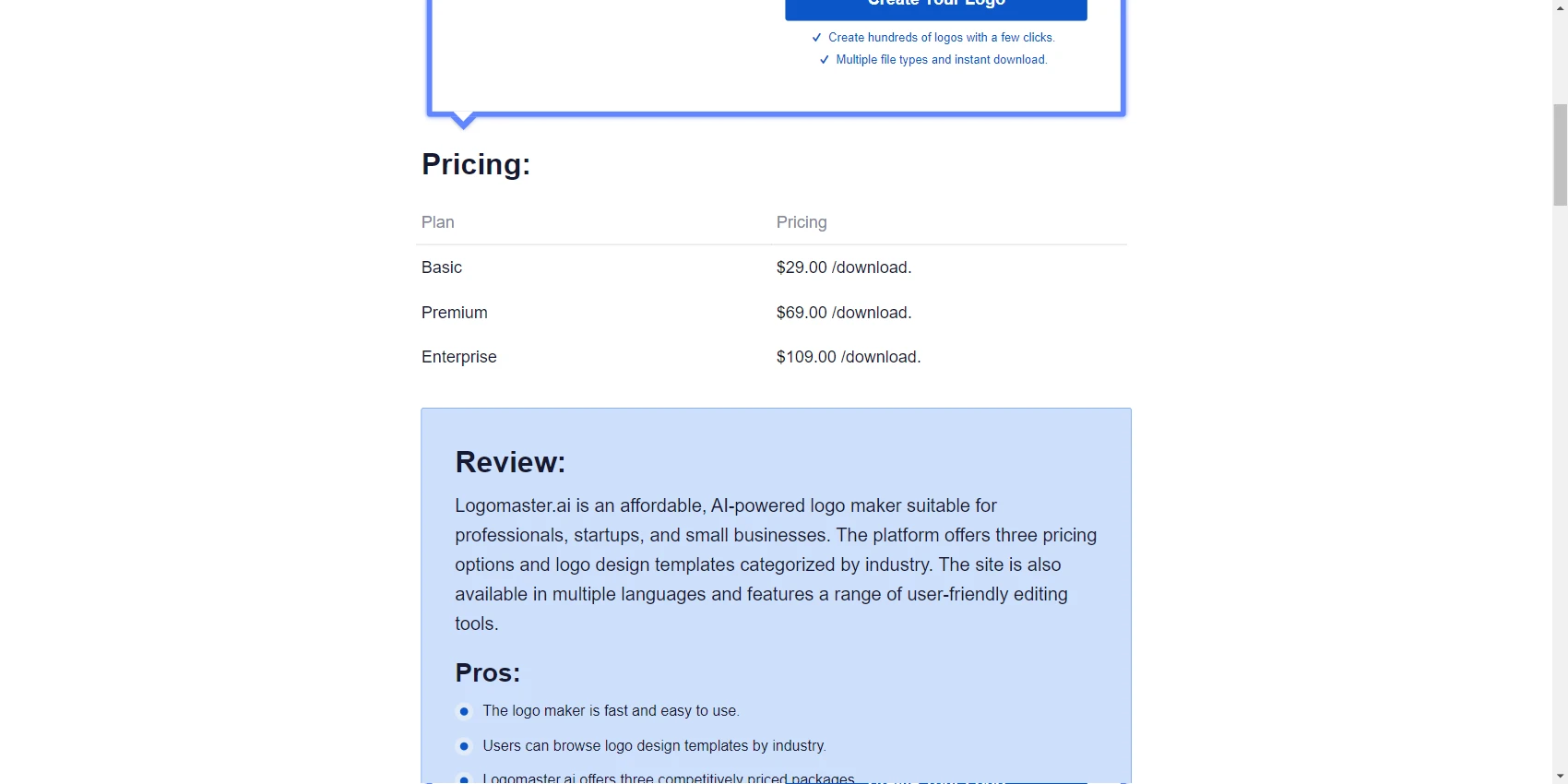 6.

Shopify Free AI Logo Maker
Best Free AI Logo Maker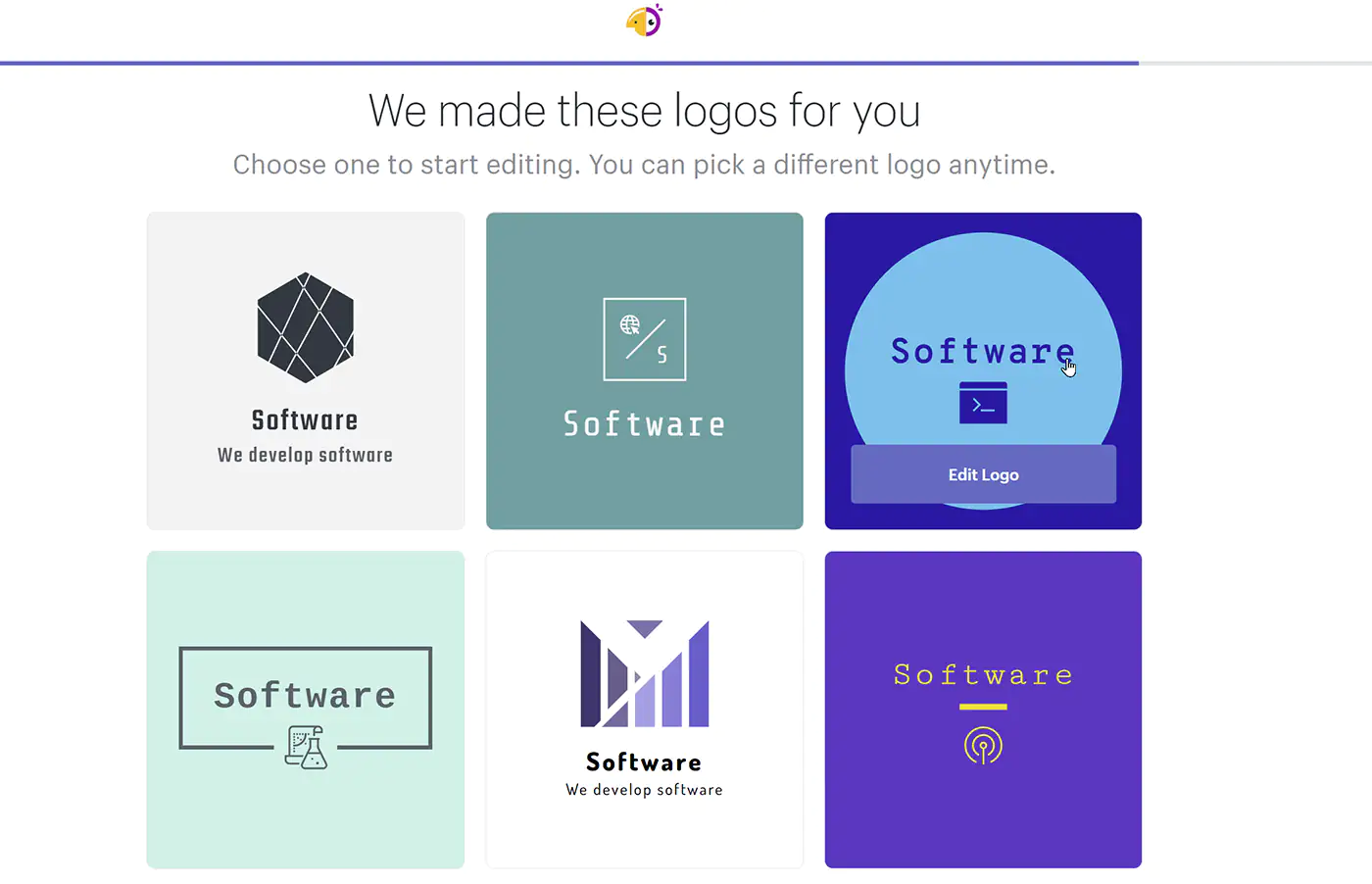 Shopify's free AI logo maker is a nice little tool to create decent-looking logos.
After you provide some basic information about your logo, the AI logo generator creates a list of logos you can choose from. Just don't expect much. (Hey, it's free!)
The good thing is that you can make some minor changes to the generated design. For example, you can adjust colors, icons, and fonts.
Another nice thing about Shopify's logo generator is that you can export the logo package. So you'll get the logo sized for Facebook profile images, Twitter, Instagram, Pinterest, Linkedin, Youtube, and more.
Learn More About Shopify Free AI Logo Maker
About Josip
Josip Miskovic is a software developer at Americaneagle.com. Josip has 10+ years in experience in developing web applications, mobile apps, and games.
Read more posts →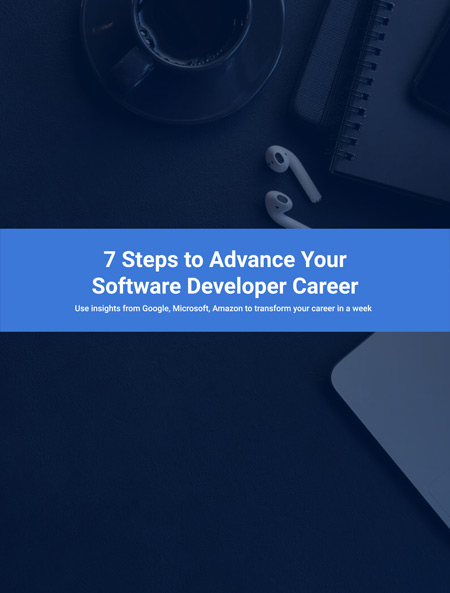 Download Free Software Developer 
Career Guide
I've used these principles to increase my earnings by 63% in two years. So can you.
Dive into my 7 actionable steps to elevate your career.