You've just heard about Sitefinity CMS but have no idea what it is or how it could help your business.
Sitefinity CMS is a comprehensive content management system that enables businesses to create and manage their websites with ease.
It offers a wide range of features, including content management, ecommerce, web forms, marketing tools, and more.
In this blog post, we will provide an in-depth overview of what Sitefinity CMS is and how it can benefit your business.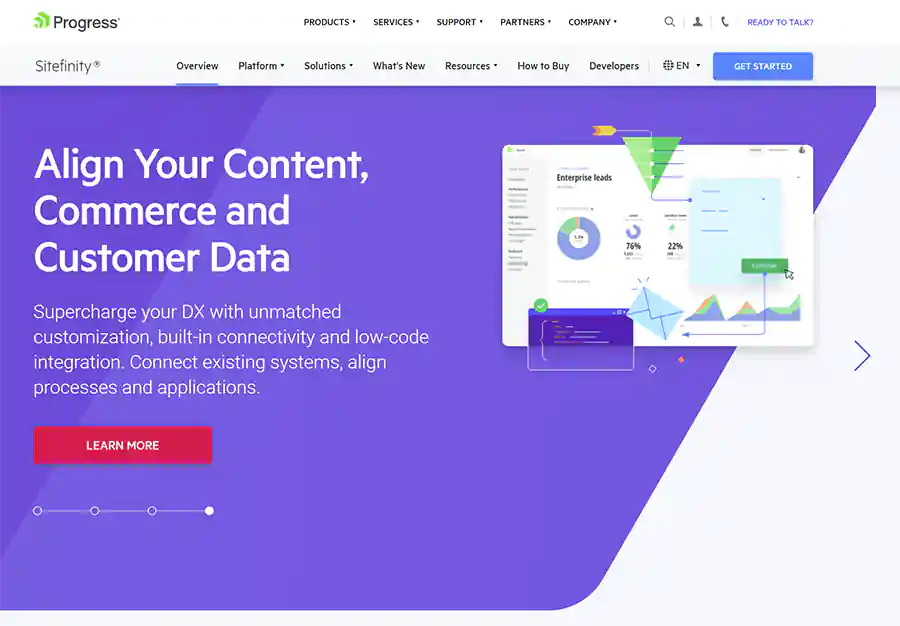 What is Sitefinity?
Sitefinity is a content management system (CMS) that enables businesses to create and manage their websites with ease.
The power of Sitefinity is in its customizations. Businesses can use their rich styling and templating capabilities to create a website that looks and feels unique.
It also offers a wide range of features, including content management, ecommerce, web forms, marketing tools, and more.
Sitefinity platform is tailored for both marketers and developers:
Developers can use Sitefinity's APIs and SDKs to develop extensions, integrations, and customizations.
Marketers can take advantage of the drag-and-drop interface and intuitive workflows to manage website content with no coding required.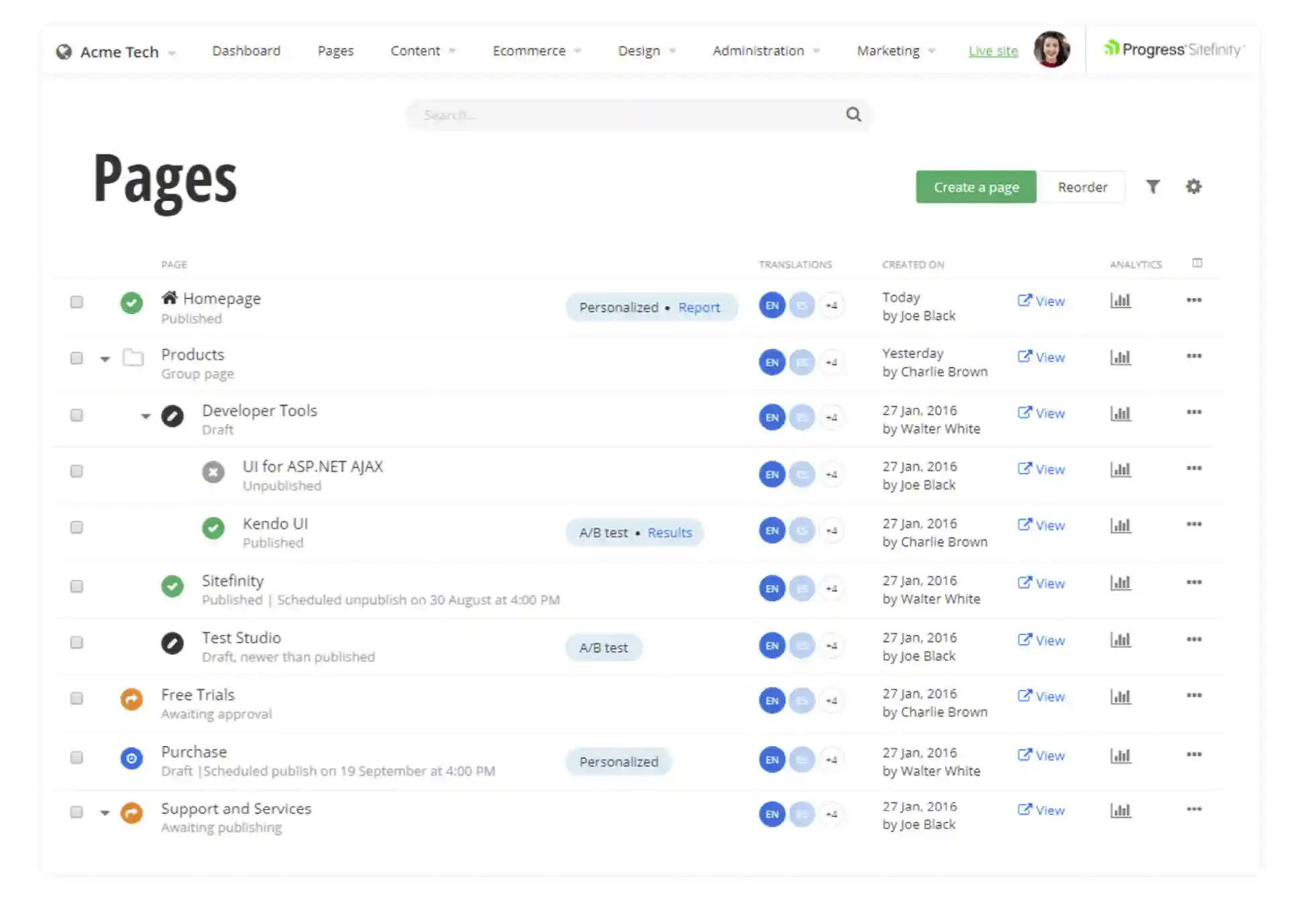 Sitefinity Features
Sitefinity offers a wide range of features, including:
Content management: Easily create, manage, and publish website content with no coding required.
Ecommerce: Sell products and services online with built-in ecommerce functionality.
Web forms: Collect data from website visitors with custom web forms.
Digital Asset Management: Manage and publish digital assets such as images, videos, and documents.
System integrations: Integrate Sitefinity with other business systems such as CRM and ERP systems.
Marketing tools: Use site analytics to track website visitor behavior, run A/B tests, and more.
Digital Experience Platform
Sitefinity is full digital experience CMS. That means that is not just a site builder, but a platform that allows you to create any kind of digital experience - from a simple website to an advanced web application.
Sitefinity provides:
Multichannel content delivery
Collaboration tools
Content analytics
Personalization
Machine learning-powered customer journey optimizations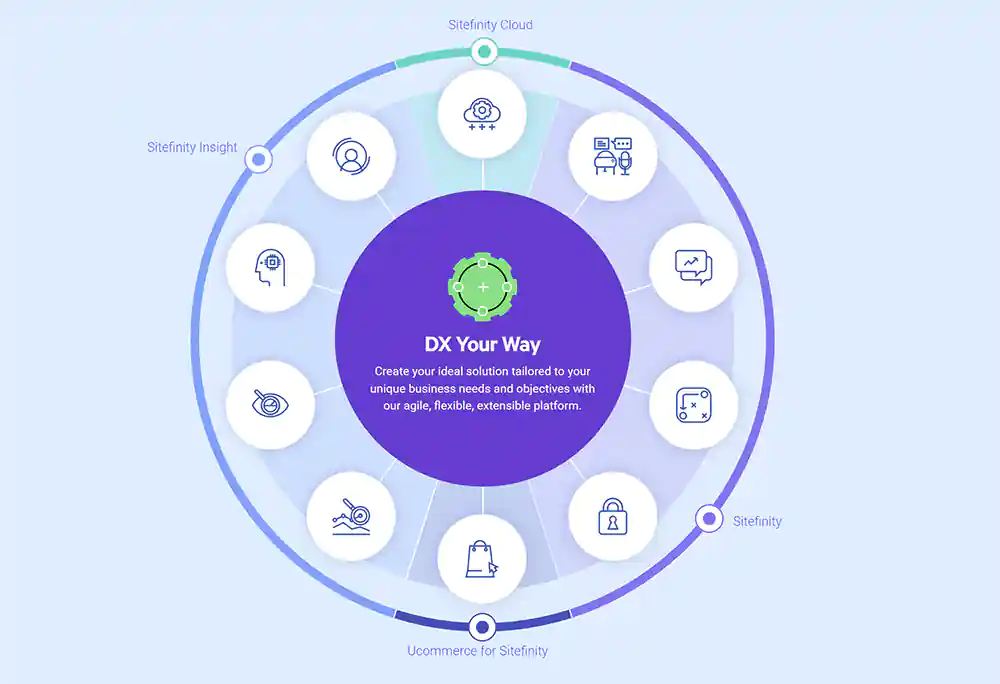 Sitefinity Cloud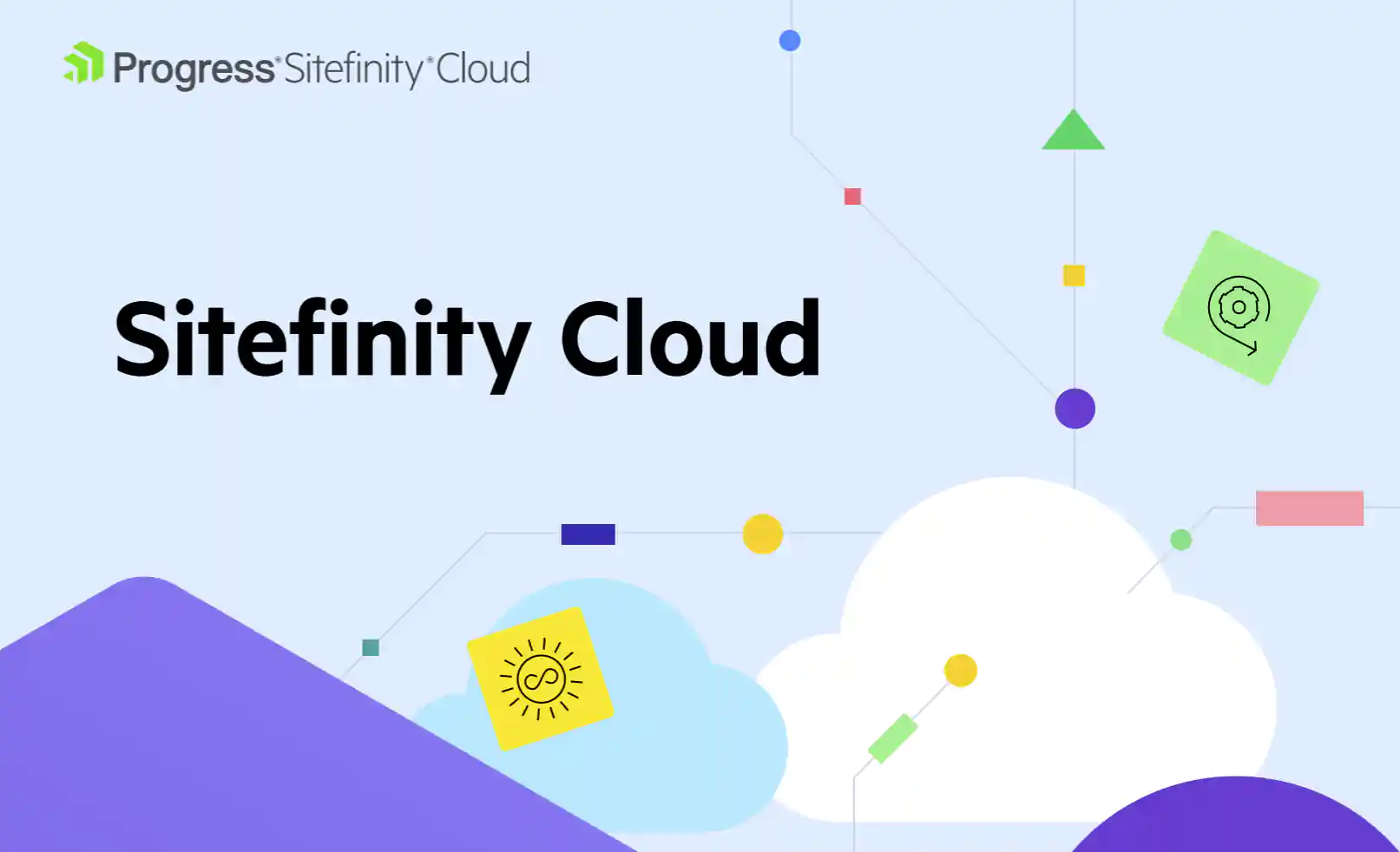 Sitefinity Cloud is a Sitefinity's PaaS (Platform-as-a-service) offering that enables businesses to get started with Sitefinity quickly and easily.
Cloud Hosting for Sitefinity Cloud allows you to save money on infrastructure and enhance operational efficiency. They use Microsoft Azure to provide a secure, scalable hosting environment for your site.
It's a great option if you don't want to worry about security, scalability, or maintaining your site's infrastructure.
Sitefinity Insight
Sitefinity Insight is a site intelligence tool that provides businesses with actionable insights into their website's performance.
Insights is a conversion rate optimization tool that is based on attribution algorithms, machine learning, and site data. It enables marketers to track the impact of complex interactions on site conversions.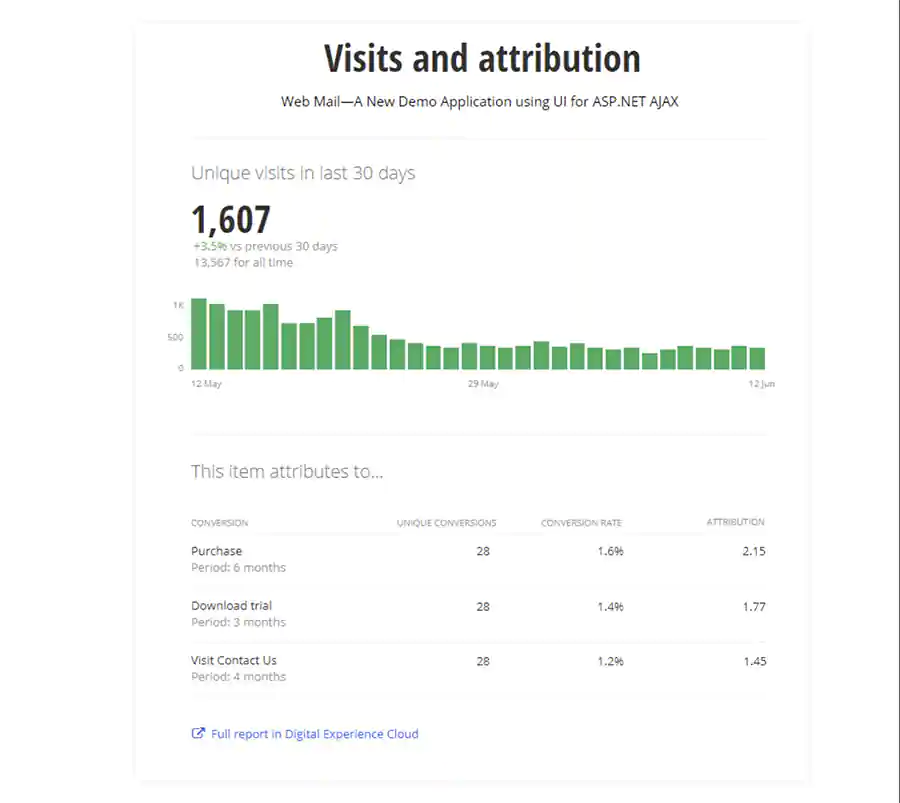 System integrations
Sitefinity offers system integrations with a wide range of business systems, such as SugarCRM, Oracle Sales Cloud, Microsoft Dynamics CRM, and more.
Integrations can save you a lot of time. Think about chat bots, ecommerce, marketing automations, site search, translation.
Who uses Sitefinity?
Sitefinity is used by a wide range of businesses, including small businesses and startups, as well as large enterprises.
Some notable Sitefinity users include:
World Health Organizations
Tom Tailor
MAPEI
Hughes Federal Credit Union
Murdoch University
Dublin Airport
Best Western
Crystal Cruises
Aston Martin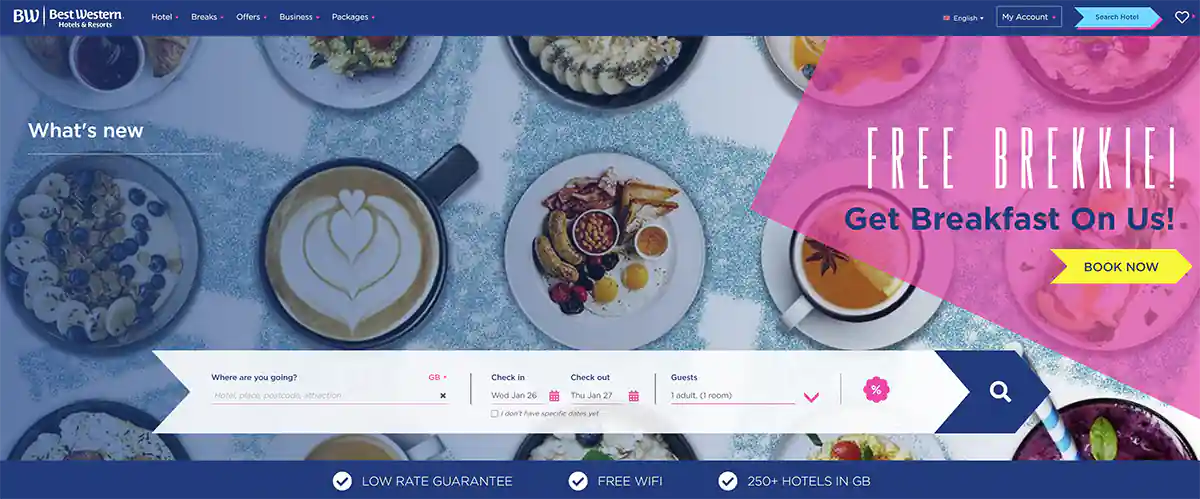 Who developed Sitefinity?
Telerik developed Sitefinity. Telerik is a Bulgarian software company founded in 2002.
Telerik launched Sitefinity web CMS in 2005.
In 2014, Progress Software Corporation bought Telerik for $262.5M in a deal that made Progress owner of their Sitefinity CMS.
The acquisition is just one of many in Progress's strategy to become a leader in the development of digital experience platforms. Their recent acquisitions include Ipswitch, Chef, Kemp, and Flowmon.
FAQ
Is Sitefinity a good CMS?
Yes, Sitefinity is a good CMS. It's powerful, customizable, and has a wide range of features.
It's a great option for any web-based application or website.
Is Sitefinity open source?
Sitefinity is not open source. It's a commercial web CMS.
However, it offers a wide range of features and is frequently updated, so it's a good option for businesses of all sizes.
Is Sitefinity a headless CMS?
Yes, Sitefinity is a headless CMS.
It separates the content operation from the delivery, making it easier to manage and deploy websites and web applications.
Progress developed APIs that let you connect your content with any front-end - Web apps, desktop apps, or even IoT devices.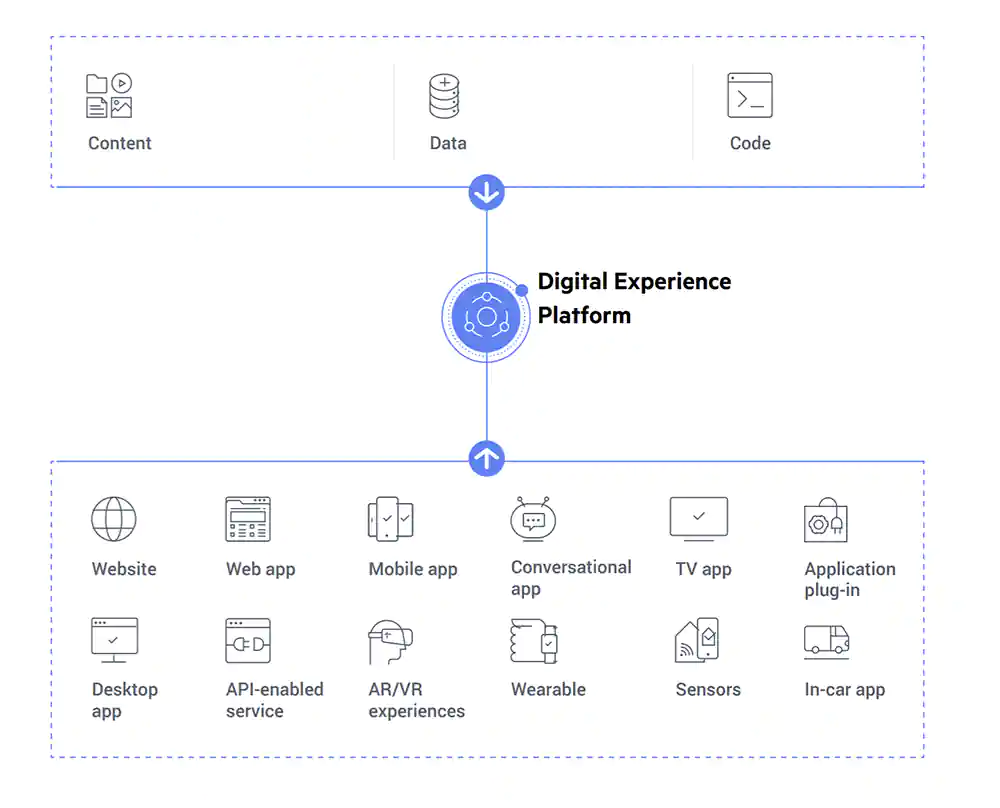 Can Sitefinity be used with Next.js?
Yes, Sitefinity can be used as a CMS for Next.js. The JavaScript framework is a fast front-end that can pull data directly from the database via the headless API. Even with Next.js on the front-end, you can still manage the backend the same way.
Is Sitefinity decoupled?
Yes, it is a decoupled CMS.
A decoupled CMS separates the management and storage of content from the pages and templates that display it. Separate layers give more flexibility and control over how the content is delivered.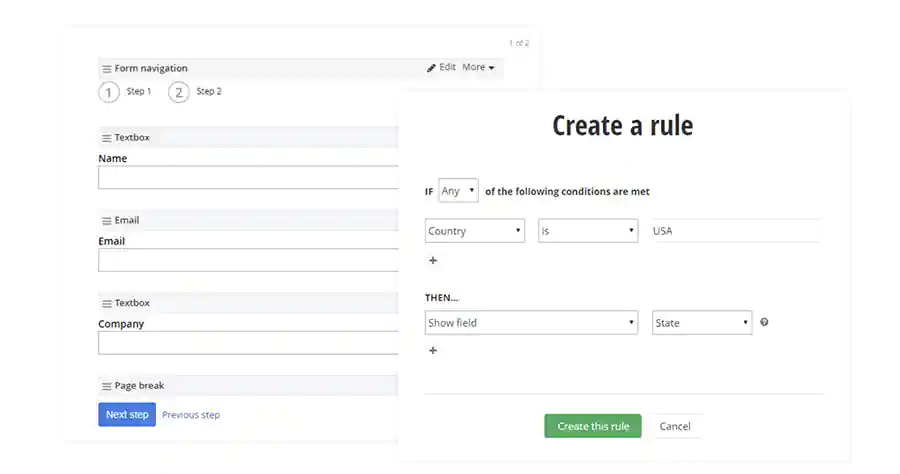 What's the underlying technology of Sitefinity?
Sitefinity is built on Microsoft technology stack. It's a .NET web CMS that uses ASP.NET and C#.
Even though they say .NET CORE skills are not a must, it will be very hard to customize it without an expert web developer.
Sitefinity CMS certification
Progress Sitefinity offers certification for Sitefinity developers.
The certification validates the developer's skills and knowledge in creating, deploying, and managing websites and web applications with Telerik Sitefinity.
If you don't have the in-house developers to build and maintain your site, Telerik offers a certified development team.
They connect you with digital agencies and development shops that have experts on staff. Their team has extensive experience in developing and deploying websites and web applications with Sitefinity. They will help you get started quickly and ensure that you get the most out of your Sitefinity investment.
In addition, they offer various Sitefinity Services to help you get started.
About Josip
Josip Miskovic is a software developer at Americaneagle.com. Josip has 10+ years in experience in developing web applications, mobile apps, and games.
Read more posts →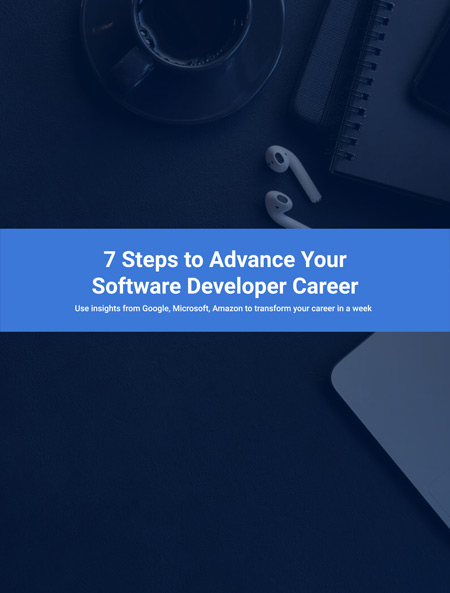 Download Free Software Developer 
Career Guide
I've used these principles to increase my earnings by 63% in two years. So can you.
Dive into my 7 actionable steps to elevate your career.